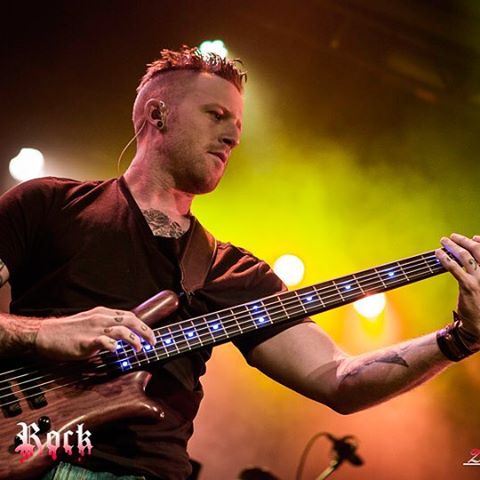 For my fourth King of Strings I will be spotlighting Dan Crisafulli of the band Source. They are a Progressive metal band based in Boulder, Colorado and within a short 2 ½ years have already landed some impressive tours – most notably with HellYeah and In Flames last year. This may actually become my favorite spotlight because he's the kind of diamond in the rough every music fan hopes to discover at some point.
He has been playing bass for over 16 years total, and just around 8 years professionally. With his band Source, he creates a deep and almost hypnotic sound. There is a richness and complexity that is astonishing to hear from someone you've probably not heard of yet. The very first song I heard was the track "Forgiveness" and I was hooked from that moment on! Watching him perform it live I kept thinking – here's something special. Refusing to be in the background as support, you hear the bass up-front, loud and clear.
Dan's influences become obvious by the time you've heard their 3rd song. Using no gear for live performances and only a touch of distortion during recordings, anyone can hear the influence Ryan Martinie has had on him. Both purists, they each create their sound through the perfect marriage of a bad-ass Warwick and fingertips. Early influences are a bit harder to explain. No one ever asks the lead guitarist why they picked up the instrument, but they sure ask bassists! If you ask him, he would say "I was just naturally and suddenly intrigued by this instrument." Not coming from an overtly musical family, he just found himself drawn to it.
"My family wasn't a musical one per say..but my grandfather, Ed Powers (on my mother's side) was a touring jazz bassist. I never really interacted with him that much in my childhood, one day I visited him after I had been playing bass for a few months and he taught me the 12 bar blues at his place. I will always remember that."
By the time he was in high school, Dan was playing in two hardcore bands, covering bands like KillSwitch Engage, As I lay Dying, and Job for a Cowboy, as well as writing original music with a close friend for about 6 years on acoustic guitar. All of the years of practice have really paid off given the incredible technical playing you will hear on each and every of his songs. That is one of the most impressive things everyone should take note of. He seems to inherently understand the complexity of the bass and everything it can deliver when in the right hands. Not a two chord player, he combines left and right hand techniques that are almost as mesmerizing to watch as his stage presence. There are subtle changes between commanding the stage to becoming lost in the music to just having fun jamming and feeling the vibe from the crowd. But, regardless of anything else, no one can ever accuse him of not understanding that being on stage is exactly where he belongs.
If you are as interested in what gear Dan uses as I am you are lucky because I got it right here!
Gear: 2 Custom Shop Warwick Thumb Bolt-Ons
Warwick 4×10 Cab
Ampeg SVT 7 Pro Amp
Daddario Flex Steel Strings
*I am in no way shape or form a gear head, I appreciate different tone woods (woods that the bass is made of) but I don't use any effects at all live. Very slight compression that is built into the Ampeg amp head. On the record we used a touch of distortion. (Much like Ryan Martinie) I am a purist and achieve most of the sound I want using different right and left hand techniques and the pure sound of the Warwick bass.
This will do for this week's Kings Of Strings, stay tuned for the next one!
While you are doing that check their facebook out!