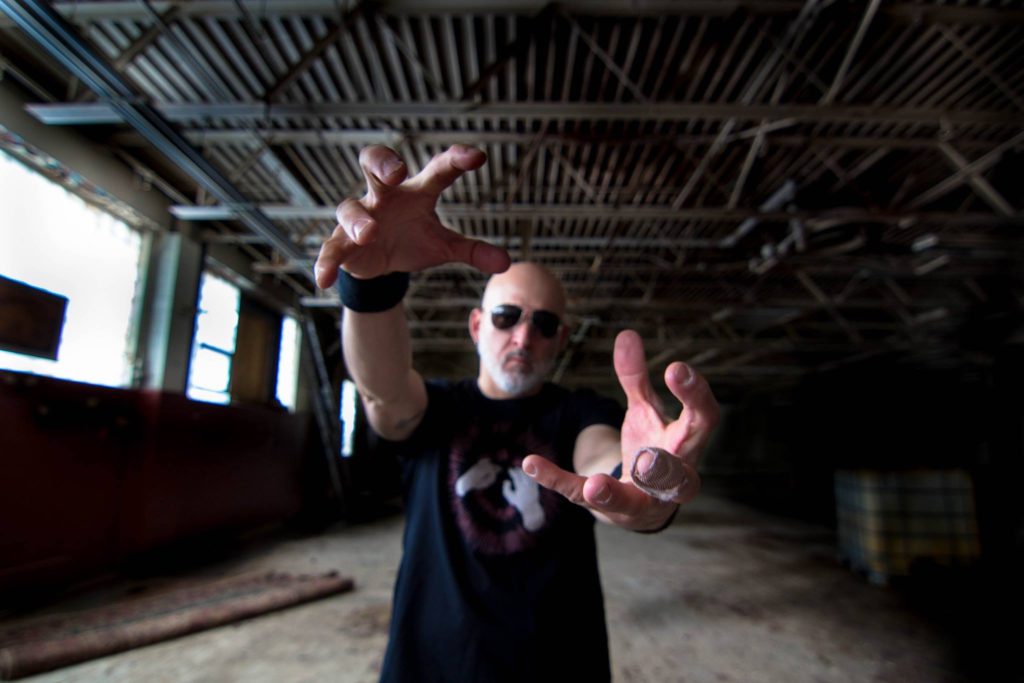 On July 28th, Byzantine will release their new album, 'The Cicada Tree', via Metal Blade Records. Heralded as the most underrated band from the New Wave of American Heavy Metal Movement, Byzantine has slowly gained a cult-like following after releasing 5 genre-bending albums. 16 years underground, it's finally time for the world to hear Byzantine! For a first preview of The Cicada Tree, a new video for the single "New Ways to Bear Witness" (featuring a cameo by Skeletonwitch's Dustin Boltjes, as well as ex-Byzantine drummer Matt Wolfe) has been launched online. Directed/edited by Holly Siders, the filming of "New Ways to Bear Witness". The band has an upcoming headlining tour as well as a nationwide take over with Sacred Reich starting in September.
We had the pleasure in speaking with founding member Byzantine, vocalist/guitarist Chris "OJ" Ojeda. We can't wait to hear the new album and if you haven't pre-ordered it yet, you should do so here.
Metal Nexus: The Cicada Tree is just about to release next month, did your writing or recording process change any from 'To Release Is To Resolve'?
Chris "OJ" Ojeda: Not really. It typically starts with myself demoing the material at my small home studio and then taking the songs to the guys and have them add in their influences on the songs. We normally include Jay Hannon (engineer/producer) pretty early in the demo process. Once we have enough solid material and Jay shows up to WV to begin recording, we do about 1 full week of pre-production. After that, we are ready to start tracking the album.
Metal Nexus: It was great to see Matt Wolfe in the video for the single "New Ways To Bear Witness". Who's idea was it that he would run you over in his truck?
Chris "OJ" Ojeda: That was my idea. We actually had a completely different treatment for the video, one that went along with the lyrical content of the song. That was ultimately scrapped and changed to the "journey to the show" treatment. We thought it would be a funner experience for the fans than doing a super serious video. We were looking for more stumbling blocks to keep me from the gig and I thought it would be perfect if Wolfe would hit me with his truck. We asked Wolfe and he was super pumped to do it. We thought it was a great way to show our fans that, even though he was recently removed from the band, that we are friends for life and he's a very important person to Byzantine. It's ok to move on, especially if you give them the opportunity to hit you with a truck!
Metal Nexus: With such a successful album as 'To Release Is To Resolve' is there anything you tried to do similar or differently on 'The Cicada Tree'?
Chris "OJ" Ojeda: Again, not really. Each album is a continuation of the one before it, just with 2 years of maturity added on top. I wanted to make sure that the song structures felt complete on this album, whether it took 3 minutes or 9 minutes to get the points across. It's fun to be able to experiment and explore now. The first few albums Byzantine were still finding our sound. Now, I think we have the sound, we now are looking for various ways to portray that sound.
Metal Nexus: This is your Metal Blade debut, what advantages do you think the label gives you in releasing an album?
Chris "OJ" Ojeda: Metal Blade gives us a tremendous edge in marketing and social media presence than we could ever afford as a DIY band. Also you have a tad bit more clout when it comes to getting interviews and album reviews by reputable journalists as well as landing decent tours. Metal Blade has an amazing staff that are eager to help us any chance they get. That takes alot of pressure off of myself.
Metal Nexus: The first single is already getting a lot of air play on Sirius XM and making it on Liquid Metal's Devil's Dozen. What does it mean to you to make a list like that with such other esteemed bands like Metallica, Mastodon, Body Count and Goatwhore?
Chris "OJ" Ojeda: Any time you see your band name gracing lists with the likes of Metallica and Mastodon you get a sense of accomplishment. We can't rest on our laurels for those types of accolades as we still have a TON of metal fans across the globe who has no idea who we are. I can tell you very certainly that staying on The Devil's Dozen a few weeks certainly helps our cause, for sure.
Metal Nexus: The album includes 2 cover songs by Fishbone and The Cars. What led you to pick these specific songs to cover on 'The Cicada Tree'? Was there any other songs you were kicking around before you chose these?
Chris "OJ" Ojeda: I have been of fan of Fishbone's "Servitude" ever since I was in High School. It's def the heaviest song Fishbone had ever recorded so it has been on my mind for 25 years now. Additionaly, Hendo brought the idea of doing The Cars tune, "Moving in Stereo" as the 2nd cover. That tune was written in the late 70's but always had this futuristic feel to it. He and the guys did an awesome job recording that tune. It's the 1st Byzantine recording I am nowhere to be found on. They killed it!
Metal Nexus: After 16 years of being considered an underground act, how does it feel to breakout and shown to a much broader audience?
Chris "OJ" Ojeda: I definitely feel it's a perfect time for the band to have this opportunity. We got some pretty high profile shows and festivals early on in our career and weren't experienced enough as a band to fully capitalize on them. We were sent home with our tail between our legs on numerous occasions. It's a whole different feeling now, as a band with 17 years under our belts.
Metal Nexus: Was there anything specific the inspired lyrical content on the album that you could tell us about?
Chris "OJ" Ojeda: The lyrics for the title track "The Cicada Tree" were inspired by the 17 yr Cicada that emerged from my front yard last Spring here in West Virginia. The experience of learning about that insect and teaching my daughter about them, as well as how the likes of termites can be drawn into your home through the moisture of the wood in house foundations and cracks in the building's exterior (which you will need to contact somewhere like https://www.pestcontrolexperts.com/termite-control/ to successfully exterminate them), was enough to inspire some really thought-provoking lyrics that paralleled the lifespan of our band. It's pretty neat to see how one experience can totally shape the artwork and music of an album. Who knows what direction this album would have taken had that not happened.
Metal Nexus: This is also the first album with drummer Matt Bowles. How was it writing with him the first time?
Chris "OJ" Ojeda: It was a pretty new experience for Matt, as he had never quite recorded on the level that we record on before but, he was completely open to all suggestions, which made our recording experience with Matt very pleasurable. Granted, recording drums for a heavy metal band are always hard no matter what. Ultimately, it's about the end result and not the journey in this case, and we think Matt delivered a fantastic debut drum performance.
Metal Nexus: Your pledge music campaign has some unique items like the "Boss Of Byzantine" item and includes the hilarious Slingblade scene skit. How has the campaign support been so far and tell us about re-acting that scene? (View that Slingblade reenactment here)
Chris "OJ" Ojeda: This campaign has been pretty easy going since Metal Blade has been able to step in and help with the logistics. The main difference between this campaign and all previous other campaigns is that this is simply a "pre-order" campaign for fans to get their hands on merch and new music before it's release date. The other campaigns were to rasie money for the actual recording and manufacturing of the album, which is a little more involved. This album has already been paid for and finished. As for the "Slingblade Spoof" we shot to promote the campaign… We had some downtime after recording the album and my ex-wife let me borrow her really nice camera. I wanted to shoot something funny and that scene in Slingblade, which is actually quite serious, was always one of my favorite movies scenes. My guys were up for doing it and actually turned out to be decent actors! I was impressed!
Metal Nexus: You have an upcoming headlining tour and then a U.S. takeover with Sacred Reich kicking off in September. What aspect of touring do you look most forward to?
Chris "OJ" Ojeda: I am totally looking forward to not having to lay tile for a month straight! HA! It's sad that sleeping in a van is actually going to be good for my back. The meeting of fans and seeing the country are great aspects of touring as well. But, my favorite part is probably finding really good places to eat and cool microbreweries. That always rules.
Metal Nexus: For fans eagerly awaiting 'The Cicada Tree' what can you tell them to expect from the album?
Chris "OJ" Ojeda: The Cicada Tree has a really nice ebb and flow to it. There are a few heavy bruisers on the album mixed in nicely between songs that will take the listener down the Byzantine rabbit hole. My bandmates Sean and Hendo brought some really nice instrumentation to the album as well, which adds tremendously to the staple Byzantine sound we have tried to hone in on. I feel that this album is crafted like a nice book with chapters that all make sense on their own but taken in as a whole creates a really nice story. I hope the listeners feel the same way!