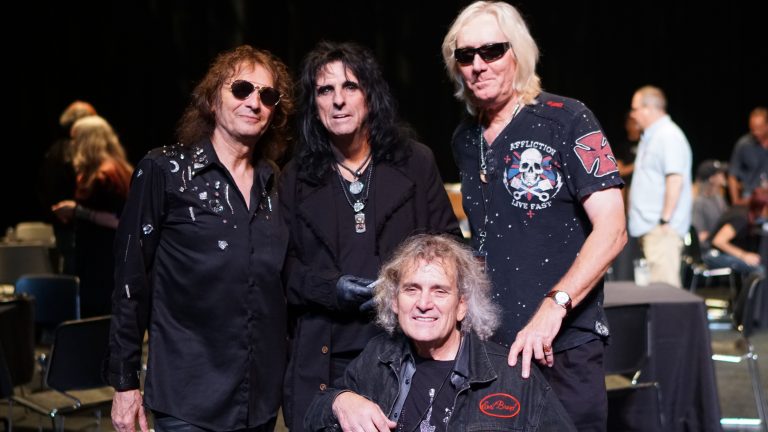 ALICE COOPER, the king of Shock Rock has been doing rounds with the news of his upcoming new album and last month's one off reunion show. We have some one more massive and exciting news coming your way this time. Now, Alice announces that the three members of the original ALICE COOPER band, bassist Dennis Dunaway, guitarist Michael Bruce and drummer Neal Smith will join him in the UK for a five date autumn tour. 
Last month saw Alice's performance in Nashville joined by the three original members for a five song mini set, also accompanied by current band members – drummer Glen Sobel, bassist Chuck Garric, and guitarists Nita Strauss and Tommy Henriksen. ALICE COOPER also announced that his new album, 'Paranormal', will be out on July 28th on earMUSIC, featuring the original members on two songs.
Alice says, "When the original band broke up in 1975, there was no bad blood. There were no lawsuits — we had just burned out the creative process. We had gone to high school together and had recorded something like five Platinum albums in a row. We were never out of sight of each other for 10 years. Everybody just went their own way. Neal, Dennis and I always stayed in touch. Mike disappeared for a while and Glen Buxton passed away in 1997, which was a big blow."
He further adds,"But last year Neal called me up and said, 'I have a couple of songs.' I said great, bring 'em over. Then he said Mike was stopping by, so I had them come to my house and we just worked on a few things for a week. Then Dennis called up and said, I got a couple songs. So, I thought, hey let's do this! When you listen to the record, it just fits right in."
ALICE COOPER, plus The Mission and The Tubes presented by AEG live in the UK, November 2017:
11th – Leeds – First Direct Arena
12th – Glasgow – The SSE Hydro
14th – Birmingham – Barclaycard Arena
15th – Manchester – Manchester Arena
16th – London – The SSE Arena, Wembley
Get your tickets here.