It's not often you get to see two amazing bands at a small hole in the wall venue. When I say hole in the wall venue I of course mean that lovingly to the fullest extent. The Hideaway in Johnson City is one of the best smaller venues/bars to see a show. Havok have recently been on tour with several other bands as immediate support. Some dates had Extinction A.D., Black Breath, and Psychosomatic. While we do enjoy all of those bands we felt very lucky we got the pleasure of seeing Black Fast open for the mighty Havok. It always helps as well when a regional act is put on the bill and they step up to the stage and totally kill their set and make a shit ton of new fans. That regional act would be Wise, Virginia natives Grave Rat.
First up on the stage was local Johnson City leather clad rockers 1134. The band is dressed in mostly leather and rocking some killer face paint. As they take the stage the fog starts to roll from the drummer's kit setting this eerie but awesome stage presence. I was unfamiliar with the band, not having heard their sound or anything bout them before. By the look of the band I was expecting something super heavy and maybe even black metal like vocals. As the first notes struck through my assumptions were totally wrong. The band has this classic yet heavy rock n roll vibe. The clean singing with occasional screaming gives the band an edge that easily made people move closer to the stage as their set went on. The band played several of their tracks, each just as good as the next. It's not often you get great sound and great stage presence within the same band. The four piece really warmed up the crowd for the onslaught of metal that was to be played that night.
Another band was about to grace the stage that I hadn't had the pleasure of listening to previously. Hailing from Wise, Virginia which is just over the mountain from Johnson City, Tennessee was the ever vicious Grave Rat. The group has a fierce take no prisoners sound that grabs your attention from the get go. Singer Isaiah Engle is the iconic front man who can keep the attention of the crowd both during songs and with his between song banter. Grave Rat creates a dark thrash sound that would put you in the mind of Toxic Holocaust. The speed of the songs is tremendous and keeps you on your toes. It's almost impossible to listen to them and not move around. The low end groove created by bassist Andy Greer helps the sound of the band not have an overwhelming treble heaviness. The groove really sets them apart and keeps their thrashy sound unique. To round out the band you have James Hall with his lightning quick hands on drums. Let's be honest, it's impossible to succeed in blackened thrash without a talented drummer. Along with Isaiah slaying his left handed axe you also have Alex Mays on the right handed 6 string who non-stop shreds through one song after another. The track "Mountain Witch" has a magnetism to it. You can't listen to this song and not become overwhelmed with sheer love for their brand of metal. This track slows things down and cranks up the groove for the first half of the song and then finishes it off with the speed of a thousand cheetahs. Just when you think you have their sound pin pointed they break out the song "The Harbinger" with its incredibly powerful riffs to open the song. The short screaming bursts of vocals are like a stabbing knife creating pure ecstasy for our ears. If you have a chance to see these guys you do not want to pass it up.
Now for the moment I've waited for. Grave Rat got me pumped up just enough to be able to handle the pure aggression that is Black Fast. The thrashers have been one of the must see bands not only for myself but for anyone that has a passion for anything brutal and heavy. They jumped straight into their set. Vocalist Aaron Akin screams "We are Black Fast" and off to the races they go. They pump out one righteous riff after another. I do admit while all the members of the band are immensely talented the most impressive one to me is the workhorse himself drummer (and fellow Bears fan) Ross Burnett. He was beating his kit non-stop liked it owed him money throughout the entire set without even a moment to breathe. Not one single pause was taken and he performed flawlessly. He is an untamed beast behind that kit. As Aaron sang along with the quick tempo of their songs and guitarist Trevor Johanson shredded so viciously the crowds fists stayed in the air. As each song would end the crowd would erupt with applause. Being their first time playing in Johnson City the whole venue was just soaking in every note they struck. One of the songs I most anticipated "The Coming Swarm" was played. The intricate guitar parts and the groove in this song always put it at the top of the list for me. I was not let down by the amazing set they played. I also have to say that they are not only fine musicians but also very down to earth guys. Trevor even got in the mosh pit momentarily during Havok's set, and of course held his own. We certainly hope they come back to Johnson City soon.
Finally the time had come for the almighty Havok to take the stage. One amazing thing about Havok is that they don't hold back at all while unleashing their music onto crowds. 1 minute into the first song lead singer and guitar player David Sanchez breaks a string, it happens. He finishes the song and changes guitars for the next song. The following song went on without a hitch. The band is a well-oiled machine that doesn't fuck up. They flawlessly kick ass from song to song. Some long-time fans may miss former bassist Mike Leon who is now a member of Soulfly. Which I seen Mike with Soulfly a few weeks ago and let me tell you now that current Havok bassist Nick Schendzielos is the real deal. He is just as talented a bassist if not better than Mike. Once you get a chance to see him live and experience his stage presence you will never want to look back. As they are about to embark on the serial killer H.H. Holms inspired song David breaks yet another string. 4 songs 2 strings. Hard working musicians like Havok do everything themselves and don't have techs and roadies so David re-strings them himself. While he is doing that the other 3 guys break into an improvised jam session with lead axe man Reese creating this amazing riffage. This whole section of the show just showcases the great musicians that are in the band that can just spur or the moment jam and create some great tunes to keep the crowd at bay. Reese is actually one of those lead guitar players that just mesmerizes you with not only his skill set but his showmanship as well. He is also one of this guys who loves what he's doing so much that he can't help but smile while playing. As David comes back to the mic he says "You usually break stings when you're playing too hard, I guess our shit is just too rad" and then they break into some of the fastest and most fierce songs they have. We were lucky enough to get the brand new song "Claiming Certainty" expelled into our ears. The song is about people who claim certainty about the after-life. David advises us "Blind faith is a mental prison cell. " The guys shredded through their set list striking every chord with pure unfiltered aggression. The pioneers of thrash need to watch these guys and take notes, Havok is the future of thrash.
Make sure to follow the bands on their Facebook pages below to keep up with their tours, and releases.
Also keep in mind you can catch Havok on tour in February on the Dystopia World Tour with Megadeth, Suicidal Tendancies and Children of Bodom.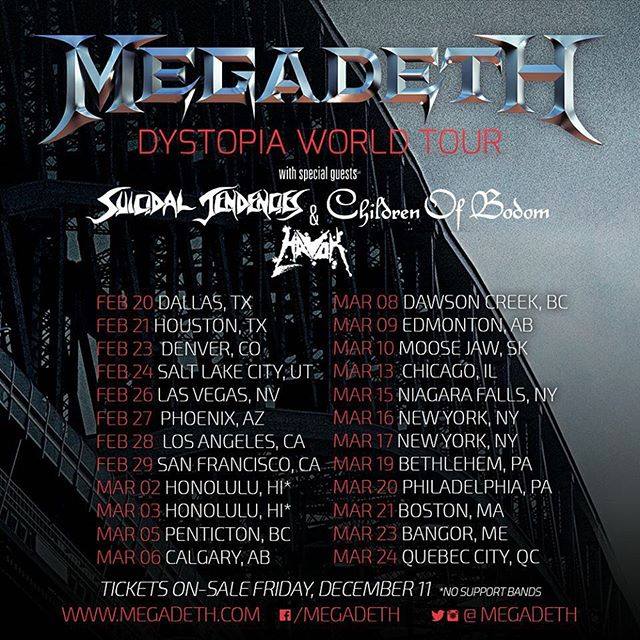 Check out the entire Havok set below thanks to our Hunter at Skinny Coffin.