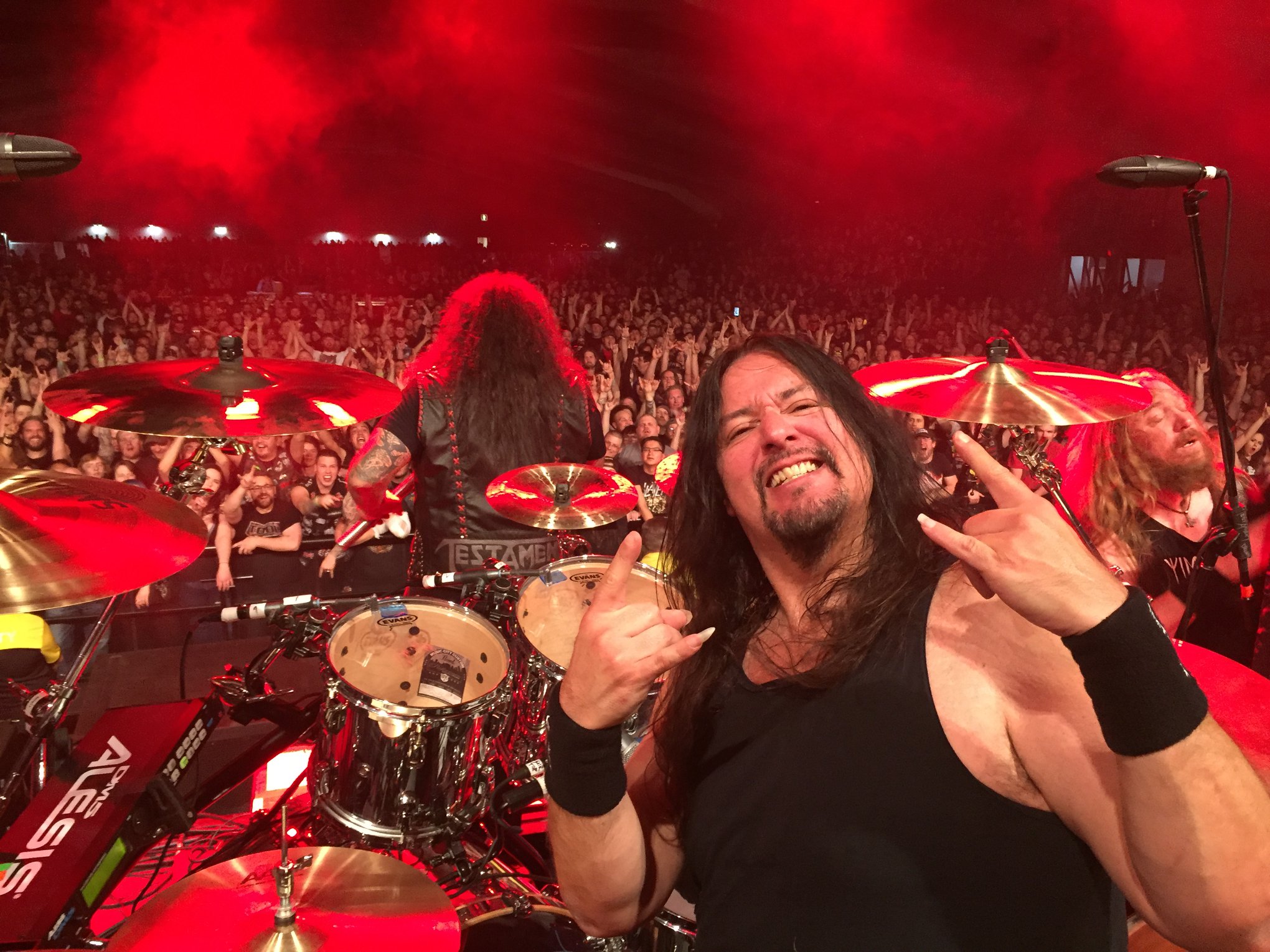 Last week, Gene Hoglan (Testament) joined Joshua Toomey for an in-depth interview on an episode of Talk Toomey: The Metal Nexus Podcast. The conversation covered a wide range of topics including playing as a session drummer for some of the biggest names in metal, the inspiration for creating his own artwork, weight loss, and much more.
Hoglan goes into detail about filling in numerous times for Charlie Benante of Anthrax – oftentimes on very short notice. Regarding how he prepares to cover a Benante set, Hoglan says, "I'll film ya, I'll watch ya, and then I'll cop all your licks." He continues, "I try to do Charlie's show, you know. I play it on his kit. We don't change anything on the kit." He discusses his approach to adjusting to Benante's right hand-dominant style and how he first learned of playing with two high-hats from Benante. Click below to hear the full conversation.
"The Atomic Clock" Gene Hoglan is one of modern metal's most iconic drummers. He has been both a working member of amazing bands and the go-to hired gun when it comes to drumming. Currently Hoglan is behind the kit for the thrash legends Testament. His trademark double-kick rhythms have become the beats that have pounded through our headphones and speakers for years. Hoglan has won numerous best drummer of the year awards from Revolver, Modern Drummer, Terrorizer and various others. His capabilities behind the drum kit are a beat above anyone else. Bands Hoglan has been a part of either as a full member, live drummer or session drummer include Dark Angel, Testament, Fear Factory, Slayer, Devin Townsend, Opeth, Pitch Black Forecast, Strapping Young Lad, Forbidden, Death, Zimmers Hole, Meldrum, Viking, and even was the drummer for the animated band Dethklok. In addition, he was the drummer on Brendon Small's Galaktikon (Dethklok) new album. Because Hoglan is such a revered drummer he has also released several DVDs featuring his jaw-dropping drum style, with the most recent being 2016's 'The Clock Strikes Two'.