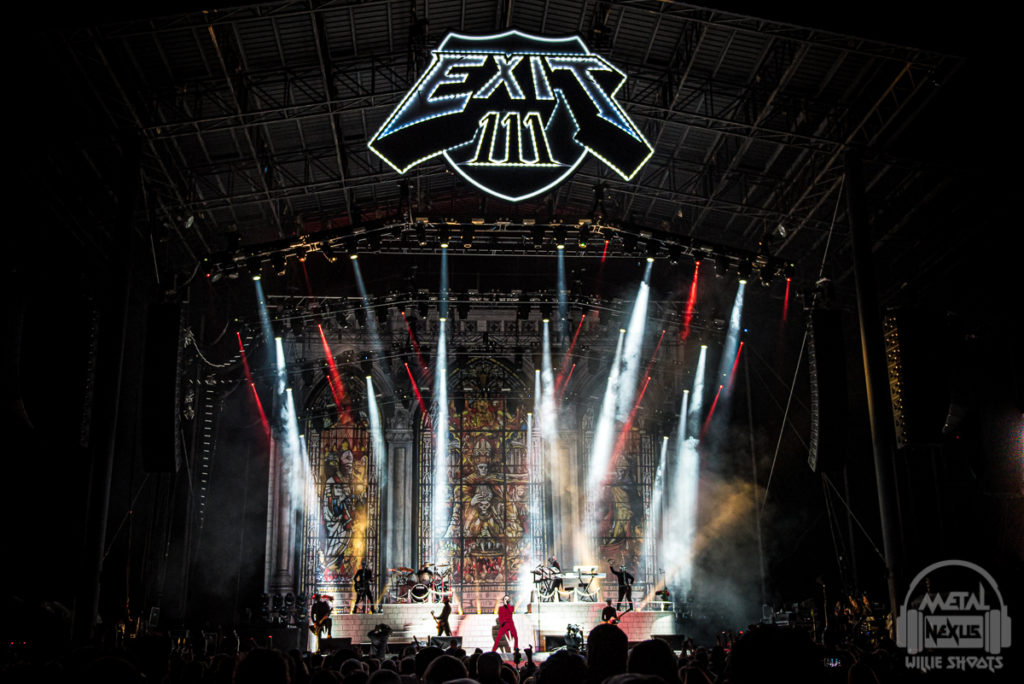 Day one of Exit 111 (review and pics here) really set the bar high with a great mix of bands like Black Stone Cherry, Anthrax, 10 Years, Slayer, Killswitch Engage and classic rock legends Lynyrd Skynyrd. Not to mention the amazing sunny fall Tennessee weather, with highs in the low 80s and the low reaching a cool but comfortable 44 degrees. But with temperatures promising to turn much cooler and steadily drop into the low 30s by nightfall, day two had to turn up the heat on stage in order to keep the campers toasty and the party rolling. So, at noon on Saturday, with college football in full swing at the Mega Sports Bar and a lineup of 18 bands scheduled for the day, the gates opened and the fans started pouring in.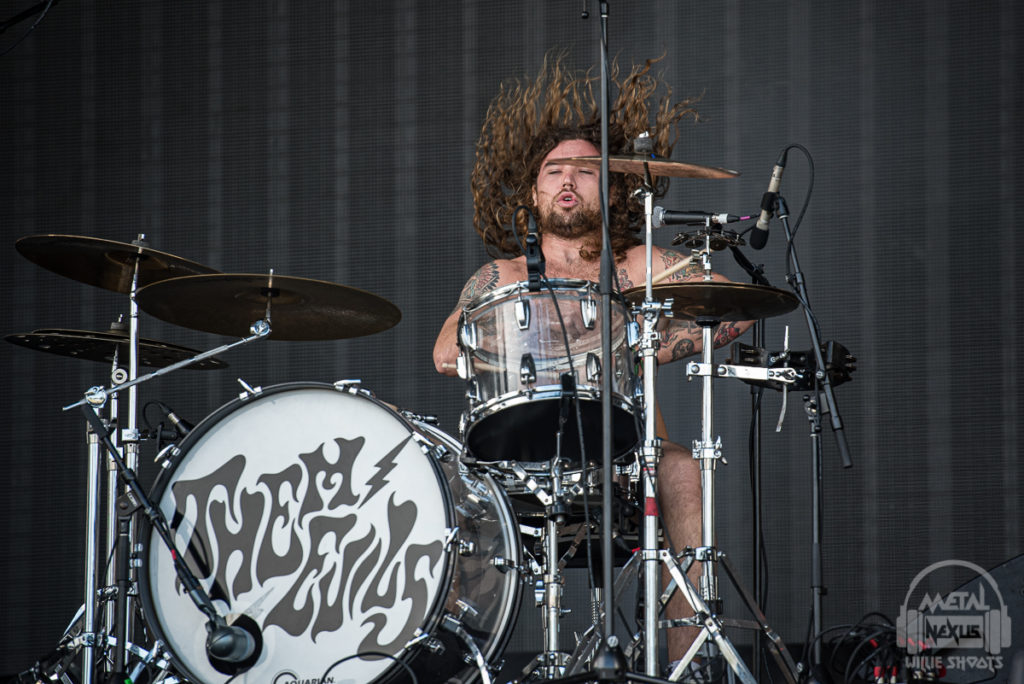 Kicking things off at 1:00 pm on the Hell stage was Southern California trio Them Evils. Billed as "classic rock with a modern roll," Them Evils fired up the still recovering from the prior day crowd with their straight forward, fuzz-driven pure rock n' roll sound. Mixing a blend of originals and cover tunes, Them Evils delivered a blistering six song setlist and an energetic stage performance highlighted by the spirited antics of bass player Jake Massanari who even jumped into the crowd and crowd surfed, bass still in hand! Them Evils kicked off a helluva good day of bone crunching, and eventually bone chilling, rock and metal tunes.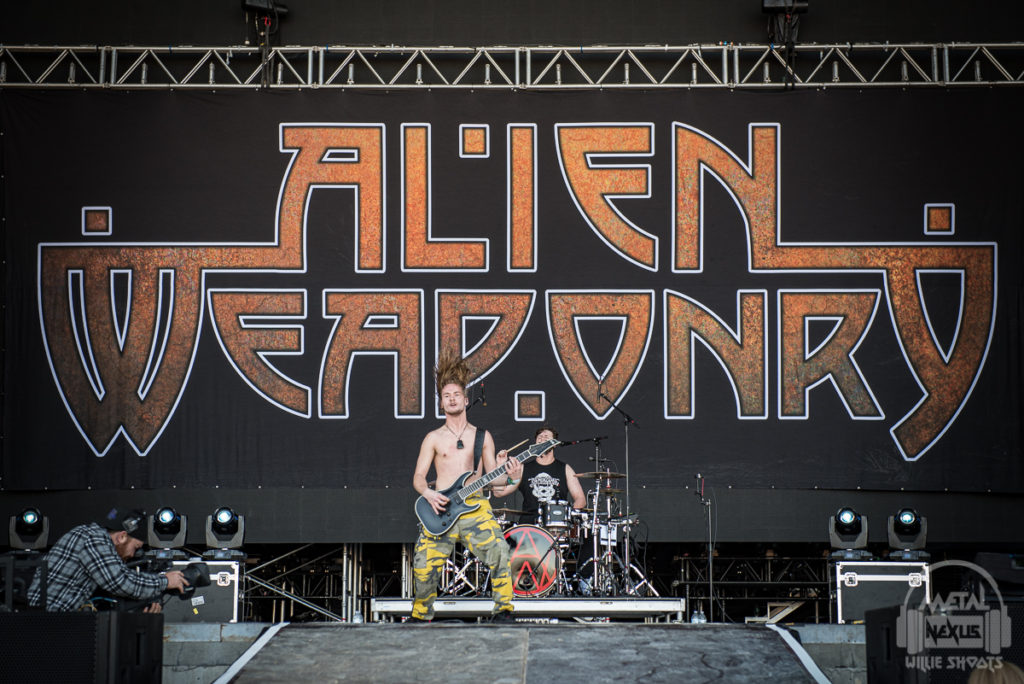 Up first over on the Heaven stage, hailing all the way from Waipu, New Zealand, was Alien Weaponry, a trio comprised of teen brothers Henry and Lewis de Jong (drums and guitar/lead vocals) and normally bass player Ethan Trembath. However, on this run of US dates, bassist Bobby Oblak had been filling in for Trembath in order for him to finish his final year of high school, a commendable decision by the young man. Combining thrash, groove metal and often times elements of their native Maori language and culture, Alien Weaponry has taken the metal world by storm since 2018, getting a ton of airplay on SiriusXM and streams on Spotify and supporting bands like Ministry, Black Label Society and The Black Dahlia Murder on US tours. They opened up the first circle pits of the day with songs like "Holding My Breath" and "Kai Tangata." Alien Weaponry is the future of metal music. And based on what I saw and heard out of these young dudes, their technical proficiency, their already seasoned stage presence, and their downright damn good song writing ability, I'd say the future is in good hands.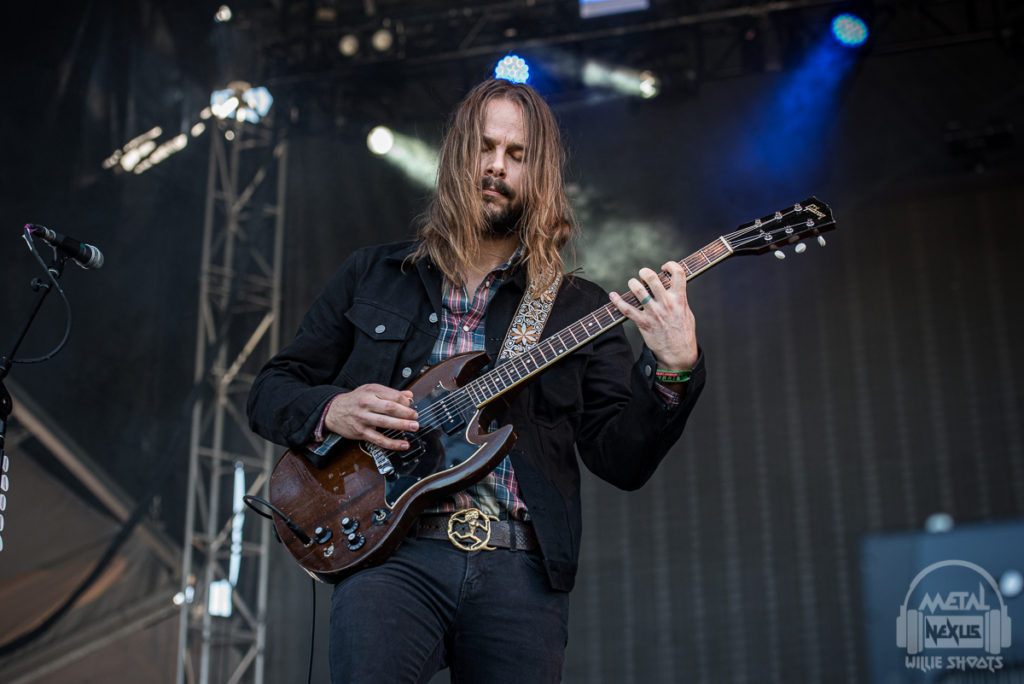 Heading back over to the Hell stage, we got a taste of bluesy, psychedelic rock courtesy of Sweden's Graveyard. Turning the gain down to around 3 on the dial and chilling the mood quite a bit, Graveyard played a set that would've fit right in on the original Woodstock stage. Combining the sounds of Pink Floyd, The Doors and a little Jimi Hendrix, Graveyard provided the crowd a bit of a chance to catch their breath and conserve some of that pit energy in anticipation of the heaviness that was to come the rest of the afternoon and into the evening. The only things missing from the vibe were blacklights, lava lamps and smell of incense wafting through the air.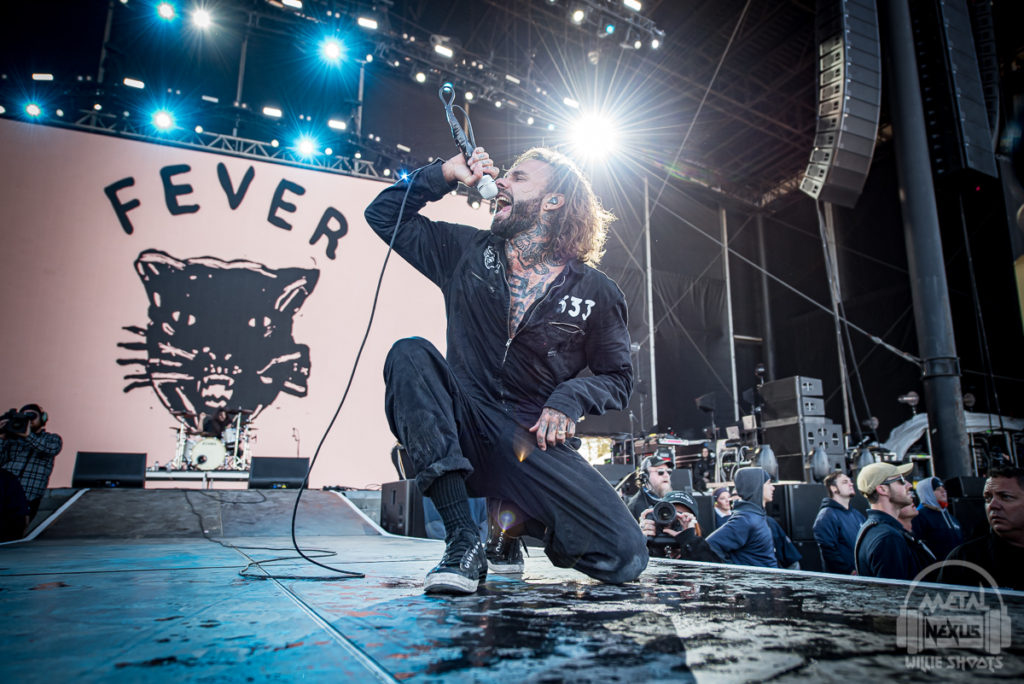 Next up on the main stage was another band making lots of noise in metal circles, Fever 333. Formed in Inglewood, CA by former Letlive frontman Jason Aalon Butler, former The Chariot guitarist Stephen "Stevis" Harrison and Night Verses drummer Aric Improta, Fever 333 has been burning up the tour circuit, radio waves and social media since they erupted on the scene back in 2017. Combining the politically and socially aware vibes of Rage Against the Machine and Public Enemy and then adding their own explosive stage show, Fever 333 is one band you don't wanna miss if they come to your town. Both Butler and Stevis have been known to climb to the top of scaffolding and sometimes jump into the crowd, while Improta gets some serious hang time when jumping from his drum throne and occasionally hitting a backflip mid set. Their critically acclaimed debut album 'Strength in Numb333rs' came out earlier this year.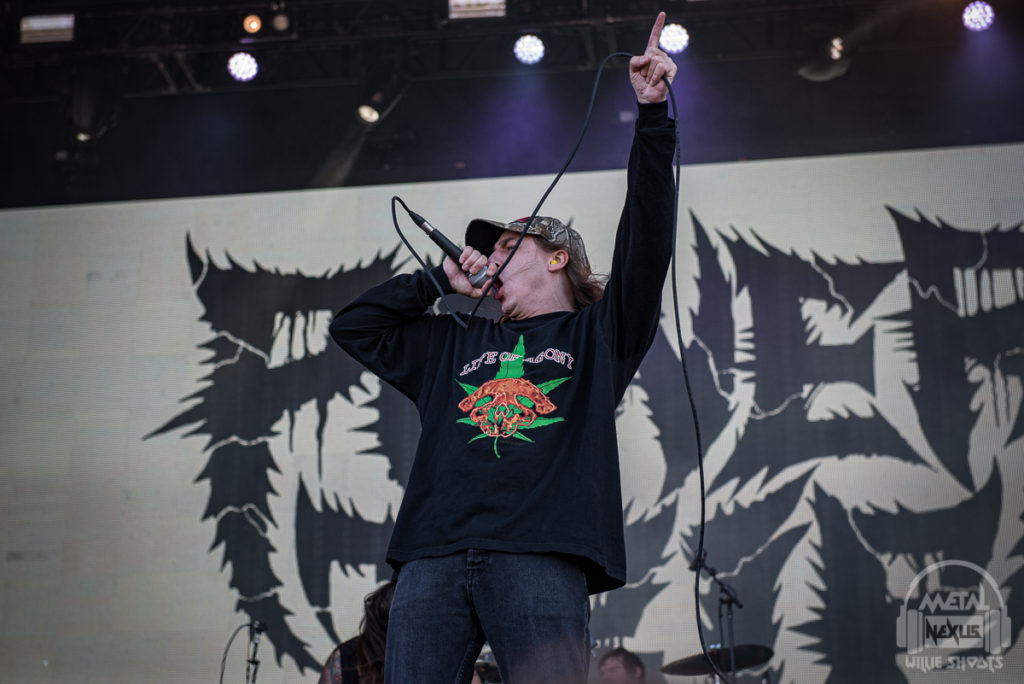 Dallas, TX thrash metal band Power Trip brought the hardcore groove back over to the Hell stage. Combining the old school thrash feel of Exodus and Testament with east coast hardcore and a more modern produced sound, Power Trip's performance was a breath of fresh air for those of us that harken back to a more straight forward brand of heavy metal. With songs like "Executioner's Tax (Swing of the Axe)" and "Hornet's Nest," Power Trip got the pits moving again and it was apparent lead singer Riley Gale wanted nothing more than to jump off stage and mix it up with the moshers as he kicked and leapt off the drum riser on more than one occasion. With Gale and bass player Chris Whetzel flanked by shredders Blake Ibanez and Nick Stewart while Chris Ulsh provided the thunderous beats behind the kit, Power Trip pummeled the crowd with a 10 song setlist of pure crunchy goodness.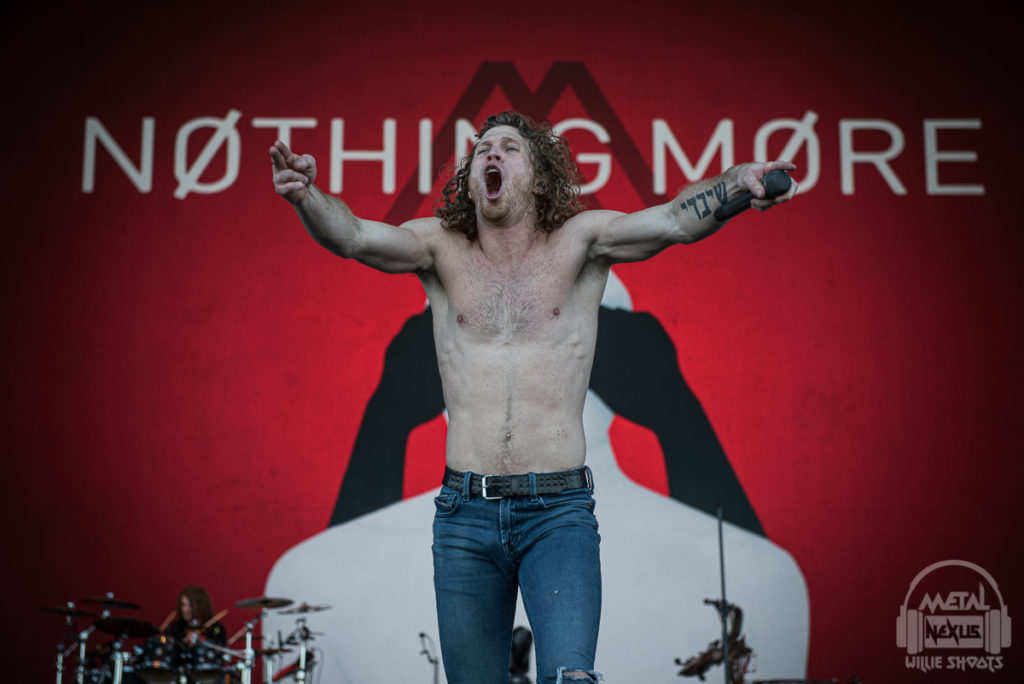 Nothing More, another TX band, took the main stage next. As the members positioned themselves on stage, charismatic lead singer Jonny Hawkins proceeded to climb what appeared to be a 20 feet tall ladder straight from the post-apocalyptic set of Mad Max. Once at the top, he began to churn the wheel of a loud siren that blared throughout the farm as the ladder swayed precariously back and forth. The band ignited their set with "Let 'em Burn" as Hawkins descended the ladder and made his way out to the catwalk and greeted the eager crowd. They went on to play a 12 song set, making sure to hit fan favorites "Go to War," "This is the Time (Ballast)," and of course "Jenny." Having never seen them live before, I have to say that Nothing More is one of the most energetic bands I've ever seen perform and Hawkins has to be one of the most passionate frontmen out there today.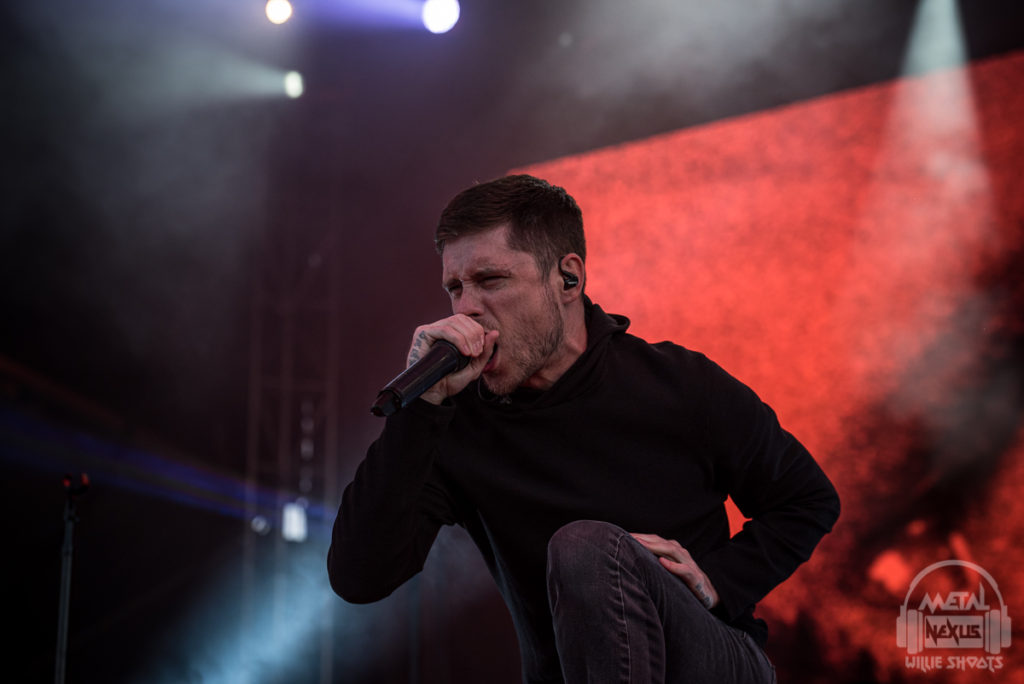 Up next was probably the heaviest one-two punch of the entire weekend. First, back on the Hell stage, Knoxville, TN deathcore band Whitechapel swung over to Exit 111 to warmup before heading out west to join Atreyu on their 20th anniversary tour. Out in support of their critically acclaimed new album, 'The Valley,' Whitechapel wasted no time as lead singer Phil Bozeman grabbed the mic and with a quick "Let's do it!" the band went straight into "Forgiveness is Weakness," "Brimstome" and "Black Bear" off that new album. They even chose Exit 111 for the live debut of two new songs, "Third Depth" and "Hickory Creek." Whitechapel bludgeoned the headbangers with jab after jab for twelve songs until reaching the final knockout punch with arguably their most popular song "The Saw is the Law."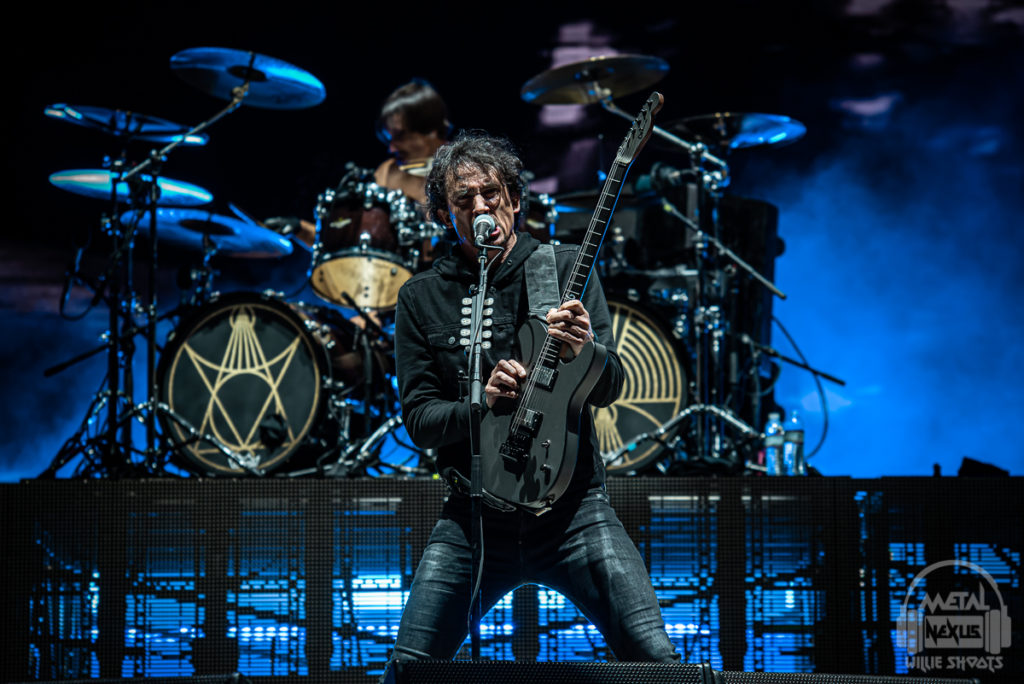 Without any time to recover, the crowd had to hustle back to the main stage for one of the most anticipated performances of the weekend. Making their second appearance on the farm in less than four months, French heavy metal band Gojira hit the stage as the temps were dipping into the 40s and the sun had finally set, the perfect ambience for their style of cold, aggressive and sometimes atmospheric metal. As usual, Gorjia's set didn't disappoint. From the song selection to the precise musicianship and the captivating light and visual show, Gojira is a force to be reckoned with. Opening with "Oroborus," "Backbone" and "The Heaviest Matter of the Universe," the band would go on to play 11 of the heaviest songs of the night, ensuring fans new and old had sore necks in the morning. Having last released new music in 2016, I think we're all hoping that 2020 will finally bring us some new Gojira.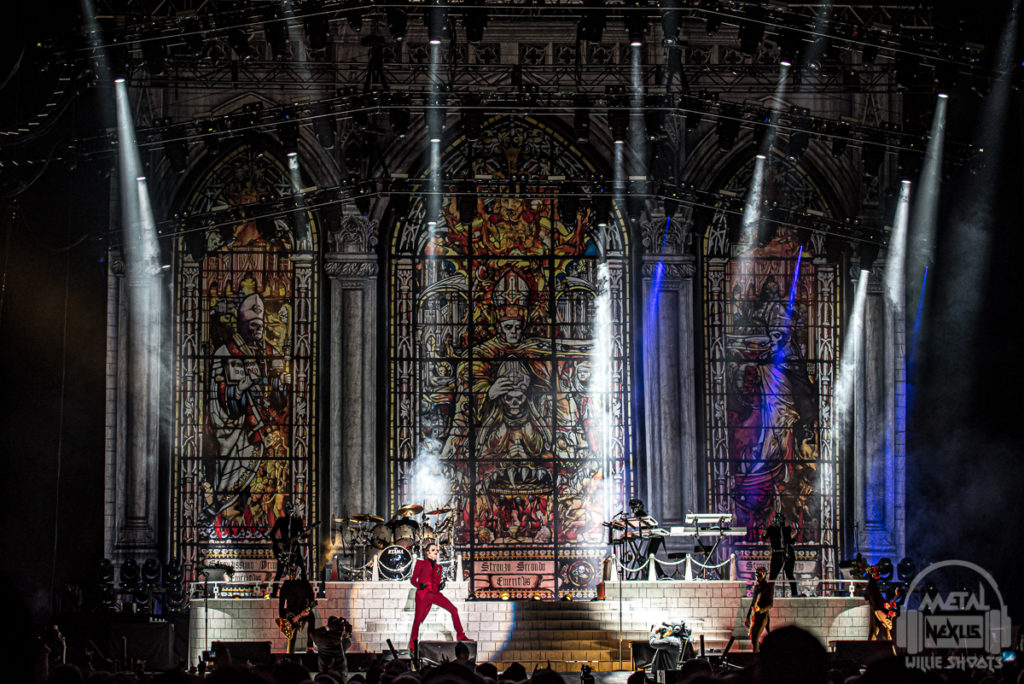 Hitting the Heaven stage next was one of the most polarizing bands amongst metal fans, Cardinal Copia and the Nameless Ghouls of the Swedish band Ghost. Bringing arguably the best stage production of the entire weekend, Ghost is a band that must be experienced live if you're on the fence about or even not interested in their music. The performances, the music, the mood, the elaborate gothic church backdrop, the theatrics, Ghost brings a show that's the closest thing to a Broadway musical that a metal head can appreciate! With dueling guitar harmonies, 80's classic rock synth, finger tapping guitar solos, and a light and fog show to match, Ghost's performance does not disappoint. The cherry on top, literally at the top of the stage, would have to be the moment when a decrepit Papa Nihil was wheeled out, clothed in his traditional white robe and matching embroidered mitre, for a ripping sax solo! Ghost played a monster setlist of 15 songs including "Cirice," "Dance Macabre," "Square Hammer" and their two newest with "Mary on a Cross" and "Kiss the Go-Goat."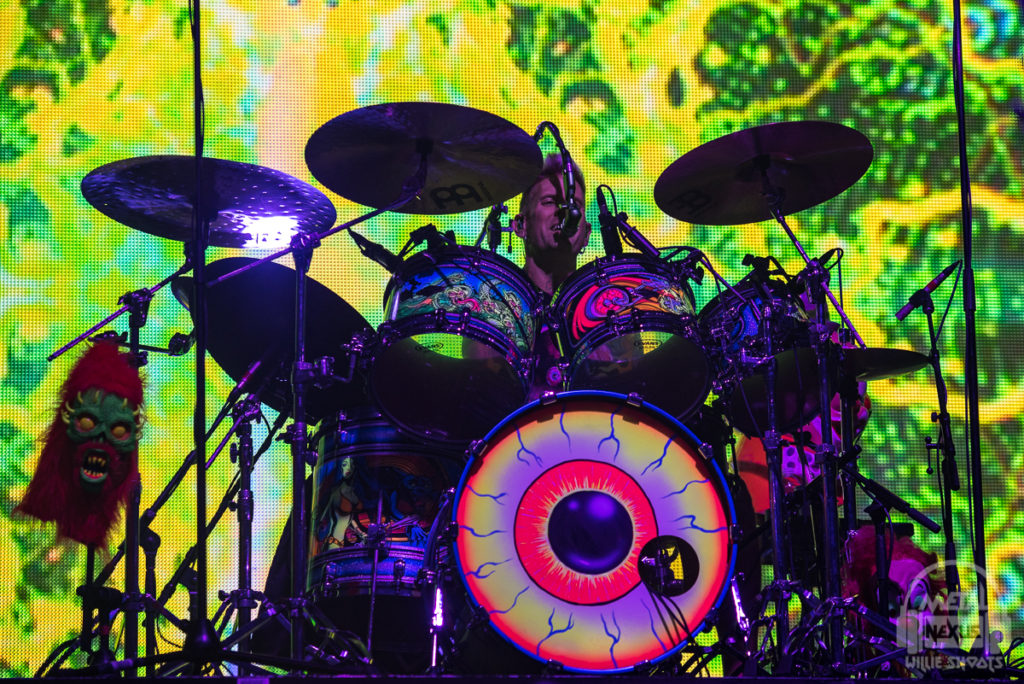 Mastodon made the quick trip up from Atlanta to headline the Hell stage on a cold Saturday night. The band brought with them a motherload of progressive metal and a visual show as psychedelic as most of their album covers. With lasers shooting over top of the audience and a large screen behind drummer Brann Dailor's drum riser projecting a kaleidoscope of colors and trippy images, Mastodon took the crowd on a trip through their entire catalog, hitting at least one song from each of their seven studio albums including fan favorites "High Road" and "Steambreather" and closing out with the song that put them on the heavy metal map, "Blood and Thunder." Mastodon is another band that has recently hinted at working on new music so 2020 is promising to be a good year for new releases.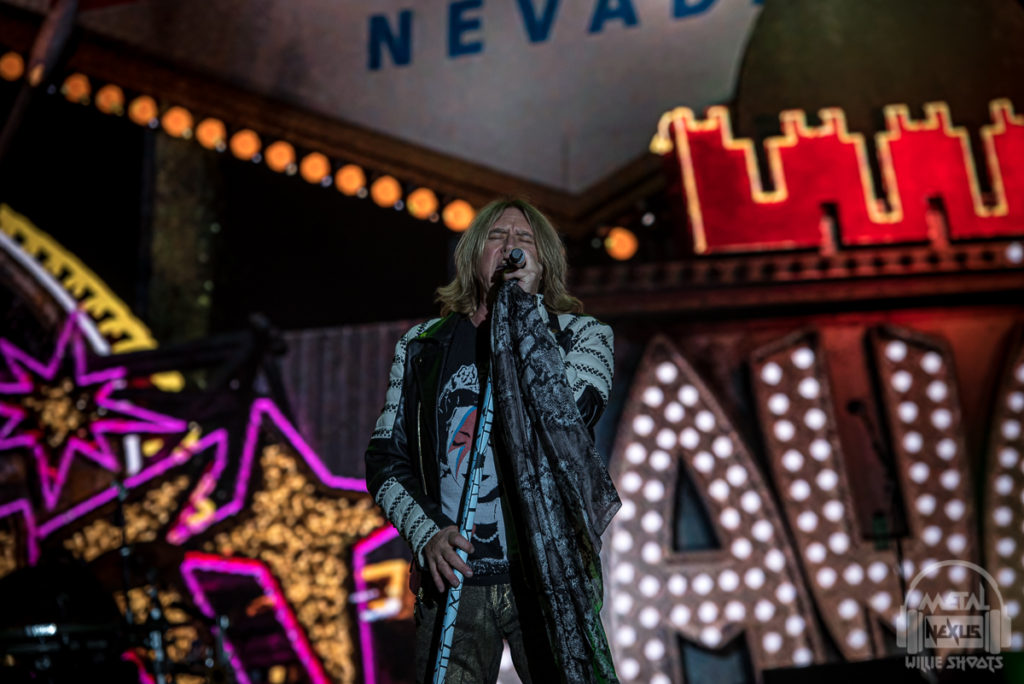 Wrapping up the second day of the inaugural Exit 111 Festival was legendary English rock band Def Leppard. Though quite a change of pace from the bands that preceded them in the day, metal heads and rockers united in their love for the over 40 years of hits put on display by the newly inducted Rock & Roll Hall of Famers. The setlist was practically a top 20 list of 80s and early 90s rock songs: "Rocket," "Animal," "Too Late for Love," "Bringin' on the Heartbreak," "Hysteria" and "Love Bites." Hit after hit led to sing-along after sing-along despite the now frigid temps. Lead singer Joe Elliot, guitar players Phil Collen and Vivian Campbell, bass player Rick Savage, and the Thunder God himself, drummer Rick Allen led some of the older concert goes down memory lane with one of the biggest songs of the 80s and maybe the loudest sing-along of the night with "Pour Some Sugar on Me." But before calling it a night and getting into their encore, Elliot took a moment to reflect on the longevity of the band, "We've got a few minutes left and we'd like to spend them with you the best way that we can, which is being up there doing what we've been doing for the best part of, what has it been now, 42 years? Fuckin' hell, 42! But look at this! Look at this (gesturing to the large crowd)! It's been a long ride since we started out and, uh, as you guys know this band has been through some shit. It's always come through in the end with a big smile on its face, and nobody epitomizes that spirit more than this boy in the back here . . . stand up Rick Allen! And as always he will introduce this one for you!" And with a "Gunter gleiben glauchen globen" followed by the cowbell and kick drum, Def Leppard went on to close out with "Rock of Ages" and "Photograph."
Day 2 of the inaugural Exit 111 Festival was stacked from top to bottom. Eighteen bands in just over 12 hours made for a lot of rock, but Sunday promised another huge day with 15 more bands and lots of big names. Stay tuned for our Day 3 review!