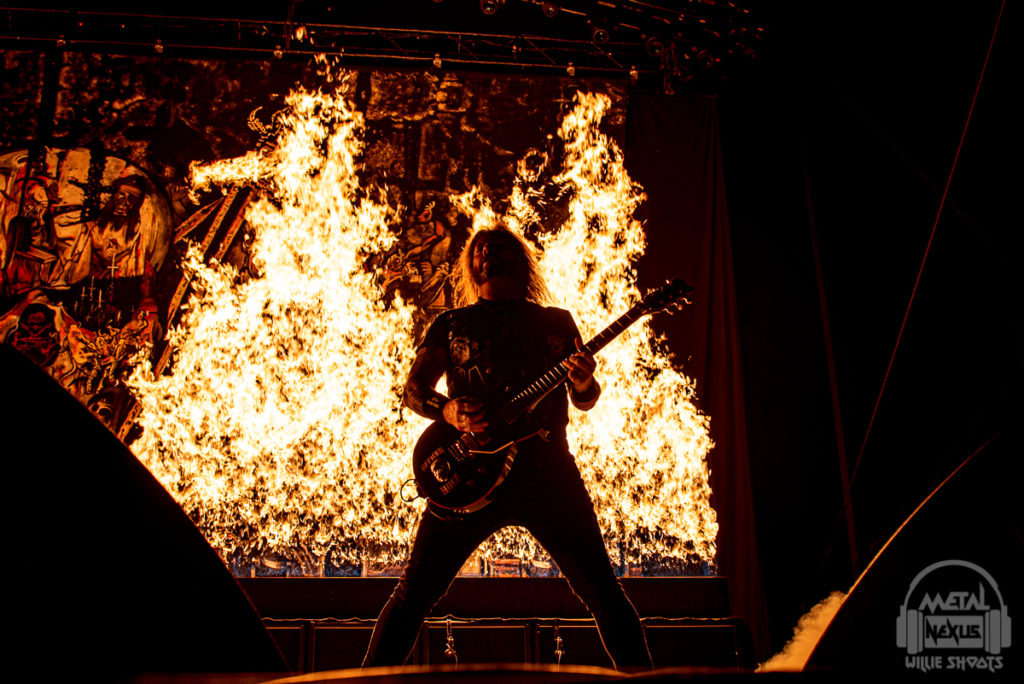 One of the most anticipated music festivals of the summer and fall since its announcement in early April, the first ever Exit 111 Festival, planted its rock n' roll roots deep in the farm that Bonnaroo made iconic just south of Nashville, Tennessee. The three-day experience which took place from Friday, October, 11th, through Sunday, October 13th at Great Stage Park in Manchester, Tennessee, featured a monster musical lineup including Guns N' Roses, Def Leppard, Lynyrd Skynyrd, Slayer, Killswitch Engage, Anthrax, ZZ Top, Ghost, Mastodon, Deftones, Coheed and Cambria, Lamb of God, and many more. In addition to the top-notch musical roster, Exit 111 featured The Paranormal Cirque, a world of combined theatre, circus, and cabaret presented by Cirque Italia; The Red Bull Freestyle Motocross Experience, showcasing the insane talents of some of the best freestyle motocross riders in the world; the Mega Sports Bar, offering everything from college football and the NFL to baseball and hockey games in the biggest damn sports bar you've ever seen; and the Exit 111 Car Show, the first ever all makes, all models car show, free to all Exit 111 ticket-holders.
And while entertainment and food choices were plenty, the real star of this weekend was the music: hard, heavy, fast and sometimes a little bit southern. Exit 111 "road warriors" traveled from far and wide to mosh and bang their heads and with over 40 bands performing between three stages (Heaven, the main stage, and the supporting stages Hell and Rise Above) , there was rarely a moment when the farm wasn't filled with the sound of a power chord, an over-driven Marshall amp or someone yelling "FUCKING SLAYER!" So around 2:00 pm central time, the gates opened an hour earlier than planned and the party officially started as the crowd started pouring in.  With two hours until the music was scheduled to start, the horde had plenty of time to peruse the merch, grab a brew and then head to the front row of their choice and prepare themselves for battle.  Unfortunately for some fans, two stages, the Hell stage and the Rise Above stage, had bands playing at the same time the entire weekend, so choices had to be made: pick a favorite band and watch their full set or split time between the stages and miss half of the tunes.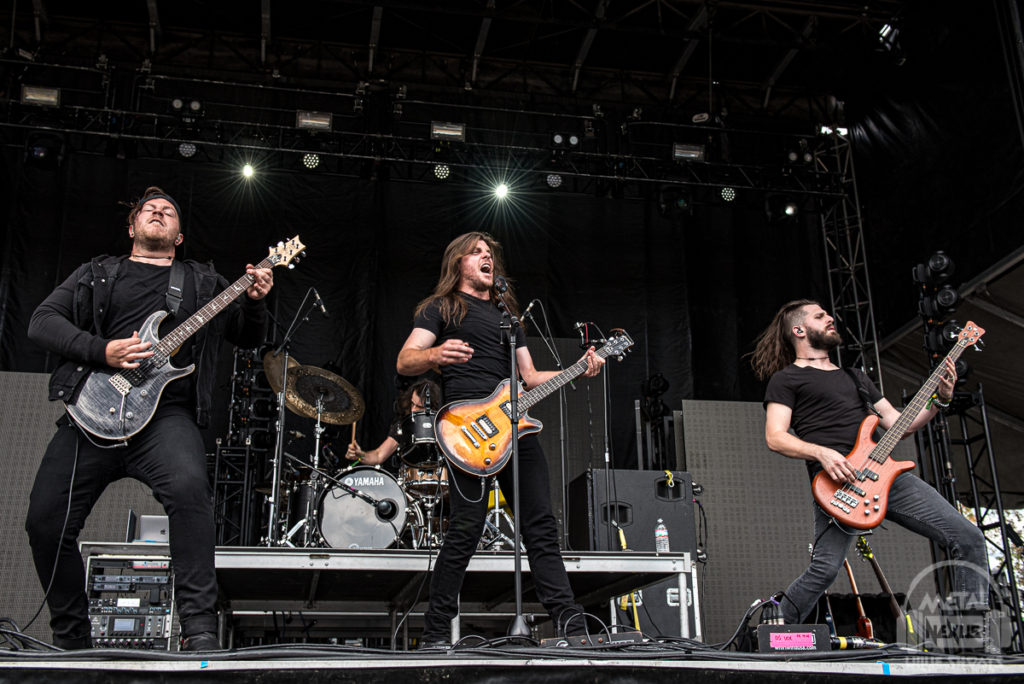 Kicking things off at 4:00 pm on the Rise Above stage was a band that had been together in some form going back as far as 2004, but with a new name and adding a fourth member to round out the lineup, Watermox was making their official live debut at the inaugural Exit 111.  Hailing from Louisiana, Watermox brought a sound to the stage that was a little bit metal and thrash, a little bit southern rock and whole lot of power. Watermox recently worked on a couple of songs with thrash metal pioneer Dave Mustaine, who ironically was originally scheduled to play later that day with his band Megadeth until receiving the unfortunate diagnosis of throat cancer earlier this year and subsequently canceling their remaining 2019 performances. Performing a set mixed with original tunes, including "Headlong" which was produced by Mustaine and released that same day, and a couple of cover songs, they concluded their set with a powerful rendition of Soundgarden's "Outshined." Watermox was the perfect choice to kick off the day by injecting a much-needed jolt of energy into the eager and growing crowd.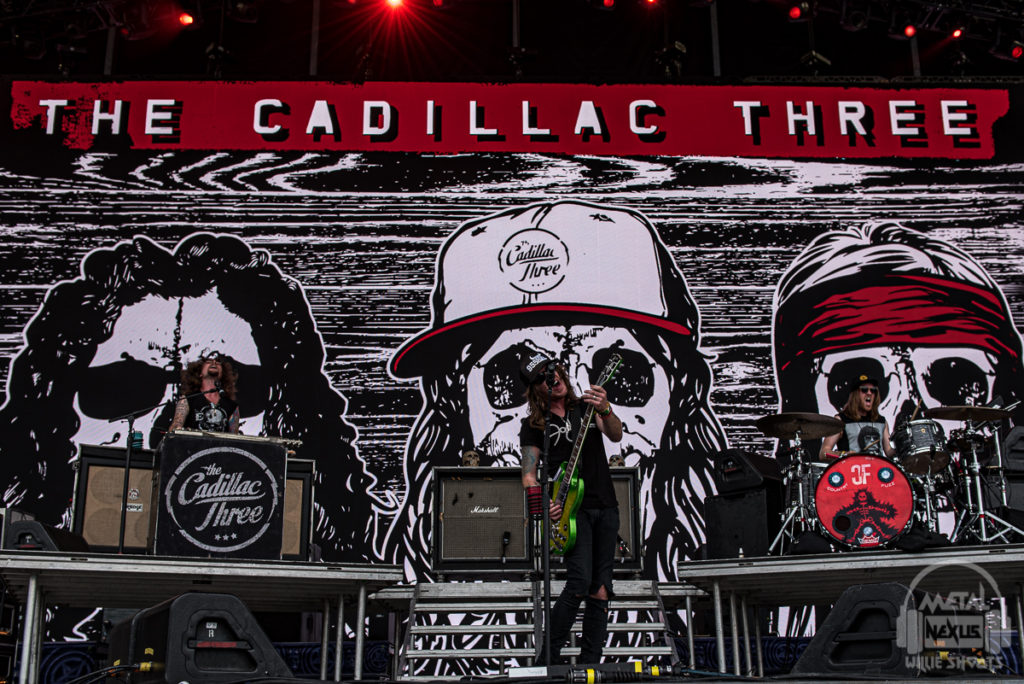 The southern rock infused energy continued as Nashville based, country fuzz band The Cadillac Three were the first band to perform on the Heaven stage. The trio, consisting of guitar, lap steel and drums, professed their love for all things southern and whiskey and maybe even geared their set towards the probably mostly home-grown crowd by playing songs like "Tennessee," "I'm Southern," "Tennessee Mojo," "Whiskey," and "The South." As mostly a metal and heavier rock kinda guy, The Cadillac Three was a refreshing discovery for me. The distorted guitar and the southern swagger tempo of the tunes made the country flavor a little easier to swallow, like a Coke chaser after a shot of cheap whiskey. The Cadillac Three will be releasing 'Country Fuzz' in February so I'd guess a tour will follow.  If you're an open-minded metal head, give these gents a listen and broaden your musical palate.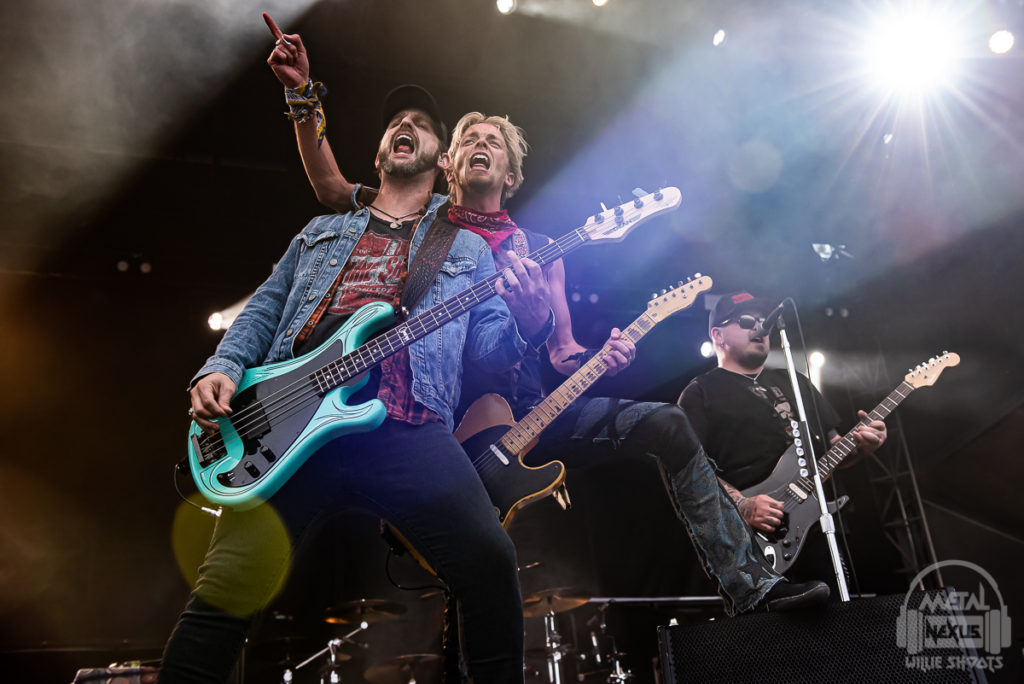 Heading over to the Hell stage, we get our third straight serving of southern rock, this time with a little bluesy seasoning from Kentucky's native sons, Black Stone Cherry. From their humble beginnings in Edmonton, KY to now almost 18 years later, Black Stone Cherry has built quite a career for themselves.  Touring the world with some of the heaviest hitters in rock and topping both the US and UK rock charts several times, Black Stone Cherry hit the Hell stage firing on all cylinders.  Leading off with "Burnin'," the Kentucky boys didn't let off the throttle their entire set.  Covering their entire catalog, BSC rocked the still growing crowd like only they could, but with the rain starting to fall early on in their set I feel like they missed the perfect opportunity to call an audible and throw "Rain Wizard" in there, but nonetheless their setlist was filled with hits as they continued to amp up the energy with "Me and Mary Jane" and "Lonely Train" and prepared the crowd for the night that was to come.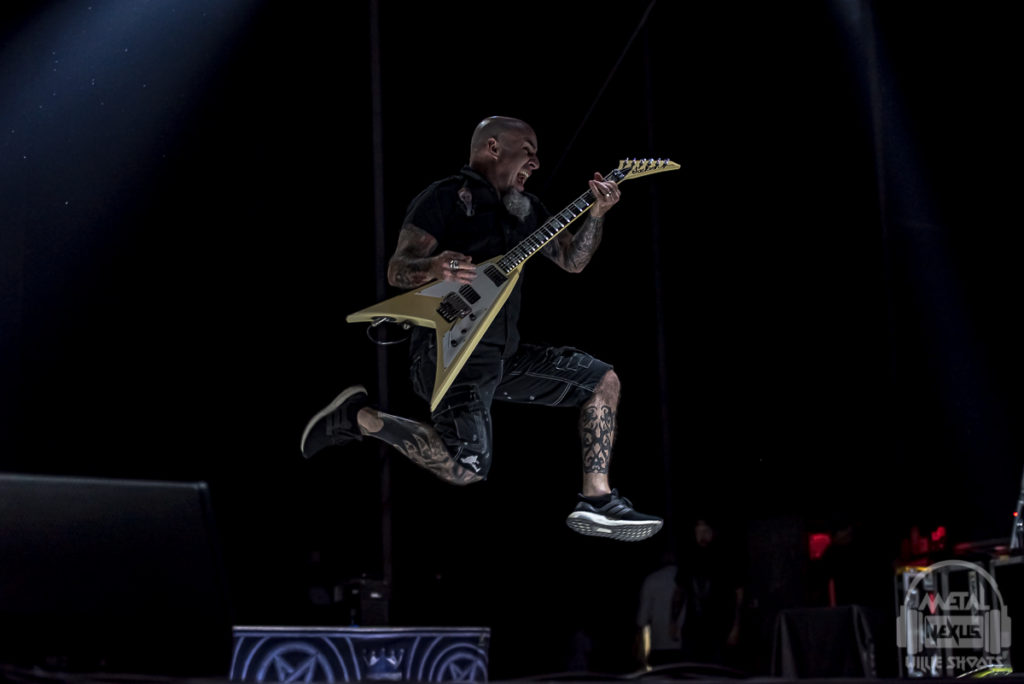 Switching gears and turning the amps up to 11, thrash metal pioneers, and one of the Big Four, Anthrax prepared to hit the Heaven stage just as the rain was slowing and the temps were dropping.  Nothing like a little Anthrax to warm you up on a chilly October evening.  What more can be said about a metal giant that's been around since 1981 that hasn't already been said?  Anthrax helped usher in not one, but two metal genres (thrash and nu-metal with their "Bring the Noise" collaboration with Public Enemy).  They changed lead singers mid-career and didn't miss a beat.  They reunited with their original singer and continued to churn out critically acclaimed tunes and after almost 40 years they show no signs of slowing down. After "The Number of the Beast" finished playing over the PA, Anthrax took the stage and went straight into a snippet of Pantera's "Cowboys from Hell" as a tribute to the late Dimebag Darrell and his brother Vinnie Paul before whipping up the pit with "Caught in a Mosh." The thrash metal titans continued their march with a heavy dose of old school staples, "Got the Time," "Madhouse," "I Am the Law" and of course "Antisocial" before wrapping it up with "Indians" and again tipping the cap to the Abbott brothers by finishing with the end of "Cowboys from Hell."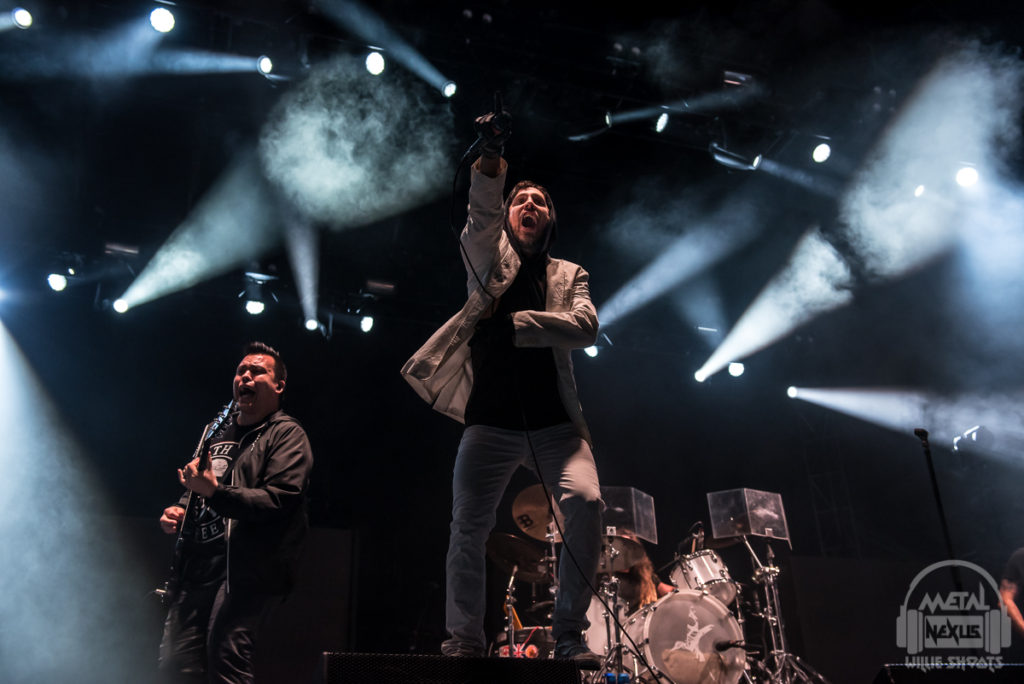 Tennessee band 10 Years made the short two and a half hour trek over from Knoxville to take the Rise Above stage around 7:30 pm.  Another band that needs no introduction, 10 Years formed in the late 90s in Knoxville but didn't really solidify their lineup until around the release of 'Killing All That Holds You' in 2004. But they truly found their stride after the release of 'The Autumn Effect' the following year which spawned the mega-successfully reworking of hit single, "Wasteland." Coming to the stage following the somber piano score from American Beauty, 10 Years wasted no time with their half step down riffage and started things with "Now is the Time (Ravenous)" and "Fix Me" before moving to the crowd pleasers of "Beautiful," "Russian Roulette" and "Novacaine." With seven studio albums to pluck from (well, really 8) but limited to an hour on stage, some of my deep cut favorites didn't make the setlist, but all told 10 Years treated the crowd to a great sample of their vast catalog. While transitioning into "Wasteland," lead singer Jesse Hasek took a moment to thank the crowd "We get to live out our dreams for a living because you guys showed up and supported us." 10 Years concluded their night with "Shoot It Out." 10 Years have been writing and demoing some new material recently so hopefully we'll be getting a new album from them in 2020.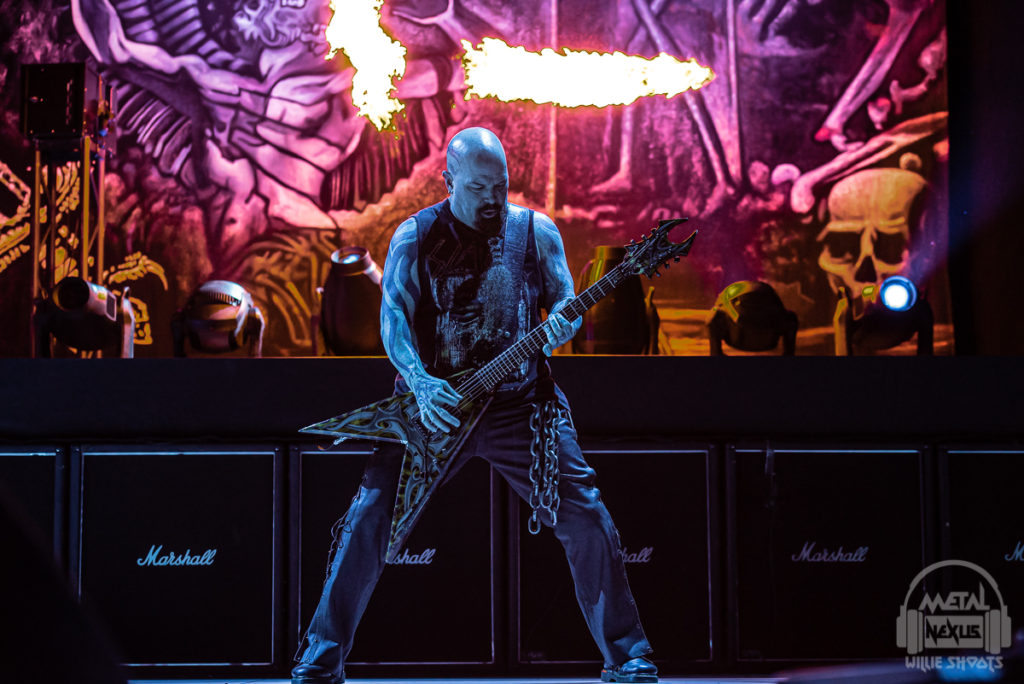 After playing Nashville back in August 2018 and crisscrossing the globe several times during their Final Campaign farewell tour, Slayer returned to Tennessee for their final visit to the Volunteer state and their last (scheduled) festival appearance. Following almost 40 years of relentless touring, playing their style of metal and losing founding member and a principal song writer in Jeff Hanneman back in 2013, it's not difficult to understand why the band has decided to hang it up and leave at the top of their game. But here we are, October 11, 2019 and possibly our last chance to pay homage to one of the greatest heavy metal bands of all time.  As "Delusions of Saviour" played over the speakers of the Heaven stage, ironically enough, spinning white crosses were projected on the large black curtain that hung in front of the stage.  As the music reached its crescendo and the curtain dropped, Tom Araya, Kerry King, Paul Bostaph and Gary Holt launched from 0 to 208 beats per minutes straight into "Repentless" and the place exploded! Slayer made sure that if this was your last time seeing them, you got your money's worth and your asses kicked with enough pyro to scare James Hetfield and a 16 song setlist that hit all the right spots: "Mandatory Suicide," "World Painted Blood," "Postmortem," "War Ensemble," "Disciple," "Seasons in the Abyss," "Hell Awaits," "Raining Blood," "Dead Skin Mask," and of course finishing with "Angel of Death." Slayer's farewell tour is scheduled to end on November 30, 2019 so if you haven't seen them yet and they are coming near you, grab a ticket and get to a show because after November, retirement awaits!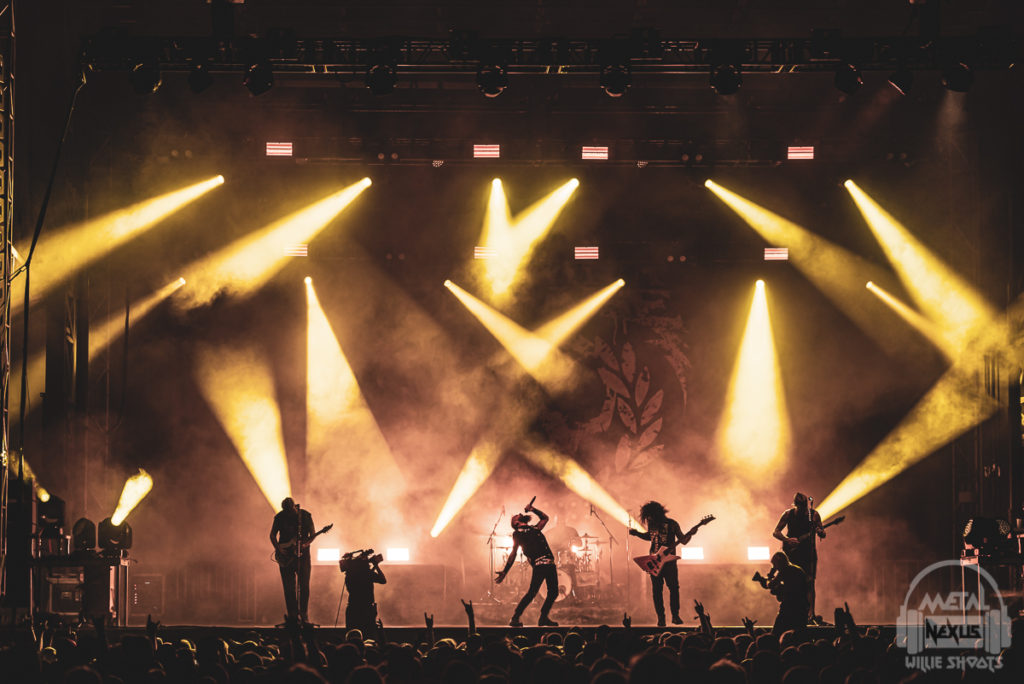 After Megadeth cancelled their remaining 2019 gigs following Dave Mustaine's throat cancer diagnosis and subsequent treatments, Killswitch Engage was added to fill the spot and Exit 111 provided the perfect opportunity for them to kick off their world tour in support of the recently released album 'Atonement,' which came out in August.  Always the band to never take themselves too seriously, Killswitch came to the stage following, let's just say a sour note version of "The Final Countdown" and immediately unleashed "Unleashed" (sorry, I had to) off their new album, the first of four new songs they would debut tonight, the others being "The Crownless King," "I Am Broken Too," and "The Signal Fire" which features former lead man Howard Jones (not in attendance tonight). They also made sure to hit fan favorites "My Last Serenade," "Rose of Sharyn," "In Due Time," "The End of Heartache," "My Curse" and of course their closer, the Dio cover "Holy Diver." But what Killswitch set would be complete without some hilarious banter from funny man guitar player Adam Dutkiewicz? After noticing a furry panda costume in the pit, Adam D. lead the crowd in a roaring chant of "MOSH PIT PANDA! MOSH PIT PANDA!" and the unofficial mascot of Exit 111 was born.  Killswitch Engage is performing with as much energy and zeal as ever and with a new album to support we can hopefully expect US dates to be announced before the end of the year.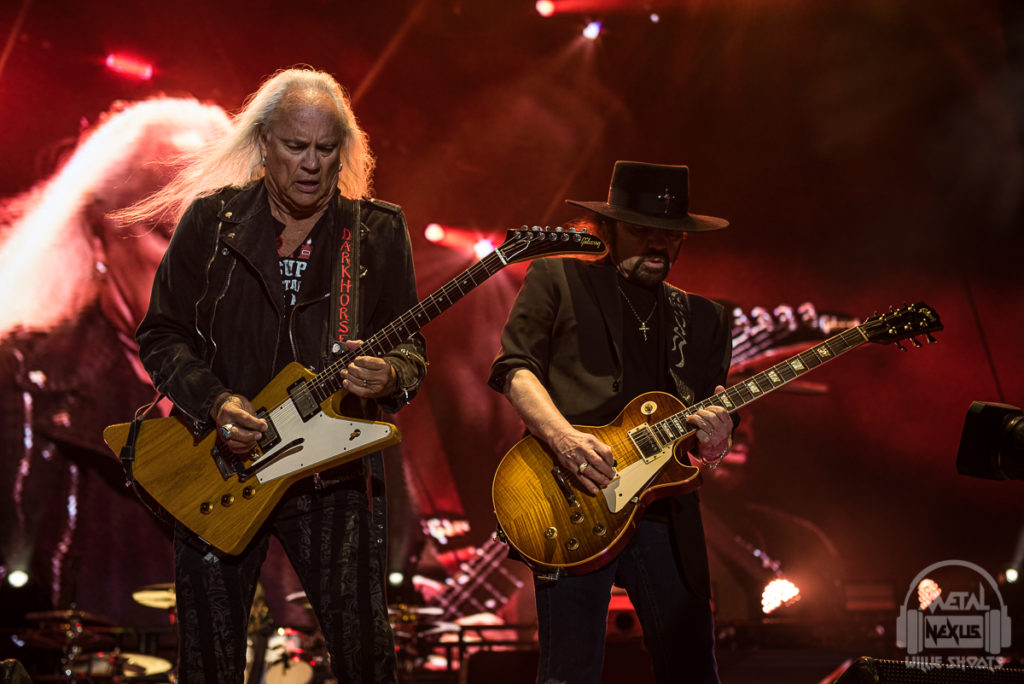 Wrapping up the first day of the inaugural Exit 111 Festival were legendary southern rockers Lynyrd Skynyrd, another band who was hitting Exit 111 as a stop on a lengthy farewell tour.  Formed in 1964, Lynyrd Skynyrd has a storied history, including that fateful plane crash in 1977.  Without some of the songs they created throughout their career, especially from their first five albums, classic rock radio might not even exist. The 14 song setlist they played Friday night has well over one billion Spotify streams alone.  With only one remaining founding member, guitarist Gary Rossington, and Johnny Van Zant, the younger brother of founding lead singer Ronnie Van Zant, as the lead singer since 1987, the songs you love and know so well still sound as rockin' as you remember them after all these years.  "Workin' for MCA," "What's Your Name," "That Smell," "Saturday Night Special," "Tuesday's Gone," "Simple Man," "Gimme Three Steps," and "Call Me the Breeze" they were all there that night and they were all glorious. The highlight of the set had to be when they played probably the most requested song of all time, "Free Bird."
Day 1 of the inaugural Exit 111 Festival really set the tone for the weekend.  12 bands in under nine hours was a great start, but Saturday promised an even longer and heavier day.  Stay tuned for our Day 2 review!