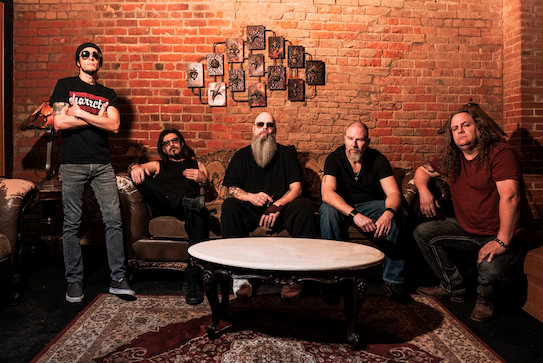 Exhorder's enduring legacy began in the mid-80's when they defined the sound of Louisiana thrash and groove metal. Their initial formation was short lived, lasting nearly a decade with two critically acclaimed, classic albums, but their impact on the metal genre can be felt through a generation of bands that followed. Exhorder dissolved in the mid-90's but briefly reunited in 2011. Now, the band has returned to reclaim their throne of NOLA metal with their awaited new album and an all-star line-up that includes Kyle Thomas (founding vocalist; Trouble, Heavy As Texas), Vinnie La Bella (founding guitarist), Marzi Montazeri (guitarist; ex-Superjoint Ritual, ex-Phil Anselmo & The Illegals, Heavy As Texas), Jason VieBrooks (bassist since 2011; Heathen, Grip Inc.) and Sasha Horn (drummer; Forbidden).
Now the NOLA thrash metal legends Exhorder have released a neck-snapping new thrash anthem today, dubbed "Hallowed Sound." The song is featured on the band's first new album in 27 years, 'Mourn The Southern Skies,' that's due out September 20th from Nuclear Blast Records.
The New Orleans natives made their long-awaited return last year with a string of reunion shows and festival appearances, and now are launching a full-on comeback with the impending release of Mourn The Southern Skies. Recorded by Duane Simoneaux at OCD Recording and Production and working with producer Jens Bogren (Amon Amarth, Opeth, Sepultura) at Fascination Street Studios in Sweden for mix/master, Exhorder is armed with more fury and vigor than bands half their age, concocting an intoxicating amalgam of old school thrashers and groovers blended with a modern, mature approach.
Commenting on the new track, guitarist Vinnie LaBella says, ""Hallowed Sound" is one that keeps in the tradition of 'The Law' era with some new twists and turns. Mid-tempo/slow, heavy grooves with a mean yet soulful Kyle Thomas singing about our beloved NOLA music history, and future!
In "Hallowed Sound" the thrash legends waste no time indicating the genre they rule. It's instant shredding by guitarists Vinnie LaBella and Marzi Montazeri who I refer to as the "High Priest Of Distortion." Kyle Thomas shows their is no rust on his vocal chords and unleashes no restraint on this track. The lyrical content also boasts some angry aggressive content which is a great addition to any thrash song. A portion of the lyrics include "Shame upon your pitiful pride. Can't you look in my eyes? You fucking goddamn joke. Go take another toke a line a bump. Your broken record skipped. We just flipped the script. We'll take it back." It's one of those songs you want to jam over and over. Pick up the entire new record on September 20th.