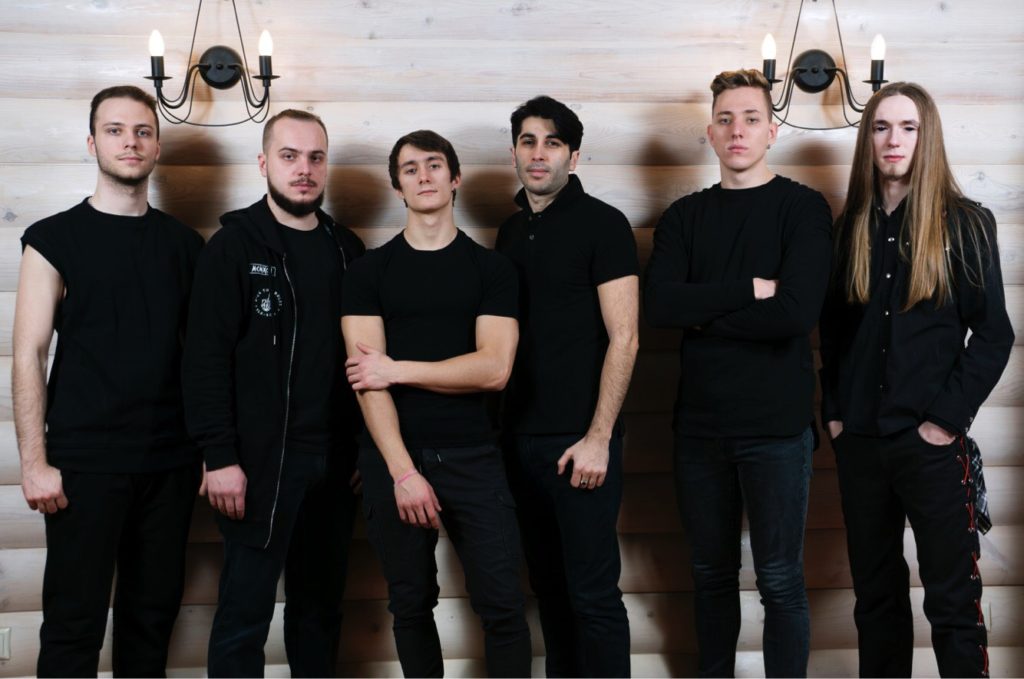 Hey there! Today we're helping Russian sextet TIAVARA premiere their absolutely amazing single "When Silence Reigns", from their upcoming album, 'Delusional Tales of Grand Intentions', due out on April 27, 2018. That is right! So TIAVARA are a six piece melodic metal outfit hailing from the freezing north of Korolev, a town nestled in Moscow, Russia, Mother Russia as they would like to say. If you aren't familiar with this band, let me tell you they are one of the rising underground bands who are absolutely crushing it down to the bone. How do I know that? Well the answer is right below you in the track stream. They are melodic, groovy and do not shy away from mixing ambience, melody along with alternative elements into a carefully crafted piece of heavy metal art.
TIAVARA aren't an old brick in the wall. They are fairly new to the scene, having formed around six years back in 2012, under the aegis of brothers Tikhon (lead guitar) and Danila Pachin(drums). For two long years, the band were playing covers of Scars On Broadway, Marylin Manson, The Cranberries etc. Fast forward two more years and we have the first and full complete line up of TIAVARA. The founding fathers.., well let's just say, founding brothers,..were joined by Aleksandr Bogdanov (rhythm guitar), Rostislav "Rost" Prus (bass), Egor Veryovkin (keyboards, percussion, backing vocals) and Arte Vardanyan (vocals) in 2014, thus making this Russian engine ready to roar. Band was ready, so what's next? The debut EP! Following year they released their debut EP, 'Never Silent' while touring throughout Russia, and thus promoting the same. In 2016, the band geared up for the release of it's first full length album, entitled, 'When Sheep Dream Of Paradise' to some widespread fan approval. Describing themselves as Experimental metal/Avant-garde metal on their Facebook page, this Russian band has been firing some major shots and they have been getting noticed quite a bit now.
Things have been very fruitful and busy for TIAVARA lately and continuing the work ethic, they will be releasing their sophomore record this year soon enough. The band has been working and meticulously carving those riffs and melody in the studio since last year. Before they release it, today we bring to you their single, "When Silence Reigns" for an exclusive Metal Nexus only premiere. I really didn't know what to expect much from a band that was new to my auditory sensations. But when I was given their song stream link, I must say I was impressed. They are really getting those chops and riffs and hard hitting drumming on point. What is also interesting and doesn't make it sound stale is the fact that they incorporate the melody so very well along with those heavy and groovy riffs. I like the vocals that are very operatic, and is a subtle reminder of Til Lindemann from Rammstein, one that possesses a commanding fervour. The track showcases a lot of elements and influences, you just name it and it's there. Groove? Check! Melody? Hell yes! Oriental ambience? Check! Lyrical prowess? Check! So yeah you can already tell that the track is amazing and is something that will keep you fixated. Definitely not a yawner!
Here is what the band says about the track,
""When Silence Reigns" is a song about a spiralling descent into mental instability. A sufferer consciously withdraws himself from society out of fear of not being understood or accepted. It is about pushing away loved ones and retreating into a mental shell to avoid torment but making problems worse instead. It was inspired by and can be considered to be sort of a sequel to our earlier song "Never Silent" and books about mental illness as well as biographical facts about serial killers. The lyrics are shaped like a typical heartbreak story that could be found on social networks but with a dark twist. Musically When Silence Reigns is an emotional reflection of our lead guitarists wondering about  what is it like to be completely alone and if he has any "true friends"".
TIAVARA reeks elements that can be easily noticed in bands such as Lamb Of God, Devil Driver, Godsmack, System Of A Down, Slayer, to Bring Me The Horizon. So there, the palette is wide and incorporates a lot of elements and influences from both end of the rock spectrum. Both old school and new age! It's just a matter of time this band breaks big into the international scene given the high quality musicianship they are showcasing. I think I have found a band that would keep my eyes gawked at them for further releases. I hope you like the track and give the band a like and support this new venture. And don't forget to keep an eye out for their upcoming album 'Delusional Tales of Grand Intentions', releasing soon this year.
Purchase and support their music HERE!
​