Entheos is:
Chaney Crabb – vocals
Navene Koperwis – drums
Evan Brewer – bass
Travis LeVrier – guitar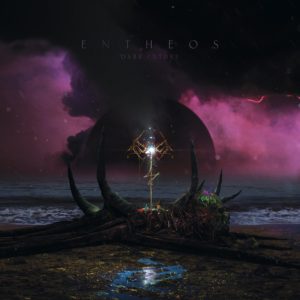 Huge fan of Entheos right here, so when we got the opportunity to review the new album Dark Future on Spinefarm Records and due out November 10, 2017, I staked claim on it within seconds of the promo email hitting our mailbox. I have been waiting to hear this thing since speaking with vocalist Chaney Crabb last year while touring in support of their last full length album, The Infinite Nothing. She stated that any new music was going to be "more weird" and "experimental" as time progresses. Thankfully, she and the rest of Entheos has made good on that promise with Dark Future.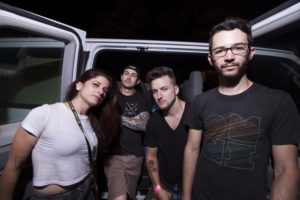 For those that may not be familiar with this stellar California band, Entheos is an unquestionable super group of fine Metal musicians. Evan and Navene not only co-founded Animosity but also provided bass and drums for The Faceless and Animals As Leaders, respectively. With the addition of former guitarist Travis LeVrier from one of my favorite bands Scale the Summit, Entheos is now complete like never before. "I've known Navene and Evan since 2004," says Travis. "When they were touring behind The Infinite Nothing, we hung out. They asked me if I was interested in playing guitar for them. I joked, 'I would step in, but I'm not sure if I have the chops.' They exchanged a look, and I was like, 'What did I say? I was joking.' It turns out they weren't," he laughs. "Ultimately, it was a really seamless transition for me."  All of the good weirdness is now free to shine through, emitting a new level of intensity and brightness. Chaney Crabb confirms this newfound solidarity, stating: "To me, Dark Future is like our first real release. Travis coming into the band was the perfect match, and the album encompasses each individual band member. It's us saying,'This is Entheos. This is who we are. Dark Future begins our journey'." After relentless touring with The Black Dahlia Murder, The Contortionist, The Dillinger Escape Plan, Veil of Maya and Between the Buried and Me last year, the band landed in Navene's apartment early this year to work out a new album. "We wanted to evolve the sound a little bit," Navene says. "Evan wrote a lot more. You can feel Travis's influence in there. We didn't have that before. The process was different this time around. We decided to get together for a couple of weeks in a room and hammer out the whole album. The last time, it was mostly done via email. Being in the same place, you really get inspired by what everyone else is doing."  Travis agrees. "It just flowed really well once we got together. That was the last piece of the puzzle that I needed to prove to myself. I knew I could do well on tour and live, but I wanted to prove I could write music with them. The whole thing was very inspiring for all of us. It was creativity in its purest from. That's where it all started." Evan continues: "Now, it was much more of a group effort from the ground up. It was different in that regard. Once we started recording, everything went really fast."

What we are left with is Dark Future and it is nothing short of brilliant. The quirky "weirdness" that Ms. Crabb hinted at has now evolved into a band defining sound that is less funky and more progressive in tone and tempo. "I think this album is going to translate better live," explains Evan. "It's technical, but not in a super dense way. There's more space, and the tempos are slightly slower—which will be fun on stage." While Entheos has never suffered lack of enthusiastic stage presence, this noticeably slower pace does create a less pushed and frenetic, but much heavier and intense sound that let's the outright talent of each member to shine through. For example, Chaney's vocals have now matured and expanded to provide high pitched wailing, eerie mechanically altered barking and her trademarked throaty deep growling to the Entheos sound. Navene continues to offer his spellbinding talents on the drums. His second to none ability to drive songs' tempos straight through the listener continue on the new release. He simply never disappoints. Now come the real changes. Evan has been fully cut loose and it… is… stunning. This man is a player's player. Holy smokes! His bass lines are no longer simply providing rhythms but add a new complexity that The Infinite Nothing hinted at but never quite brought to fruition. The genius of adding Travis becomes clear from the opening song and just climbs from there. His crack about not having the chops is ridiculous. His ability to effortlessly weave in and out of Navene's complex, polymorphic rhythms boggles the mind. StS's loss is certainly Entheo's gain. This is EXACTLY the potential we all heard in Nothing. Chaney could not agree more. "I want people to walk away with a sense of who we are as a band. Evan, Navene, and I have been extremely tightknit since the beginning. It just took us a year-and-a-half to find Travis. Now that we're together, I hope listeners want even more from us." Navene concludes: "I hope audiences feel like they experienced something. When I heard it totally done, I felt like I had just left a movie theater. It's a heavy, deep, and cinematic experience. I hope that's what comes across." In all honesty, Dark Future offers everything the best of Entheos and Extreme Progressive Metal has to offer. Great album and highly recommended! Only five short days left…
Tracklist for Dark Future:
"Black Static (I)"
"White Noise (II)"
"Melancholia"
"Pulse of a New Era"
"Sea of Symmetry"
"Inverted Earth (I)"
"Sunshift (II)"
"Suspended Animation"
"The World Without Us"
"Resonance"