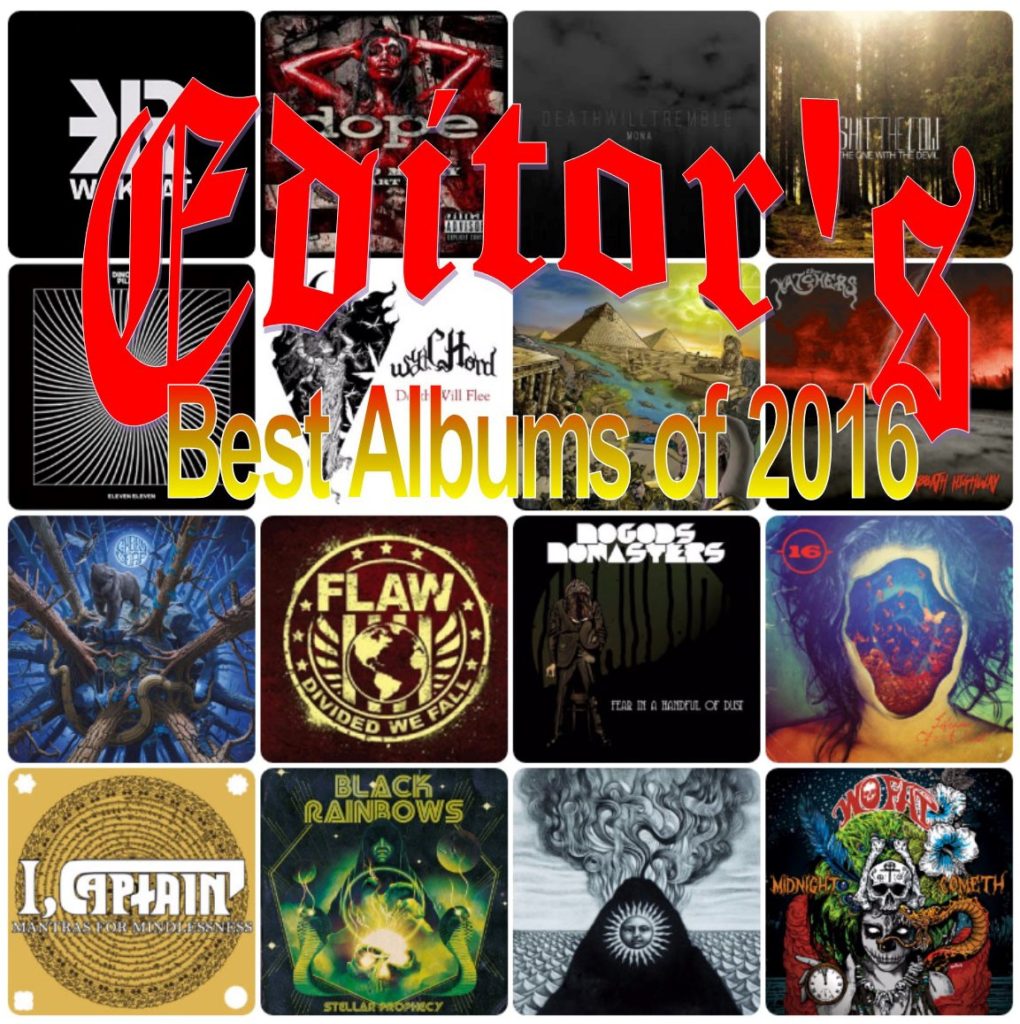 It's an incredibly hard task to narrow down all the amazing albums that released in 2016 to a short list of 25. This year seen the reunion of some amazing acts and we lost several iconic musicians. My personal top 25 albums of the year not only includes veteran acts that you are probably familiar with, but also brand new bands or lesser known bands that blew me away with their sound. There are just some bands that have a way of capturing you moments into the first track. There are several other albums I wish I could have included in this list, but without further ado here is my top 25 albums of 2016:   
25. Red Cloud – Ursa Minor
Red Cloud has this refreshing sound that gives them this overwhelming listen-ability. There are stoner rock and psychedelic elements in there but they have so much more to offer that you can't really classify them with a few measly words. Unlike other modern bands they don't make you wait long to get a taste of the vocals. The band showcases several different styles throughout the 8 tracks on the album. The final song "Sick Eagle" is probably my favorite song on the LP. It has these heavy chugging riffs and then the high pitched psychedelic guitar play as well that just brings a smile to my face. The guitar parts by Aaron Williams and Dennis Medina are a tremendous high point to this album, but they also don't overdo it. I like to refer to it as the "no bullshit riffs", they get in there shred through the job they've came to do and call it a day.
24. Metallica – Hardwired To Self-Destruct…
One of the most anticipated albums of probably the past 5 years. Metallica really got the ball rolling with their previous release 'Death Magnetic' and this album is a continuation of them making strides to get back to the old Metallica we all know and love. Hardwired really showcases that the band hasn't yet depleted their creativity bank. Their nod to the late great Motorhead front man Lemmy in the song "Murder One" is enough to make you fall in love with this album. This album is a major shift in momentum and showcases how Metallica is gradually making their way back to their roots.
23. Doomed – Anna
Doomed is a one man army conjuring up amazing doom from Germany. Pierre Laube is the man that does it all. Instruments, concepts, vocals, artwork and production he is fully in charge of his art and it knows no boundaries. Doomed's album ANNA starts out with a slow skin crawling eeriness. The vocals and the music aren't a normal pairing, but it works perfectly. With a name liked Doomed you think you know what you're in for right? Wrong, this isn't your run of the mill doom band, they have so many layers of sound that each listen unveils new characteristics. It's an album you truly have to listen to. It's like experiencing something on your taste buds for the first time, only with your ears.
22. Exploding Head Syndrome – World Crashes Down
Exploding Head Syndrome formed back in 2010 when the childhood friends got the idea to start a punk band. They thought the idea of starting a punk band in their thirties was kind of ridiculous, luckily they followed through. The majority of the vocals give you that scratchy tone and then you get moments of what I refer to as surfer rock type vocals. With song titles like "The Fine Line Between Hardcore and Hipster" how could you not fall in love with this band? Some of the lyrics to that song are The lyrics "No way to fuckin' know for sure, If you lack originality or just don't care no more, You look the same you're not fooling no one, So scared to be different can't be much fun." Being different is something the band has truly excelled at. In a world full of followers Exploding Head Syndrome are leading their own charge with a unique sound. Some may try to copy their style but no one will ever master it as they do.
21. No Gods No Masters – Fear In A Handful of Dust
From the first listen of No Gods No Masters you may think that they are from the swamps of Louisiana, as most sludge bands hail from. However, these guys aren't lacking anything when it comes to sound. The band has brought sludge to the Netherlands. They aren't your ordinary sludge band, they know what they do and they do it well. The distortions is plentiful and the amazing gargling razor blade screams from singer Karel make me feel right at home. Every sludge album has to have some feedback and the band uses it to their advantage. Vocal contrasts and the instrumentation throughout the album shows their veteran talents. This album could easily compete with any of the big name sludge bands in the U.S. 'Fear In A Handful Of Dust' is an album jam packed with everything a listener could ever want.
20. Fifth Freedom – Heartbreak & Hellfire
If you are a fan of classic rock or southern rock you will instantly become a fan of Fifth Freedom. The band showcases heartfelt lyrics and guitar parts that are always perfectly composed, not too much and not too little. You get a sampling of some solos throughout the songs and they always complement each song. The band for the most part stay true to their classic or southern rock style, but the track "Wise Man" has this overwhelming gritty blues feel that creates contrast on the album. Colossal riffs and towering vocals that you won't soon forget. This is a major league album that should launch Fifth Freedom to stardom where they belong.
19. Black Rainbows – Stellar Prophecy
Black Rainbows have a throwback rock sound with a modern twist. They are truly a top shelf stoner rock band. They combine heavy fuzz, with a cosmic boogie and scorching guitar riffs to create a sound that propels them into a category of their own. The band is comprised of talented musicians and their output showcases a symphony of teamwork. Balls to the wall fuzz rock is what you will get with this album, their stoner exploration of sound is truly elevating them to stoner rock royalty.
18. Superjoint – Caught Up In The Gears of Application
It's been a long 13 years since we last heard a Superjoint album. You really can't go wrong with Philip H. Anselmo and Jimmy Bower in the same band. Though Jimmy is an amazing drummer in their other little project known as Down, I feel that his rightful place is with his guitar in hand. Superjoint really sets itself apart from other projects including Phil. This album brings a huge heaping spoonful of heaviness straight to our ears. Fast paced aggression built on a hardcore foundation, Superjoint riff their way through 11 tracks with shoot to kill precision. It's an album that was well worth the wait.
17. Scattered Hamlet  – Swamp Rebel Machine
Scattered Hamlet classify themselves as "Honky Tonk Metal" and that classification is perfect. They have firmly planted their roots in a southern style of metal with a tremendous amount of blues. The album was produced and mixed by Grammy nominated producer Jason Donaghy (Rob Zombie, John 5, The Murder Dolls). Southern roots and punk elements are prevalent here. Each song has a reason to stomp, clap or head bang. This band has a unique style and sound and they are building a fan base everywhere they go. Got a case of the Mondays? Forget coffee, forget drugs, this album will get you up and motivated. The entire album is amazing from start to finish.
16. Crowbar – The Serpent Only Lies
The definition of Crowbar in the music world is… HEAVY. The New Orleans sludge masters have consistently put out one heavy record after another, and 'The Serpent Only Lies' is yet another testament to their heaviness. On this album you get that famous slowed down riffage, and Kirk's vocals are harsh yet melodic throughout. It has a haunting feel that really captivates you. Kirk said "To me, it's a fresh-sounding version of old-school Crowbar," in regards to the new album and he couldn't be more correct. The old Crowbar sound is alive and well here, but there has been some progression in their sound which gives it this newness. The band has been around for nearly 3 decades and continues to break barriers with their sound and never release anything weak. 'The Serpent Only Lies' has a juxtaposition of styles and tones that really show Crowbar have again outdone themselves.
15. Wo Fat – Midnight Cometh
'Midnight Cometh' marks the sixth studio album from Wo Fat. If you haven't heard their back catalog of material they always impress. The album contains insane levels of fuzz, ample amounts of bluesy lead guitar, heavy hitting drums, and riffs for days and days. Wo Fat has almost become the perfect example of stoner rock, but other bands can't seem to perfect the style the way that they have. Masters of their own sound the band continues to put out great instrumentation and amazing lyrical content.
14. I, Captain – Mantras for Mindlessness
Sometimes you come across a band and you start listening to their music and you just don't want to stop and that's what I, Captain has done to me. The band really mixes things up so nothing is repetitive, but they are alike enough to keep you focused on their style. Though this release is only a three track EP it has enough creative power to keep you listening several times through. With each listen you find another appealing tidbit about each song. I, Captain has certainly exceeded our expectations and we can't wait to hear more of what they have to offer.
13. wytCHord – Death Will Flee
Heavy Rock and Doom fans got a huge treat on Halloween this year when wytCHord released their debut turned masterpiece was released. Throughout the album it has a constant groove that truly binds everything together and makes the release one cohesive work of art. The lyrical content is not only intelligently written but very intriguing when it comes to the inspiration behind the words. Of course catchy riffs and moments of fuzz aren't absent from this album and they are just the icing on the cake when it comes to 'Death Will Flee'.
12. Dope – Blood Money Part 1.
Some bands from the late 90's and early 2000's have faded away. Others have made a stale return and then there are bands like Dope who have stayed true to their sound and succeed since their formation. The album is flooded with meaningful lyrics that are filled with emotion and with each chorus you can feel the passion in Edsel's voice. Dope is no stranger to cover songs, their 1999 album 'Felons and Revolutionaries' contained covers of N.W.A's "Fuck Tha Police" as well as Dead Or Alive's "You Spin Me Round (Like A Record)". The band has always found a way to make a cover their own by putting their own spin on the song. On this album we get a cover of Hole's "Violet". Though it isn't an original it resides well on the album with all the other tracks. Dope are truly leading the charge for a Nu-Metal come back in the metal world, and 'Blood Money Part 1' is just the first step in that charge.
11. Blues Funeral – The Search
Blues Funeral's goal is to explore some new musical territory and truly find their own sound. Blues Funeral wastes no time showing off their guitar playing skills on this album. The band really has their own signature sound, you can hear some influence from the 70's Rock era but they make sure to put their own stamp on their brand of rock n roll. Lyrics like "I am the dagger that pierce the tyrants back" are just a small dose of how amazing some of the lyrics are not only on this track but the entire album. If you are a fan of old school metal or rock n roll then this album will make your head spin. I assure you that there isn't anything like this band on the market right now. They are truly a prototype for exactly what a lot of bands are trying to achieve and can't.
10. Greenleaf – Rise Above the Meadow
Swedish veteran rockers Greenleaf make their debut on Napalm Records with their sixth full-length, 'Rise Above the Meadow'. This album also is the first after some changes in the lineup of the band. 'Rise Above the Meadow' introduces vocalist Arvid Jonsson and drummer Sebastian Olsson alongside founding guitarist/songwriter Tommi Holappa (Dozer) and founding bassist Bengt Backe. The band also changed their approach with this album and their usually complex arrangements were dialed back and took a more simplistic style with their sound this go around. Though it's Arvid Jonsson first album with the band he fits in perfectly. His confidence can be felt in each and every song. His voice nestles perfectly within the rhythm of their stoner'esque sound. 
9. Dinosaur Pile Up – Eleven Eleven
They have a unique blend of sounds that make them one of the most appealing up and coming bands in today's music scene. Their ability to genre bend gives them a varying sound that can make them a band for almost any listener. Their hit single "11:11" has an amazing heaviness, while still maintaining an alternative vibe. The guitar work is catchy and keeps your attention throughout the entire album. Dinosaur Pile Up really showcase everything they have to offer on this album. If you want heavy riffs, melodic catchy vocals, great beats and something overwhelmingly appealing to the ear then this album is for you.
8. Ape Cave – Pillars of Evolution
Ape Cave are a talented band from the musically rich city of Portland, Oregon. 'Pillars of Evolution' officially released the first day of 2016, and even though it's been almost a year since its release this album can't easily be forgotten. It's a mixture of both doom and psychedelia. The two styles really mutate into each other and what you get is a true original sound. The band doesn't short you on instrumentation. A majority of the songs have killer instrumental parts that take hold of you and then when the vocals chime in it just seems that much more special. They don't overdo anything, everything fits in the right place and is the correct dosage of what the song needs to kick ass. Ape Cave isn't monkeying around, their music will take you hostage and fill your ears with beautifully composed greatness.
7. The Watchers – Sabbath Highway
Born from the ashes of Spiral Arms, vocalist Tim Narducci and bassist Chris 'Cornbread' Lombardo put together what is now known as The Watchers. The addition of The Venting Machine guitarist Jeremy Von Epp and Orchid drummer Carter Kennedy took the band to another level. The already proven musical chemistry of Narducci and Lombardo gave The Watchers an advantage right from the get go. They meld together classic old school metal and stoner hooks that capture your attention immediately. Their vision for their sound was precise and it is heard throughout the album. Tempo changes, powerful guitar licks and a few solos here or there, this is what metal is all about. The album sounds just as good the 20th time through as it does the first.
6. Flaw – Divided We Fall
Flaw put the Bluegrass State of Kentucky on the map for something other than country when they first hit the airwaves in the late 90's thru early 2000's. The album begins immediately with support and respect for the heroes of our nation in the armed services. One of the most iconic things about Flaw's sound has been the emotionally driven lyrics that fans connect with. This album is full of those lyrics that can reach out and grab your soul. 'Divided We Fall' is the perfect ratio of heavy and melodic. The albums songs contrast well with each other and make the whole record epic from front to back. It has a tremendous amount of re-listen value and once it makes it into your cd player, iPod or playlist it will stay there for a long time. 'Divided We Fall' will become your new addiction.
5. Shit The Cow – One With The Devil
Shit The Cow is a band of Swedish rockers set out to explore the limitations of their own universe, and from what I've heard there are no limits on what this band can do. The bands risk taking when it comes to sound has really developed their music into something new. They are conquering uncharted territory and inventing sound as they go. The guitar work on the album have this really fuzzed out garage rock style that works well. The six tracks on this album show the vastness in style and sound that is Shit The Cow. Their range is wide but defined. 'The One With The Devil' is a journey you take with just your ears, never knowing which direction this band will take you and where it will end.
4. -16- – Lifespan Of A Moth
The Southern California sludge masters have returned with their 7th studio album. 'Lifespan Of A Moth', is clearly the band's heaviest, darkest, and most complex material to date. The entire album from front to back is filled with delicious nuggets of sludgy goodness. Cris Jerue's vocals pierce through the speakers creating pure joy to your ears. His tone and singing style is unmatched in the metal world. His voice is just so recognizable and memorable. Hear it one time and you won't forget it. The overall rawness of the album is what really sets this album apart. In an era where bands are spending more and more money on production -16- proves they can do things themselves and put out one of their best records to date.
3. Wakrat – Wakrat
Wakrat is the volatile trio of guitarist Laurent Grangeon, drummer Mathias Wakrat and Tim Commerford of Rage Against The Machine, Audioslave and Prophets Of Rage. They have a heavy groove alt-punk-influenced style that really sets this project apart from his other bands. They first released the single "Knucklehead" well before the album released and it just made the anticipation grow for the full album. Other songs like "Generation Fucked" contain lyrical content similar to what you may have heard in Rage Against The Machine. Those political themes work well in the angry alternative style they have created. Tim not only lays down his thundering bass lines but takes the lead singer position in the band as well. The groove filled aggressive style on the album is something that has been missing in the music world. Wakrat has only barely got their feet wet with this debut and we fully expect their next album to progress as the band just began to find their sound.
2. Gojira – Magma
Magma is defined as molten rock and that's truly what this record is. They take rock, thrash or metal to  a whole new level. Gojira has developed a style entirely their own. 'Magma' was one of the most anticipated albums of the year and it lived up to all the expectations and more. Joe Duplantier's haunting vocals put you into an almost trance as they meld with all the delicious riffs on the record. The Duplantier brothers lost their mother to cancer in the duration of the recording process, and their raw emotion spilled over and can be heard in every part of 'Magma'. The tragic loss directly effected the songs and in a positive way. For the people that keep saying rock and metal is dead, this album is 100% proof that not only is rock and metal alive and well but it's getting stronger thanks to bands like Gojira. They put forth so much effort and release material that is composed flawlessly.
1. Death Will Tremble – Mona
Let me introduce you to Death Will Tremble. They are a band that melds together a handful of elements from various genres. It's impossible really to wrangle them into one specific category or two for that matter. I simply like to refer to their style as creative. The musicians that make up the band have played in various projects in the past. You can hear the chemistry within the band, breaking ground and musical barriers isn't easily done and the band has already made amazing strides. Everything within their swarms around each other in perfect harmony. Hunter Townsend's monumental drawn out screams give each song an edge. The band makes things work that typically don't. Death Will Tremble also set you free with an onslaught of heaviness with their final track on their debut. "Gallows" is a whole new beast in comparison to other songs on the album. From start to finish it holds nothing back. If you want something new and untamed, this is it. This album is an example of creative minds in perfect sync with one another. Each note like paint to canvas, it becomes one majestic work of art.