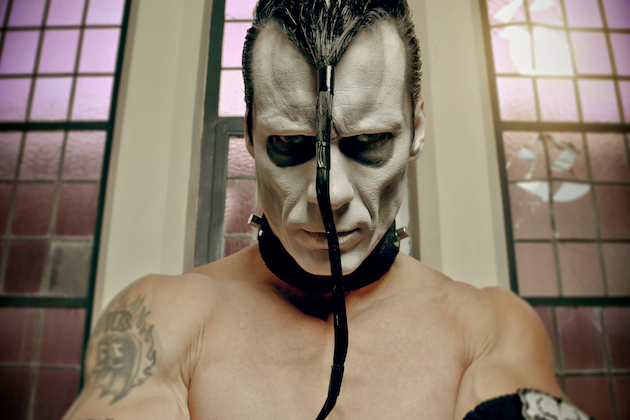 DOYLE recently spoke to Joshua Toomey on Talk Toomey Podcast about The Misfits reunion and the possibility of another round of shows with the reunited lineup! You can hear the full interview below!
DOYLE, the current project of Von Frankenstein, with CANCERSLUG vocalist Alex "Wolfman" Story, and a current touring lineup rounded out by bassist Brandon Strate and drummer Brandon Pertzborn, continues the lineage of Doyle's former projects, pairing crushing metal riffs with ferocious Punk Rock swagger. Most of you however know DOYLE from his shredding guitar work with THE MISFITS. DOYLE has been supporting their upcoming LP DOYLE II: AS WE DIE, in stores May 5th from EMP LABEL GROUP, and Doyle's own MONSTERMAN RECORDS. AS WE DIE will be available Worldwide on CD and LP May 5, and is currently available for pre-order from empmerch.com, including several international versions with alternate artwork configurations, including art by legendary horror/comic/album cover artist Mister Sam Shearon, known for his iconic works with Rob Zombie, Iron Maiden, Clive Barker, KISS, Ministry, Rammstein, X-Files, and more. On DOYLE'S Louisville, Kentucky tour stop the veteran guitar player spoke with Joshua Toomey of TALK TOOMEY PODCAST. Doyle speaks about THE MISFITS reunion shows saying "Just another day at the office", "Hopefully we get to do another Misfits run, that would be nice". The sheer idea of being able to see reformed MISFITS with Glenn Danzig back on the microphone instantly causes chill bumps. Their performance at Denver Riot Fest was the first show with Glenn Danzig, Jerry Only and Doyle since October 29, 1983 and was billed as "THE ORIGINAL MISFITS". The band was rounded out by Dave Lombardo on drums; Acey Slade on second guitar. THE MISFITS then went on to play Chicago Riot Fest as well making it the second and final date the band has played with the original lineup thus far. In a Rolling Stone Interview Jerry Only said of the first appearance "A lot of bands, when they do big reunions, they'll book some small club gigs as warmup shows," "I thought that this was the perfect warmup show for what we do. I thought us coming back to Denver out of all the places on the planet Earth was … why not?" THE MISFITS doesn't do things on a small scale, and with DOYLE hoping for another run of shows we certainly hope it pans out.
Make sure to check out Doyle's remaining dates on the current tour.
4/13/2017 The Agora Cleveland, OH
4/14/2017 Diesel Pittsburgh, PA
4/15/2017 Gramercy NYC, NY
4/18/2017 Canal Club Richmond, VA
4/19/2017 Brighton Bar Long Branch, NJ