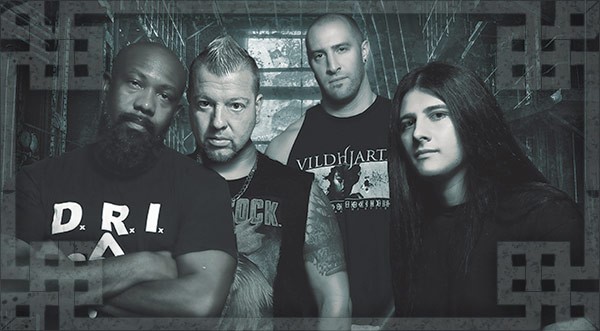 DEAD BY WEDNESDAY have released a lyric video for "I Will Define" feat. Waylon Reavis (A Killer's Confession, Ex-Mushroomhead), the song is taken from their latest album 'The Darkest of Angels', released earlier this year on David Ellefson's EMP Label Group. The album features an assortment of high profile guest vocalists. We of course released some information leading up to the release of the album last February, including all the guest vocalists which you can see here.
Make sure to catch DEAD BY WEDNESDAY and A KILLER'S CONFESSION on their upcoming tour.
1/27/17 FRI Jacksonville NC @Hooligans
1/28/17 SAT Clarksville TN @The Warehouse
2/3/17 FRI Queens NY @Blackthorn 51
2/4/17 SAT Providence RI @Fete Music Hall
2/8/17 WED Toronto ON @The Coalition
2/9/17 THU Rochester NY @Pineapple Jack's
2/10/17 FRI Akron OH @The Empire
2/12/17 SUN Covington KY @Madison Live
2/17/17 FRI Chicago IL @Portage Theater
2/18/17 SAT Detroit MI @The Token Lounge
2/19/17 SUN Indianapolis IN @5th Quarter
More dates to be announced soon.
Follow DEAD BY WEDNESDAY on Facebook here.