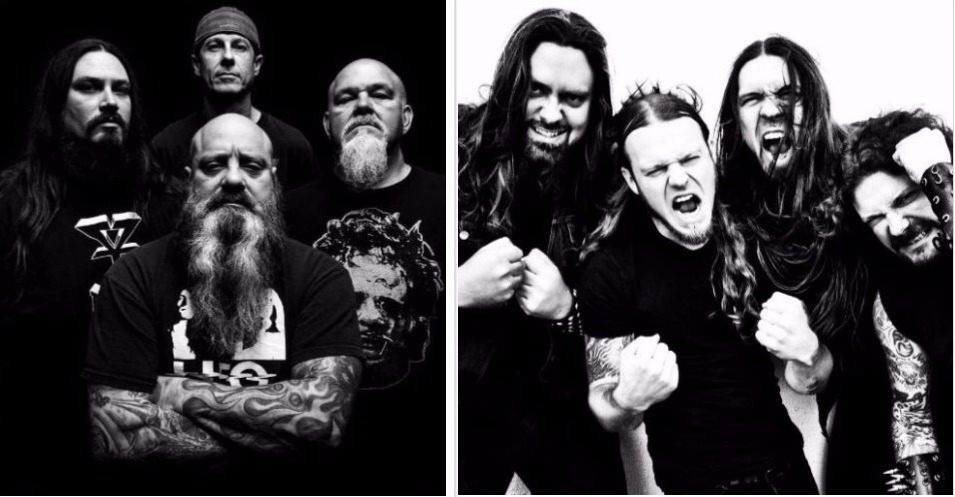 Riff lords Crowbar have announced co-headlining tour dates with NOLA neighbors Goatwhore, capping off the calendar year with style. "This upcoming tour is one that we're all looking forward to!," says Kirk Windstein. "These are our Brothers. Hell, Sammy Duet was in Crowbar for a few of our best records! To the fans of both bands, here's your early Christmas present!" Crowbar is touring in support of their upcoming album 'The Serpent Only Lies' which releases October 28th via eOne Music. This album is following up one of Crowbar's most successful records to date. 'The Serpent Only Lies' will be the follow up to the highly buzzed about 'Symmetry in Black'. That album sold over 4,000 copies in its first week of release in 2014, the highest of any LPs in the band's 27 year career, beating out its predecessor, 2011's 'Sever the Wicked Hand'. We recently reviewed the bands new album (read here) and we are sure the album will be well received by everyone. Our hopes on this tour, which we wouldn't miss is that Sammy gets on stage and at least plays one song with Crowbar.
Goatwhore has recently been recording material for their next album at Earth Analog Studio in Tolono, Illinois over the last couple weeks. The new album will be the bands seventh studio album and the follow up to 2014's 'Constricting Rage of the Merciless'. Goatwhore seems to always be like a fine wine, they just get better as time goes on.  We are highly anticipating their new material and hope this new tour may showcase a new song or two.
In addition to the two co-headliners, direct support will be from the Los Angeles band Lillake. The band is classified as doom and has a unique and sometimes melodic feel that will contrast well with all the aggressive heaviness from the headliners. Get a sampling of the band below.
Crowbar/Goatwhore Tour Featuring Support from Lillake
12.02.16 Little Rock, AR – Rev Room
12.03.16 Tulsa, OK – The Shrine
12.04.16 St. Louis, MO – Fubar
12.05.16 Indianapolis, IN – 5th Quarter
12.06.16 Ft. Wayne, IN – The Hub
12.07.16 Morgantown, WV – 123 Pleasant Street
12.08.16 Harrisonburg, VA – The Golden Pony
12.09.16 Richmond, VA – Broadberry
12.10.16 Durham, NC – Motorco
12.11.16 Johnson City, TN – Capones
12.12.16 Atlanta, GA – Masquerade
12.13.16 Savannah, GA – Jinx
12.14.16 Macon, GA – Macon Venue Project
Follow Crowbar on Facebook here, and make sure to follow Goatwhore here, and Lillake here.