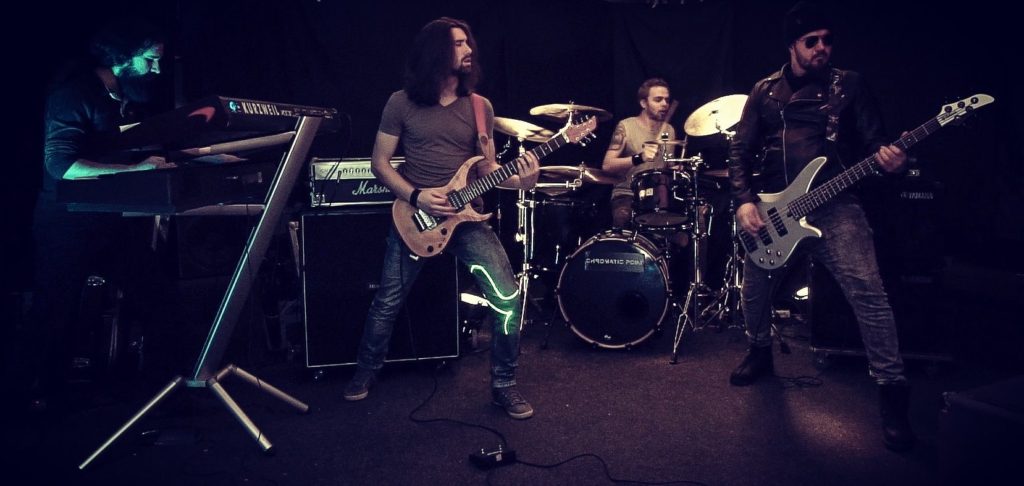 Macedonia? Anyone? Betcha didn't know any bands from the land of the great Alexander from Macedon! Alright let me do the honours of shedding some light on you in introducing one of the most creative and intriguing bands from Europe. Headbangers! introducing the ever so vibrant, and one of my all time favourites, ethno progressive(yeah, this too!) band CHROMATIC POINT, from the Balkan land of Macedonia(FYROM). "Chromatic" as they sound both musically and visually, the band incorporates every sense of the word and just goes on to show the frantic and seemingly chaotic nature of it's sonic virtuosity. Just like the rapidly changing "flight of the bumblebee". See what I did there? Yup, that was your daily dose of classical music puns!
All right let's stop beating around the bush and get to the point. So, this Balkan progressive powerhouse has just unleashed their brand new music video, "Clockwork" today, which the band says has been taken off their "next studio material". Let's get dissecting the new chops!
When I came back home after hitting the greens, my dear friend reminded me that CHROMATIC POINT has let out it's all new tune to the masses. Yes reminded cause I have a bad memory with dates? Anyways, I jump off in my hightened sense of exuberance and went berserk and nuts just at the news of it. I click the YouTube link and I sit back trying my best to hold on to my horses. But they were raging and wanting to go out the barn. The video opens and I see Dushko, Alen, Hristijan and Filip belting out that new song like it's a treat to my visual and auditory impulses. They start in typical trademark CHROMATIC POINT fashion in a melodic loop with the keyboards bringing in the upbeat vibe, and then breaking it down to a synth groove which just melts in your ears like a cotton candy in a hot summer's day.
What I love about this quartet is that they employ rampant tempo, beat and rhythmic changes during their songs. It's like changing positions when you're having a good time with your partner in bed(*winks*). After the first dose, we delve ourselves into this heavy and spiraling low created by Hristijan Risteski's amazing groovy riffs. This is where it's like hitting the G-spot, when keyboardist Dushko Ichev's trembling and shaky synth meanders cunningly over Hristijan's head swaying grooves. Man, you can not just simply not like it, it's getting real. As we cross the next interlude, the tempos rise up and the speed gets kicking, the meandering synth has now spread it's wings into more of an ambience. As we inch closer to the final second of the new jam, CHROMATIC POINT takes out the "Ace of Spades" up it's sleeve(*wink*), and there we have on the board an earth shattering heavy jazz outro. With the drums hitting those cymbals and snares in an odd but tasty jazzy pattern, fingers moving across the fretboard and churning out the trademark chromatic scale riffing, the song adorns itself with a juicy and typical CHROMATIC POINT fervour. It might seem like it has an abrupt end, but pff I can't ask for more when it's this band. A truly sumptuous, delightful and artistic piece of treat!
For those who not know CHROMATIC POINT yet, just frigging get outta that cave man! They are an ethno progressive act from Macedonia formed around 2010. They are the moghuls in their own art of mixing genres and spicing things up like never before, thus setting the bar for creativity and authenticity way up high. Remaining true to their roots, the band has kept alive the region's indigenous elements in the form of Macedonian folklore as it's inspiration. The band amalgamates a plethora of musical genres such as blues, jazz, metal, folk, etc., to create this never seen or heard before piece of sonic pleasure. Truly skillful and enchanting!
Till date the band has recorded three studio albums. The first was recorded in 2012 and was titled 'Zlaten Presek' (Golden Ratio), the second 'Images From the Old House' (Sliki od Starata Kuka) in 2014, and 'Изгрев' (Sunrise) in 2016. "Clockwork" seems like it's from the next studio material, but it still remains unclear as to what exactly the new material would be. An album? An EP? Only time will, but I am stoked and pumped up as hell for their new stuff. Do keep an eye out for it!
Meanwhile, go ahead and give them the much deserved love. Click on the following links to buy their music: Amazon | EMusic | iTunes. Also, don't forget to leave a like on their Facebook page linked below!
Pssht! Let me tell you the most WTF fact of the day. CHROMATIC POINT are unsigned. Like, WHAT?!