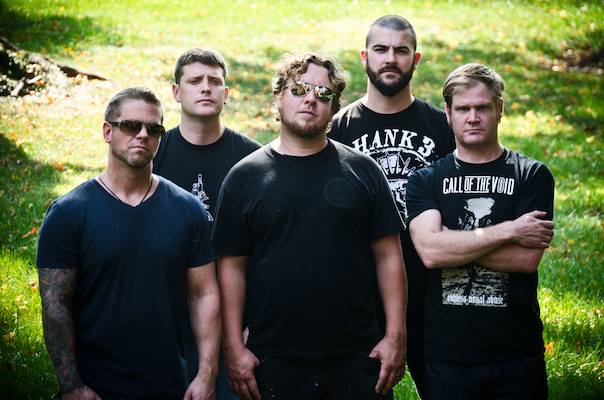 *Every Thursday from now until Chicago Open Air gets here we will be releasing an article about a band playing the festival to get you familiar with them.*
This week's artist is Pig Destroyer.
On Saturday, July 15th, one of the heaviest bands on the planet is set to take the stage at Chicago Open Air in Bridgeview, IL. Pig Destroyer is a deathgrind five-piece hailing from the city of Alexandria, VA that was formed around 20 years ago by J.R. Hayes and the legendary Scott Hull. The music consists of a high mix of brutality and ferocity sure to annihilate anyone in its path. There are highly disturbing lyrics sure to appeal to any horror lover as the band blasts through a ton of songs on each record (there are 23 tracks on 'Prowler in the Yard' in under 40 minutes).

To begin their career, Pig Destroyer released their first demo 'Explosions in Ward 6' following the year of formation. Soon enough, they garnered attention from Relapse Records and signed with them in 2000. The next year, they released their first major full length in 'Prowler in the Yard' to come out absolutely dominating from the start. The relentless pace that Pig Destroyer brings to the table is an uncommon one. This album propelled them to mainstream success despite being one of the most extreme albums ever at the time. The band then got to play the likes of New England Metal and Hardcore Festival and a few Relapse Records showcases in 2002. They are truly one of the fastest bands in the world, as I mentioned earlier, their songs are very short. I feel this will work to their advantage with a festival set; even with a 30 minute set they could still manage to squeeze in 15 songs to leave the crowd absolutely destroyed from the carnage left behind. I would love to see them open with the "Jennifer" intro from the PitY record! They even have a sandwich named after them at Kuma's Corner (who will also be at the festival by the way) which will make for an epic combination. The next two records continued to blast through your ears at a tempo that must only be played at loud volumes. 'Terrifyer' and 'Phantom Limb' still pass the test of time as classic grind records. Through the years Pig Destroyer grew to be legends of the genre and are still hailed as one of the best in extreme music. They also released a few EPs between records like 'Natasha' and 'Mass & Volume'. After taking a somewhat slower, darker tone on the EPs, their most recent record 'Book Burner' returned to the absolutely slamming grind sound that band had become trademarked for in the early 2000s. "The Diplomat" has one of the more interesting video concepts in recent years with outer space monkeys ripping a human apart and soon each other right after with machine guns. It was created by Phil Mucci, who makes some of the coolest videos I've ever seen, so that might explain it. Pig Destroyer is rumored to be releasing more material this year through Relapse Records but an official announcement has not been made yet. Get your tickets to see them at Chicago Open Air here. Be sure to follow the band on Facebook.
Pig Destroyer is:
J.R. Hayes – Vocals
Scott Hull – Guitar
Adam Jarvis – Drums
John Jarvis – Bass
Blake Harrison – Electronics