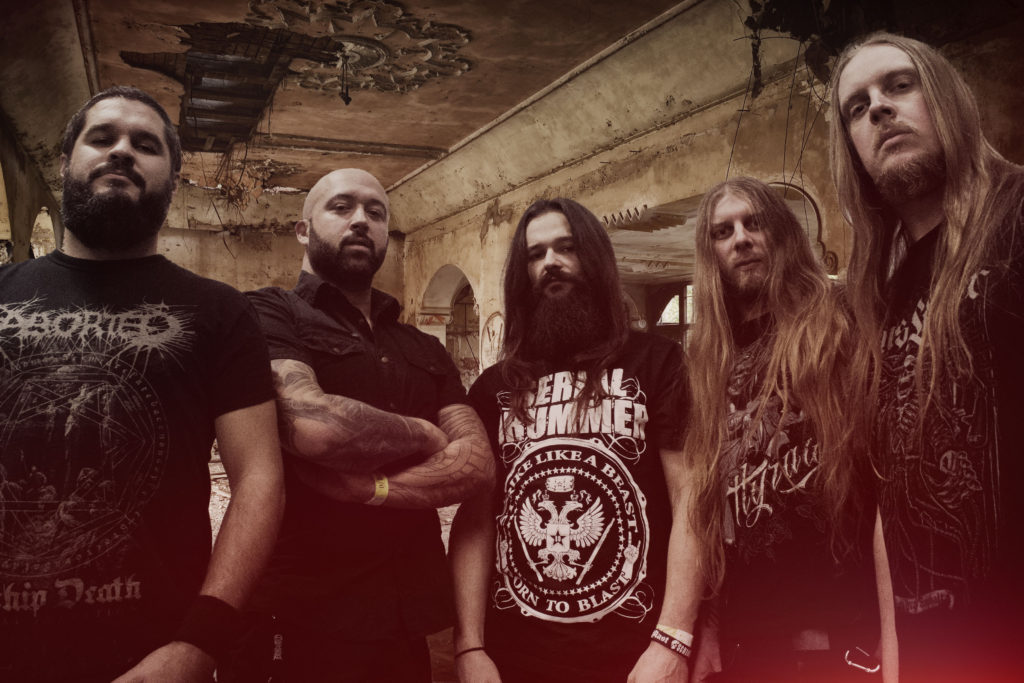 French death-grinders BENIGHTED are embarking on a string of European festival dates, in support of 'Necrobreed' this week that see the band performing throughout  the summer at Hellfest, Obscene Extreme, Sylak Open Air, Party San, and more. Fresh off the hills of their 2017 hit album 'Necrobreed', the band will continue to spread the plague and sickness in Europe. A full list of confirmed dates can be found below. 
Following their European trek, BENIGHTED will embark on the "Necrobreed US Minitour". The tour begins on July 26 in Kansas City and sees the band performing to-and-from Chicago Domination Fest. A full list of confirmed tour dates can be found below.

BENIGHTED are currently slated for a number of festival dates in 2018 with more live dates to be announced in the months to come. Appearances already confirmed for this year include Hellfest in France, Obscene Extreme Festival in the Czech Republic, Party San in Germany, and many more. A full list of confirmed tour dates can be found below.
BENIGHTED recently released a new video for the track "Leatherface". The gruesome video, produced by Kick your Eyes Productions, features Cecylia Suicide as a serial killer harboring distinct personalities. Did you miss this gore fest? We got your back! Stream the all new track "Leatherface" HERE!
BENIGHTED European Tour Dates
May 5 Villeurbanne, FR @ CCO (20 Years Anniversary Show)
May 26 Lac de la Vingeanne, FR @ Outch Festival
Jun. 16 Clisson, FR @ Hellfest
Jul. 18 Trutnov CZ @ Obscene Extreme Fest
Aug. 3 Saint-Maurice-De-Gourdans, FR @ Sylak Open Air
Aug. 10 Obermehler, DE @ Party.San Open Air
Sandwiched between their European trek is their the Necrobreed U.S. Mini-Tour 2018, as stated above. The dates for the following are as follows:
BENIGHTED 'Necrobreed U.S. Mini-Tour 2018' Dates
Jul. 26 Kansas City, MI @ Riot Room
Jul. 27 Chicago, IL @ Chicago Domination Fest
Jul. 28 St. Louis, MI @ FUBAR
Jul. 29 Peoria, IL @ The Rail II 
Jul. 27 Chicago, US @ Durty Nellie's (Domination Fest 5)
Talking about touring, when BENIGHTED toured Asia last November, we made sure to hit them up and so we did on their Guwahati, India stop of the tour. Before what would go down as one of the most intense live performances I have seen, we were joined by Julian Truchan, the vocalist for a short interview. It was so much fun talking to the beast himself, Julian. HERE's the interview, if you wanted to check it out. Don't forget to subscribe to our YouTube channel, though!