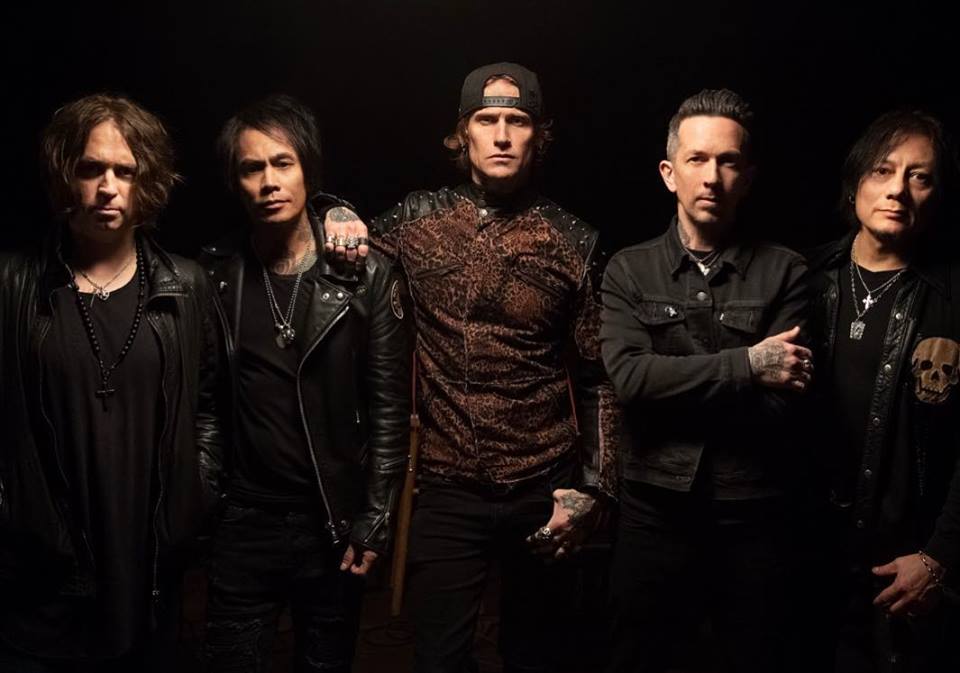 The month of March in the Bluegrass state (Lexington in particular) is generally all about basketball, but not on this night. Tonight was about rock n' roll. Dirty, sleazy rock n' roll. Buckcherry rock n' roll and they did not disappoint! Along for the ride, and ready and willing to get dirty, was Joyous Wolf and Kentucky's own Kiss Kiss Bang.
Kiss Kiss Bang, a band from down the road a bit in Bowling Green got this night started. If you're not familiar with KKB, I have a feeling you are about to be! They've got big things happening in the near future among which is the release of an EP with new music, so keep an eye out for that. That's the future though, let's talk about the now, and right now KKB is bringing the music to Lexington. Starting the night off with "She's Bad," "Head Change," and a killer cover of Bryan Adams' "Run To You," KKB was rocking Manchester Music Hall! They closed their set with "My Last Goodbye." Don't sleep on these guys!
Southern California's Joyous Wolf was next to take on the Lexington crowd. They did not let off the pace that KKB had started. In fact, they ramped it up a notch or two. Front man Nick Reese has been described in many articles as a wild man and I can think of no better way to describe him on stage. The music of Joyous Wolf lives through him on stage. Watching him alone is worth the price of admission. That music that keeps Nick moving across the stage is preformed to perfection by Blake, Greg and Robert. These four are Joyous Wolf and you are about to hear a lot about them! Having recently singed a record deal with Roadrunner Records, with an EP of new music on its way April 19th, and this tour supporting Buckcherry, a lot of new ears are hearing Joyous Wolf. A lot of new fans are being made when they hear Joyous Wolf perform songs like the recently released singles "Place in Time" and "Quiet Heart" from the upcoming EP 'Place In Time,' and an absolutely stellar cover of Mountain's "Mississippi Queen." Judging by the reaction I saw in the Manchester Music Hall, Nick and the guys made many new fans! On top of everything else they have going for them, they are some seriously nice guys that hang out at the merch table after their set talking to anyone that comes by. Buy a copy of the new EP. You will not be sorry!
KKB and Joyous Wolf did a great job of working this big Kentucky crowd into a rock n' roll frenzy for Buckcherry and Buckcherry didn't waste any of that! They came out and straight into "Head Like a Hole" (NIN cover) off this year's release, 'Warpaint.' It was on after that! "It's a Party" and "Bent" (the latest single from 'Warpaint') were the next two songs. "Bent" is all over rock radio at the moment and climbing up the Billboard Mainstream Rock Songs chart. It's a killer song in my opinion from an outstanding album. Buckcherry has been at this for a while and are still making great rock n' roll. Give the new album 'Warpaint' a listen, I think you'll agree. Anyway, back to the show. If you have never seen a Buckcherry show, you really should correct that! They put on a high energy, very entertaining show, and all are top-notch musicians with a catalogue of music that is full of serious hit songs! Not always FM radio hit songs, but songs that Buckcherry fans know, love, and sing at the top of their lungs! Songs like "Lit Up," "Ridin," and "Sorry," just to name a few that everyone in the crowd knew every last word of. Closing out the show was an extended version of "Crazy Bitch" and an encore of "Say Fuck It."
You're thinking, Tom where are the pictures? Well unfortunately I didn't get approval to shoot Buckcherry's set this time. But it was such a good set, I felt it needed to be reviewed anyway without pictures. There will be a next time!
As always the Manchester Music Hall staff was on top of their game. It's a great venue to see a show in, and with the additional parking across the road from the venue, a much easier place to get in and out of. Get out and support live music wherever you are. These three bands tonight were all local bands at one time. Show your local bands and venues some support!