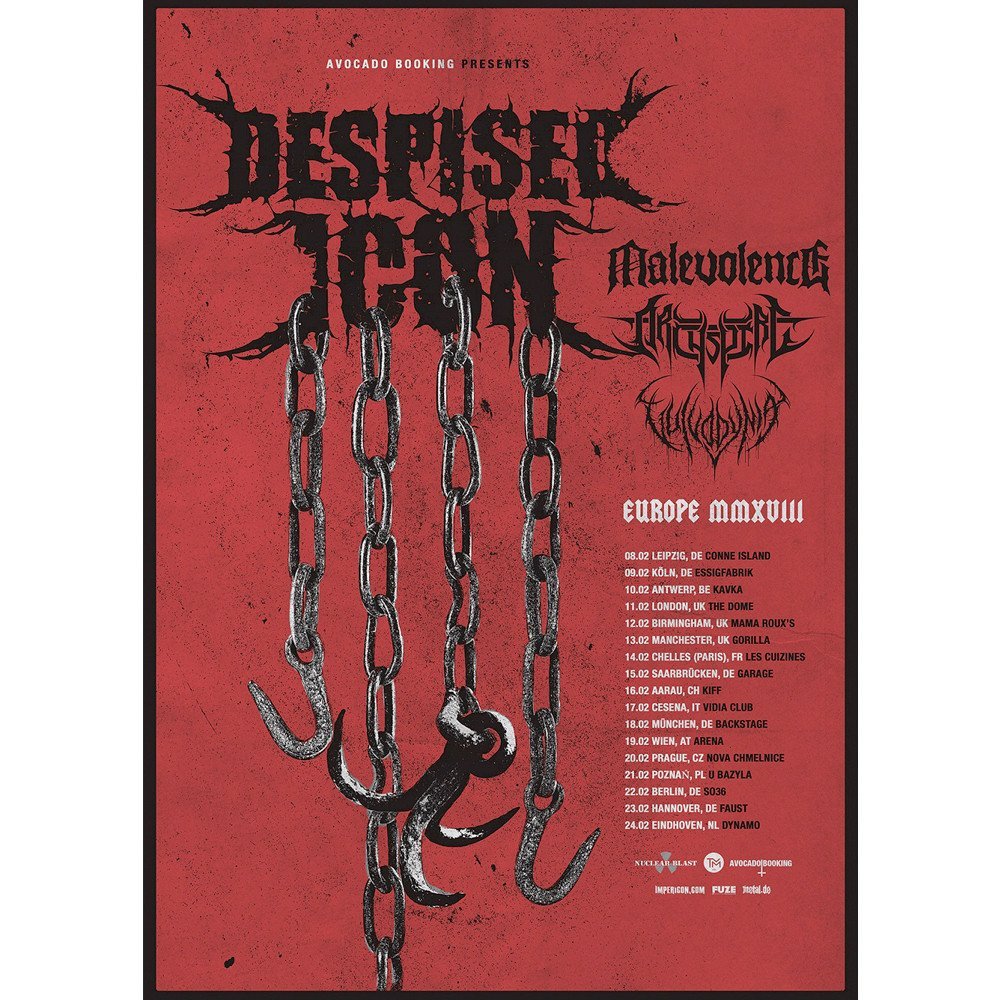 If the news of the brutal 2018 "Chaos and Carnage" US tour* wasn't enough to wet your bloodthirsty appetites, tech titans Archspire have also announced the first European dates as part of their ongoing 'Relentless Mutation' world tour. The first EU leg starts Febuary 8, and sees them supporting Despised Icon, with additional support from Malevolence and Vulvodynia. Soon after they will embark on their first-ever Japanese tour with Obscura, Exocrine and Xaon before commencing on to the US. See below for full confirmed dates and stay tech!
(*Archspire will join the "Chaos and Carnage" US tour with Carnifex and Oceano and more on April 18. For a full list of tour dates click here.)
This almighty world tour is in support of their recent album 'Relentless Mutation' which was the tech death record of 2017! This extreme release landed several placings across the U.S. Billboard charts upon its release – placed at #14 on the Heatseekers Chart, #15 in the Hard Rock album sales category, #34 of independent album sales, and #46 in rock album sales and featured on many AOTY lists.
ARCHSPIRE European tour 
w/ DESPISED ICON, MALEVOLENCE, VULVODYNIA
Feb. 8 Leipzig, DE @ Conne Island
Feb. 9 Köln, DE @ Essigfabrik
Feb. 10 Antwerpen, [email protected] Kavka
Feb. 11 London, UK @ The Dome
Feb. 12 Birmingham, UK @ Mama Roux's
Feb. 13 Manchester, UK @ Gorilla
Feb. 14 Chelles, FR @ Les Cuizines
Feb .15 Saarbrücken, DE @ Garage
Feb. 16 Aarau, CH @ Kiff
Feb. 17 Cesena, IT @ Vidia Club
Feb. 18 München, DE @ Backstage
Feb. 19 Wien, AT @ Arena
Feb. 20 Praha, CZ @ Nova Chmelnice
Feb. 21 Poznan, PL @ U Bazyla
Feb. 22 Berlin, DE @ SO36
Feb. 23 Hannover, DE @ Faust
Feb. 24 Eindhoven, NL @ Dynamo
Japanese tour dates:
w/ OBSCURA, EXOCRINE, XAON
Apr. 12 Tokyo, JP @ Cyclone
Apr. 13 Tokyo, JP @ Cyclone
Apr. 14 Nagoya, JP @ Club 3star Imaike
Apr. 15 Osaka, JP @ Soma
"a band with a perfect sound somehow evolving and becoming even more perfect… Archspire have topped themselves in a way that's seemingly impossible" (Heavy Blog is Heavy)
"…one of the finest (and fastest) examples of the modern Tech Death scene." (No Clean Singing).