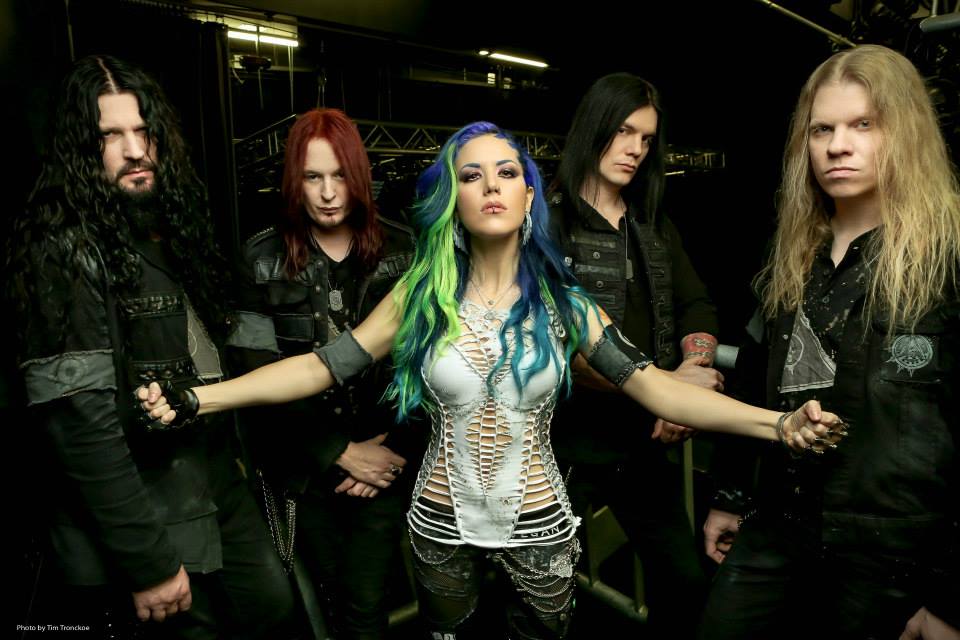 Can 2017 get any more exciting with all these cool album releases ? Probably one of the biggest cards on the deck of melodic death metal ARCH ENEMY just released details about their new upcoming studio album, just three years after their 2014 album,'War Eternal' which saw Alissa White-Gluz(ex-The Agonist and Kamelot) debut on vocals after ferocious front woman Angela Gossow's departure from the band and choosing to take the driving wheel on managing the band. This is going to be Alissa's second album with the band. They successfully nailed down the 'War Eternal' album cycle with a world tour finishing it off by releasing the 'As The Stages Burn!' DVD recorded in their epic headlining performance in Wacken Open Air, 2016. An epic performance embossed in time and memories with a fantastic DVD, fans welcomed it with huge appreciation.
Now "it is time for the next chapter in the band's history" as ARCH ENEMY plan to pulverize fans all across the globe with their tenth album in the catalog. Entitled, 'Will To Power', will see a worldwide release on September 8th, 2017 through Century Media Records and via True Trooper Entertainment in Japan. Right after following the album release, the band will embark in a hectic but exciting tour to promote their soon to be new album, with shows in Eastern Europe, Austria, Finland, Russia, which will be followed by an obvious North American tour late in October/November. The official press release also states that a full European tour can be expected in early 2018. Dates are soon to be announced to that as well!
Michael Amott comments:
"After many months of writing and recording in the studio we are delighted to have finally completed work on our 10th studio album, "Will To Power". We are looking forward to sharing new music with you soon. We are equally excited to announce the first leg of our "Will To Power" world tour… Can't wait to play new and old songs for our fans, see you all soon!"
Its already evident that ARCH ENEMY have been putting through a busy schedule all these years since their last album, taking into consideration the fact of touring the globe, writing new material and also studio time. I bet this is gonna be one hell of an epic album as well despite the fatigue that may build up. Or let's say they're too metal to get fatigued ?
ARCH ENEMY line-up:
Michael Amott – Guitar
Daniel Erlandsson – Drums
Sharlee D'Angelo – Bass
Jeff Loomis – Guitar
Alissa White-Gluz – Vocals
Catch ARCH ENEMY on the road on the following tour dates:
ARCH ENEMY at Summer festivals 2017
06.07.2017 – Rock Harz Festival, Ballenstedt, Germany
08.07.2017 – Resurrection Fest, Viveiro, Spain
12.07.2017 – Rockmarathon, Dunaújváros, Hungary
15.07.2017 – Gefle Metal Festival, Sweden
04.08.2017 – Rock Pod Kamenom Festival, Snina, Slovakia
05.08.2017 – Ostrave v Plamenech, Ostrave, Czech Republic
07.08.2017 – Festival Di Majano, Majano, Itlay
08.08.2017 – Conrad Sohm, Dornbirn, Austria
10.08.2017 – Leyendas Del Rock, Villena, Spain
11.08.2017 – Vagos Metal Fest, Vagos, Portugal
12.08.2017 – Into The Grave, Leeuwarden, The Netherlands
13.08.2017 – Bloodstock Open Air, Walton-On-Trent, UK
ARCH ENEMY "Will To Power Tour 2017" with special guest Jinjer
15.09.2017 – Music Hall, Innsbruck, Austria
16.09.2017 – Posthof, Linz, Austria
17.09.2017 – Cvetlicarna, Ljubljana, Slovenia
18.09.2017 – Dom Omladine, Belgrade, Serbia
20.09.2017 – Quantic Club Open Air Stage, Bucharest, Rumania
21.09.2017 – Universiada Hall, Sofia, Bulgaria
22.09.2017 – Piraeus 117 Academy, Athens, Greece
23.09.2017 – Principal Club Theater Thessaloniki, Greece
25.09.2017 – Majestic Music Club, Bratislava, Slovakia
26.09.2017 – Progresja, Warsaw, Poland
27.09.2017 – Loftas, Vilnius, Lithuania
29.09.2017 – Melna Piektdiena, Riga, Latvia
30.09.2017 – Rock Café, Tallinn, Estonia
01.10.2017 – The Circus, Helsinki, Finland
03.10.2017 – Re:Public, Minsk, Belarus *
04.10.2017 – Aurora, St. Petersburg, Russia *
06.10.2017 – Otdyh, Novosibirsk, Russia *
08.10.2017 – Tele Club, Yekaterinburg, Russia *
10.10.2017 – Yotaspace, Moscow, Russia *
11.10.2017 – Zvezda, Samara, Russia*
*without Jinjer
Tickets for all shows are available here: www.archenemy.net
Buy 'As The Stages Burn' DVD here.