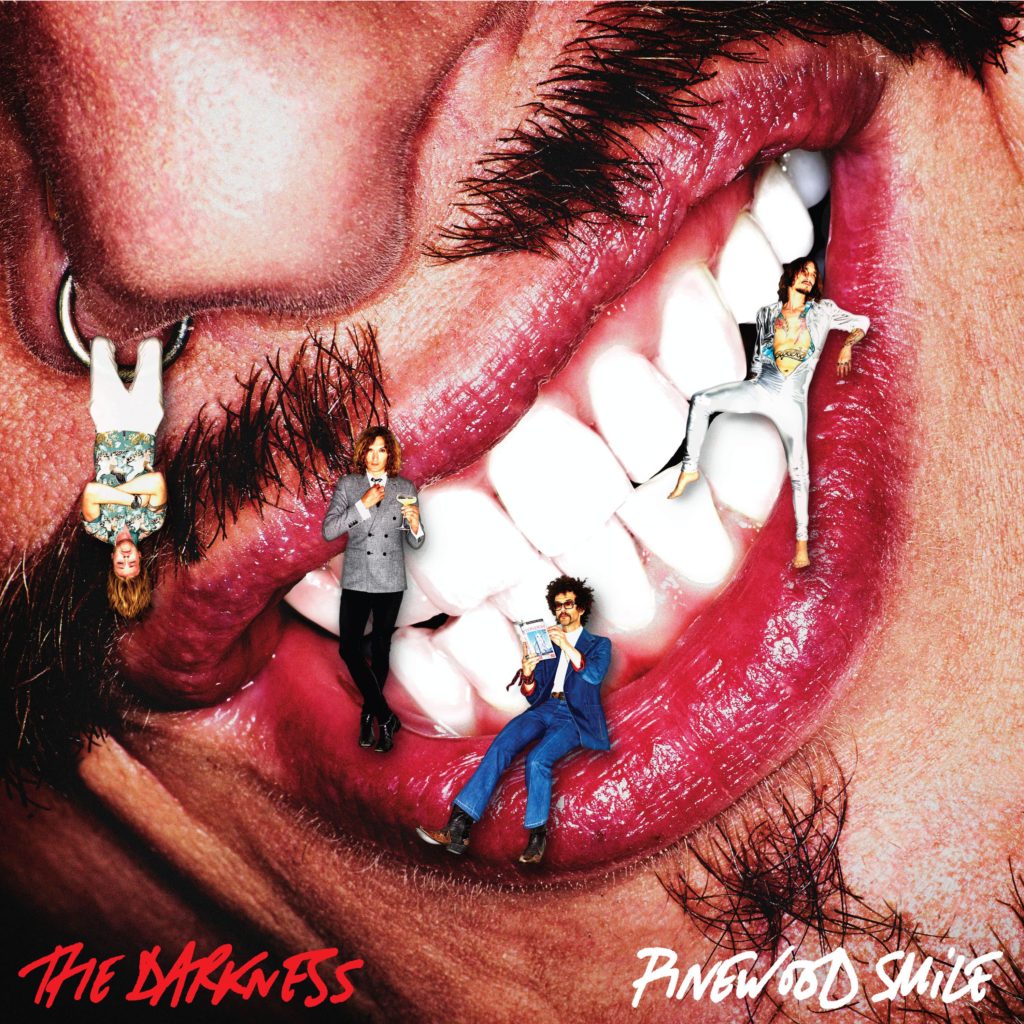 The Darkness
Pinewood Smile
Cooking Vinyl
There are those who dismiss The Darkness out of hand as little more than a one-hit novelty act doing a faux-operatic glam-metal piss-take. Those unfortunate souls are A) probably not much fun at parties, and B) missing the point entirely. Rock and roll, especially heavy rock, has become a dour and earnest beast in the past quarter-century or so, plodding along a loud but often joyless path, rife with negativity and self-loathing. Since day one, The Darkness have served as an antidote against this encroaching gloom, a glittery, sequined outpost shining brightly in a vast expanse of brutal grey. Misery and introspection certainly have their place, but so do joy and outrageousness and just plain fun, dammit, and that's where The Darkness come in. Yes, their songs are over-the-top; they're also expertly crafted nuggets of kick-ass rock and roll, stuffed to bursting with beefy riffs, intricate melodies, and cocksure swagger. And sure, some of their lyrics might be a little silly, but those great big jagged hooks they're attached to ain't no joke. Their newest album, Pinewood Smile, is a bawdy buzzsaw with peacock plumage, a devastating roundhouse right from a manicured fist. Outrageous and opulent yet fiery and muscular, it's the finest album in their catalog so far and unless you're a real fuddy-duddy, it's likely one of the best times you'll have listening to a record this year.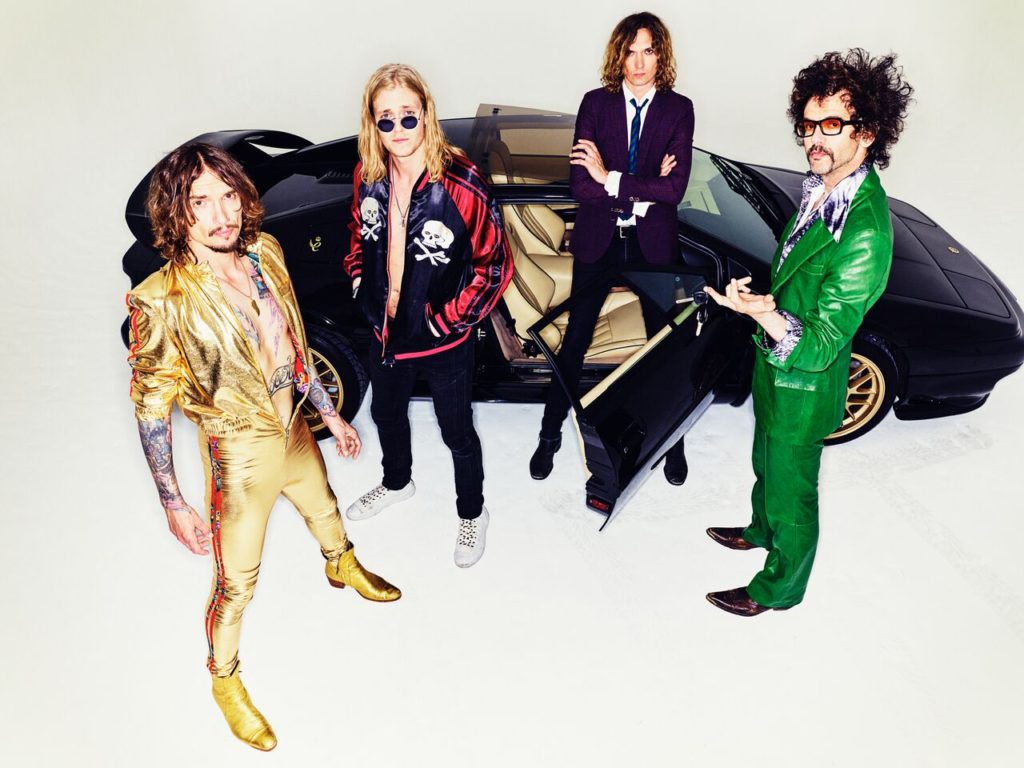 A perfectly executed feedback-bass-drum build explodes into a careening riff and a full-power Justin Hawkins banshee wail, and "All the Pretty Girls" is off to the races, a hopeful, life-affirming take on the overwhelmingly positive effects being a stadium-filling hard rock legend can have on one's dating life. The swashbuckling "Buccaneers of Hispaniola" joins an "Achilles' Last Stand" verse to an "Immigrant Song" chorus and swaps out the rock group-as-invading savage horde metaphor for a crew of pirates-as…well, a crew of pirates, I guess. No matter; the shrieking, swarming chorus rocks so damned hard indeed you won't even question the words you're screaming along to. Lead single "Solid Gold" is an AC/DC-ish rocker that blithely indicts the stupidity and insincerity of major-label executives while simultaneously praising the face-melting, floor-wetting greatness and majesty of The Darkness themselves. The difficulties of inefficient public transportation is explored in-depth in the potty-mouthed shoutalong "Southern Trains," a roiling runaway riff briefly interrupted by a glistening jangle-pop turnaround. "Why Don't the Beautiful Cry" sounds like a long-lost 70's AM Gold classic performed by an ELO/Thin Lizzy supergroup, while the harrowing and gorgeous epic "Japanese Prisoner of Love" stands as almost the textbook definition of the band's entire aesthetic. "Lay Down With Me, Barbara" ("underneath the candelabra," which is one of my favorite rejoinders on the whole album) is a bouncier take on Rod Stewart's "Tonight's the Night" with a bridge carved from solid Britpop, and "Happiness" is a suggestive line or two away from Teen Beach Movie 5, a sunshiny slab of Fountains of Wayne-style power pop. The album concludes with the "Blackbird"-meets-"Black Mountain Side" picking of "Stampede of Love," a romantic story that serves to remind us that love can be found anywhere, even in line at an all-you-can-eat buffet.
I can't overemphasize how good the songwriting and the musicianship are on Pinewood Smile. For all the rock-solid riffing (and there's loads), nearly every single song has a beautifully constructed bridge and/or a complex and interesting middle-eight, and the backing vocals and harmonies are a thing of true beauty. Newest addition Rufus Tiger Taylor plays with the proverbial drum kit full of cherry bombs; his sound and style mesh perfectly with the steady, driving bass of Frankie Poullain and the Malcolm Young-meets-Brian May guitar work of Dan Hawkins. Producer Adrian Bushby (Foo Fighters, Muse, My Bloody Valentine) has done a superb job giving the album a lush, full, sleek sound with a high-gloss sheen, sumptuous, but with a satisfying edge and bite.
The word that kept coming to mind the first couple of times I listened to Pinewood Smile (and I mean this in a 100% positive way) was ridiculous. It's extravagant, it's campy, it's ostentatious; it's an exotic sports car with an unpronounceable name that also happens to have a neon flamejob and hot pink fuzzy dice on the mirror. It's fast, and it's flashy, and it's got a ton of bells and whistles, and if you'll just relax and loosen up a little, it's one hell of a fun ride. If you need a little break from demons and despair, why not put on something sparkly, grab a glass of something bubbly, and step out into the light with The Darkness for a while? The sunshine might just do you some good.