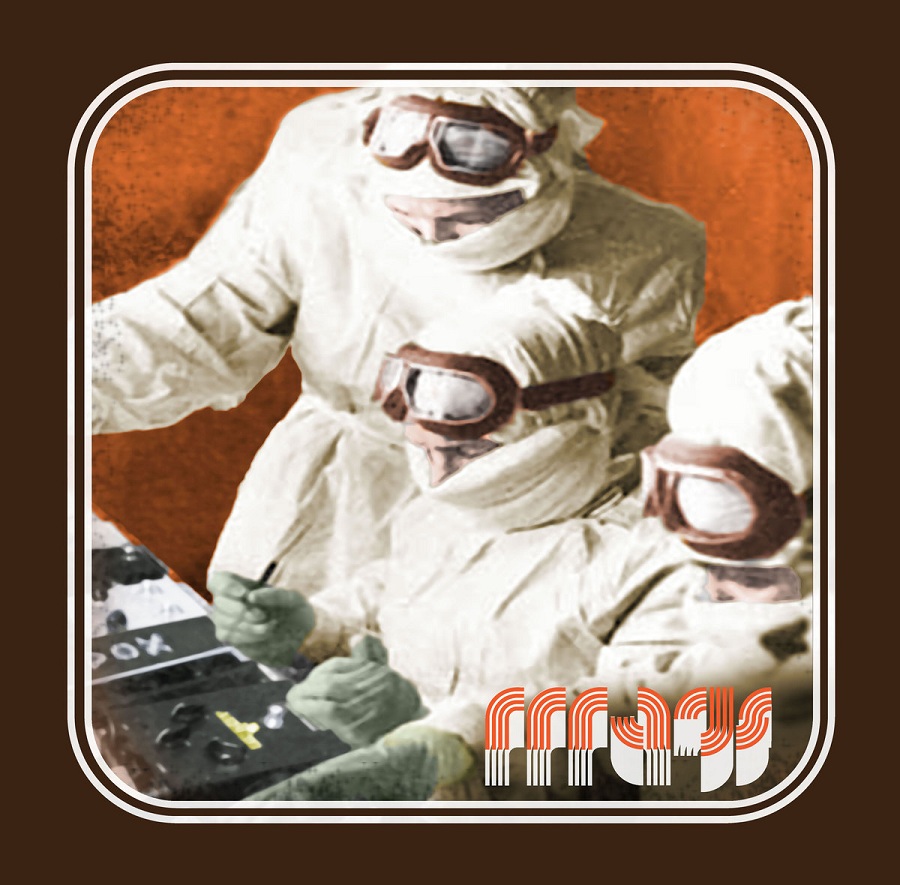 Belgian/Dutch power trio RRRags came together a mere eight months ago, but the songs on their self-titled debut sound like the work of a band that's been at this rock and roll game for years and years. The band's musical telepathy is remarkably refined, and the songs are both well-crafted and catchy as all hell. They hit hard without ever plodding, emphasizing groove and atmosphere over sheer brute strength and mixing their upbeat stoner vibe with flashes of soul, funk, southern rock, and power pop. RRRags are obviously true believers and lifelong devotees, my friends, and they've conjured up a slab of classic rock for the here and now.
Album opener "Bones" is a rollicking, gutsy warning, a muscular blast that to my ears sounds like a radio hit waiting to happen. It reminds me a little of Zakk Wylde's Pride & Glory, its churning swing overlaid with a bravura vocal performance from drummer/singer Rob Martin.  "Rag Machine" is a strutting, slithering shitkicker with a spine of deep, pungent funk; hearing the first few seconds in a teaser video a while back was enough to convince me this was a band worth checking out further. The frantic "Silence is Deafening" tricks out its insistent riffing with surftastic psychobilly guitars, while "On With the Journey" chugs and choogles like the bastard offspring of Canned Heat and Cheap Trick, a jittery blues jumper with a glistening, gleaming pop center. The slow-burn "Faraway Faces" is, for my money, the album's centerpiece, an approximation of Led Zeppelin reimagining "Shine On You Crazy Diamond" as a torch song. Martin shines here, sounding like Paul Stanley on his '78 solo record, while guitarist Ron van Herpen turns in an astounding atmospheric volume swell solo. The album wraps with the nearly ten-minute instrumental space-rock epic "Galaxy's Hygiene," a raucous romp that plays like RRRags' less dystopian, more levitous take on "2112."
Everything on RRRags sounds exactly as it should: the instrumental and vocal tones are impeccable and everybody plays their ass off without overplaying. Bassist Rob Zim covers so much sonic ground you never miss a rhythm guitarist, van Herpen is a fully capable shredder that thankfully seems more interested in wrenching cool noises from his axe than in winning a notes-per-second competition, and Martin's performance both as a drummer and a vocalist is rock-solid and bear strong, thick, rich, and satisfyingly soulful. Now that the band has commenced live performances (with their debut appearance at this year's Roadburn Festival, no less), it's exciting to think about the effect roadwork will have on their future musical endeavors; if they're already this good, can you even imagine what the next record will sound like? I advise you wholeheartedly to pick this one up now, turn it up real loud, and let's find out together. RRRags is a for-real rock and roll beast.