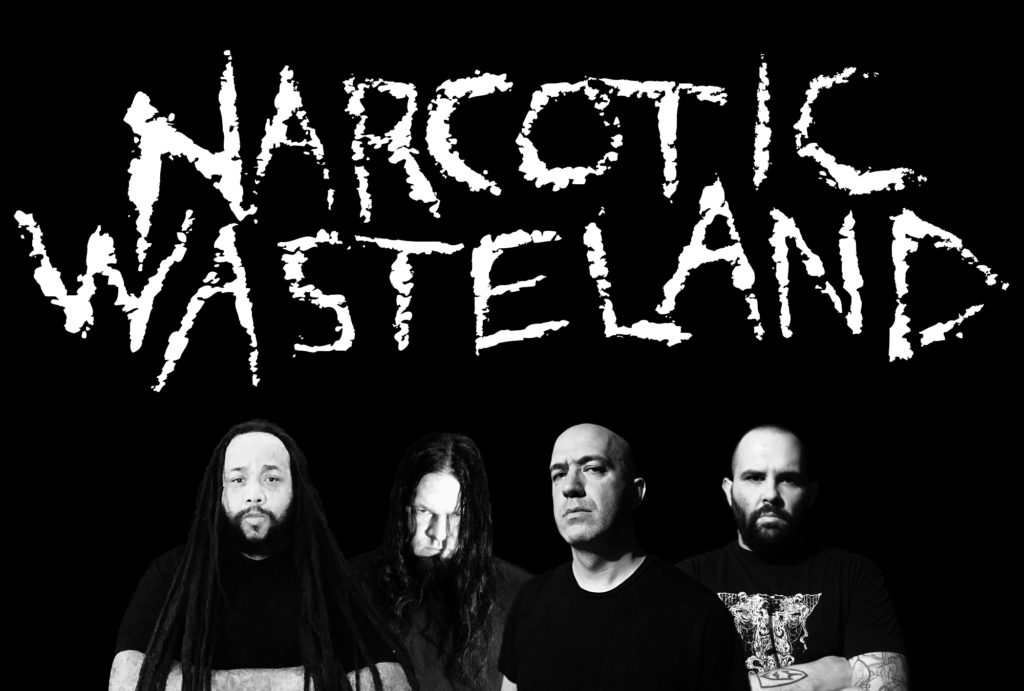 Remember Dallas-Toler Wade? Yeah, the former NILE vocalist who is no longer a part of the technical death metal band. Tadaa! he is back with his main project NARCOTIC WASTELAND with their follow up album to the self titled debut record, their sophomore effort is known as 'Delirium Tremens' and is slated to be released tomorrow on October 13, out via Megaforce Records. The quartet from Fayetteville, North Carolina has put out yet another incredible death metal album that has the potential to end itself up on the year end top album lists.
'Delirium Tremens' was produced and mixed by NARCOTIC WASTELAND at Vegas View Recording and Dallas' home studio. For recording and mixing, the band tapped Grammy award winning producer Neil Kernon at Auslander, with mastering by metal producer-elite Alan Douches at West West Side Music. So, how heavy does Dallas and his team's sophomore record weigh? Let's find out!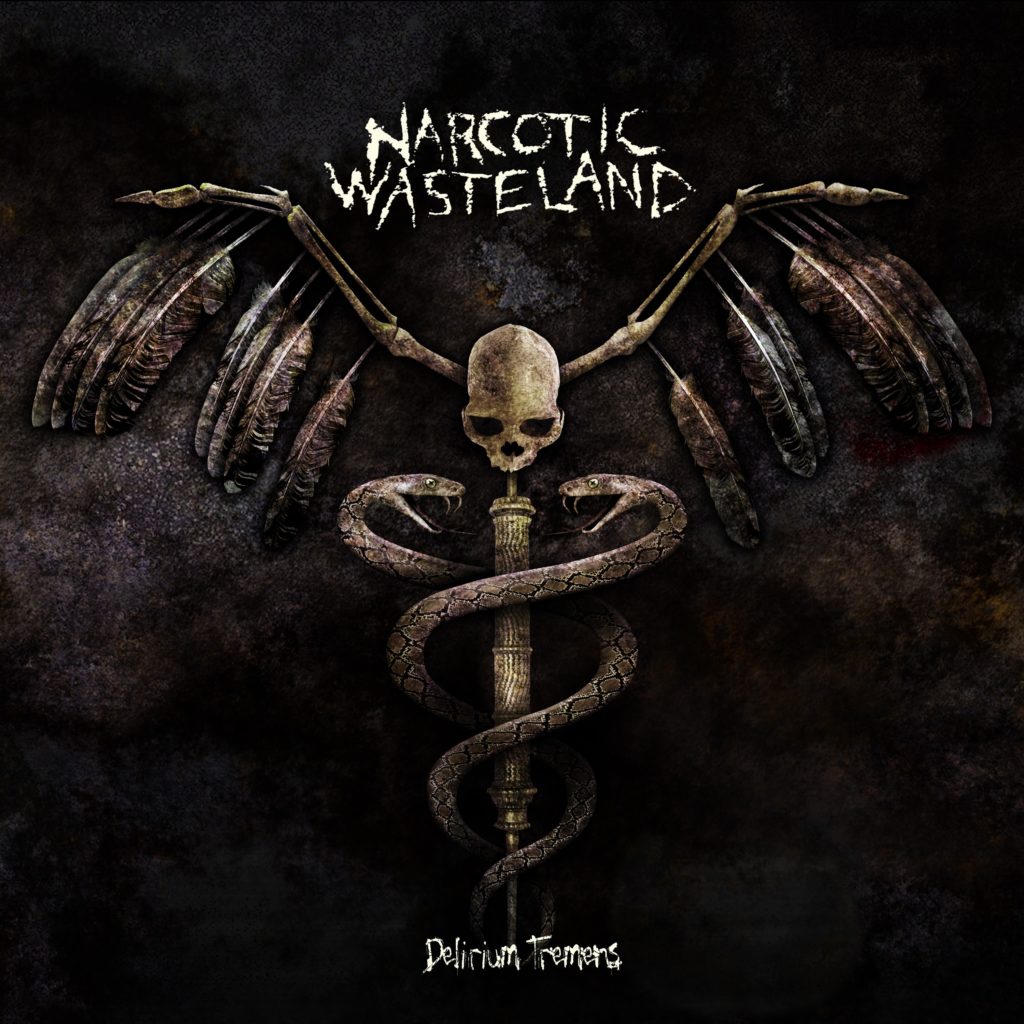 'Delirium Tremens' is like that unassailable freak train from the movie Unstoppable, that vaporizes just about anything that dares to come amidst its path. Incredible technical and speed riffing, relentless heavy pounding drums with of course the machine gun double bass drumming, thundering bass and Dallas' spine chilling mighty growls make this record a powerhouse in itself. It is one of those records where you will be blacked out undoubtedly cause it knocks you over and over again with every spin. It is that good!
Right away with 'Introspective Nightmares' being the opening number, you get an idea of how much this record is gonna spew some technical and brutality on your ears. Dallas Toler Wade brings back some nostalgic memory of his time in NILE when you clearly can point out the similarities in both the music of the band's, like his trademark guitar tone, which emanates on this record as well. Groovy, hardcore, space time ripping guitar work, loud and punishing drums pave the way for the rest of the album's songs. It is a full fledged frontal attack right off the get go. Continuing the onslaught, tracks like 'Faces Of Meth', 'Return To The Underground' and the furiously fast 'We Agnostics', display the epitome of technical precision and the daunt of playing them. These are songs not for the weak hearted. The guitar tone has been very similar to NILE in many areas for obvious reasons, having a heavy but cascading effect. What I also like about the entire albums is the snare hit, its just.. so satisfying! It's very crisp and tight and something fans especially of the brutal death metal camp would dig, my senses direct me to the ravaging DYING FETUS here. And just when you thought things couldn't have been better, they sprinkle some well composed guitar melodies solely meant for tickling your ear buds, mostly delivered as solos. So we do have a lot of diversity and melodic guitar soloing apart from sadistic, pure death metal barbaric assault. It is just pure orgasm, there I said it.
We're midway through to the album and unlike others Dallas thought why not give the fans a wee bit of a breather. Tracks like 'In Memoriam' and 'Self Immolation' are exactly a clone of what you'd generally do in a movie theater during the interval break. Basically, you stretch out and take a long gasp of breath before plunging right into the movie. These two are serene instrumentals, which are definitely atmospheric and mellow sounding, performed for the sake of your sobriety. 'Bleed And Swell', the title track picks up from where the instrumentals left and throws you into the throes of mid-paced harmonic riff driven groovy arpeggios, as we march on ahead with other pulverizing tracks left on the album. Nearing the end of the album, some bands tend to lose the interest they sparked in the listener on the first half of the record. But that isn't the case here, NARCOTIC WASTELAND makes sure every track on this record hammers and pins you down to the ground, and damn he is good at it. Losing interest in this record is possible, but not until when pigs fly and people fart rainbows outta their asses.
Although the record is blisteringly fast and brutal, it doesn't leave itself behind in meticulously carving in some melodies into the grooves and chunky riffing. Ed Rhone has marvelously pulled off the melodic sections, thus proving the virtuoso he is. The theme of the album is a serious one and that demands more discussion than the usual coffee break shit talk at your workplace. 'Delirium Tremens' is the medical term for the confusion and paranoia that sets in on an alcoholic caused by the withdrawal of the same. NARCOTIC WASTELAND have always dealt with the drug abuse crisis in America and how it is destroying lives. Along with other topics such as declining human conduct, self introspection and how big pharma companies are obliterating lives(refer to 'Pharma Culture' song) just to make a quick buck, 'Delirious Tremens"aggressive and frenetic nature is a stark portrayal of the craziness, anxiety and angst a DT sufferer deals with.
So how tall does 'Delirium Tremens' stand in this modern era of metal? I would say it is one hell of an excellent album. How ever it is nothing ground breaking or revolutionary, but it sure is technical, brutal and an account of the incredible musicianship Dallas, Ed, Phil and Chris cohesively go on to display. Catchy, heavy and groovy riffs along with rude and mean trademark growls from Dallas, intertwined with mesmerising and mind bending solos from Ed Rhone, thumping bass skills and thus being an integral part of the music by Chris Dupre, magnificient and inhuman drumming, traveling at the speed of light, pulverizing the masses Phil Cancila goes onto show to what degree a beast he is. So, in my opinion you should just walk into a record store any day from today onwards, close your eyes and just grab that goddamn record without pushing yourself into a pool of dilemma. 'Delirium Tremens' has started the countdown to this new year on a great note.
Order your copy of this album HERE!