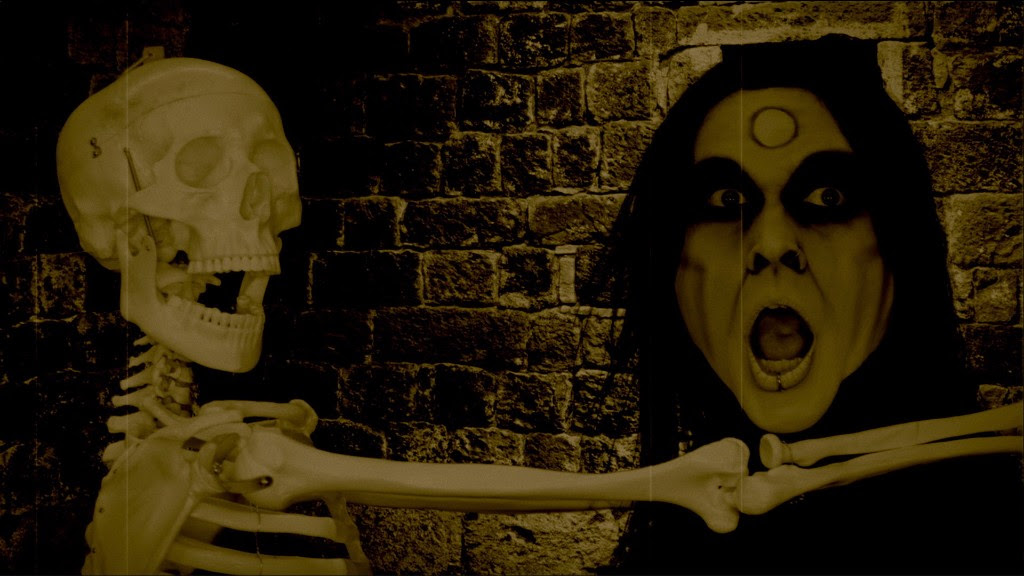 The Duke of Spook, WEDNESDAY 13 has revealed a brand new video for "Cadavarous," a track taken from his current "Condolences" album. Check it out here.
The clip plays up WEDNESDAY's schlocky horror reputation in their best horror B-movie style, as he and his band finish up a US tour and get ready for a European tour later on this month.
"Cadavarous' is the most fun and campy video that we have made so far," states WEDNESDAY. "We really had fun with this one, and it's a throwback to all my favorites like The Munsters and The Addams Family. I hope our fans enjoy this as much as we did making it."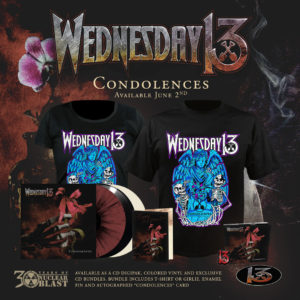 Upcoming Tour Dates:
WEDNESDAY 13, EYES SET TO KILL, REPULSUR (US Tour)
Oct 13 The Agora Theatre- Cleveland OH
Oct 14 Aftershock- Merriam KS
Oct 15 Outland Ballroom- Springfield, MO
Oct 17 Rail Club- Fort Worth TX
Oct 18 Launchpad- Albuquerque, NM
Oct 19 Sunshine Studios- Colorodo Springs, CO
Oct 20 Mesa Theater- Grand Junction, CO
Oct 21 Diamondz Event Center- Jerome ID
Oct 22 Hawthorne Theater- Portland OR
WEDNESDAY 13 + TBA (European Tour)
Oct 26 Manchester Club Academy- Manchester, UK
Oct 27 Glasgow Garage- Glasgow, UK
Oct 28 O2 Academy Islington- London, UK
Oct 31 La Boule Noire- Paris France
Nov 1 Melkweg Upstairs- Amsterdam, Netherlands
Nov 2 Bi Nuu- Berlin, Germany
Nov 3 Headcrash- Hamburg, Germany
Nov 4 Bi Nuu- Berlin, Germany
Nov 7 Chelsea- Wien, Austria
Nov 8 Hansa 39- Munich, Germany
Nov 9 Keller Klub- Stuttgart, Germany
Nov 10 Legend Club- Milan, Italy
Nov 12 Congress Center- Basel, Switzerland
Nov 13 FZW- Dortmund, Germany
Nov 14 Kulturzentrum Schlachthof e.V.- Wiesbaden, Germany
Nov 16 Nosturi- Helsinki, Finland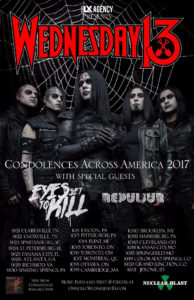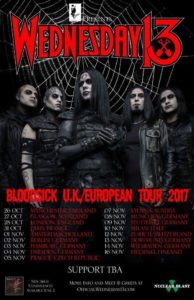 "Condolences" was released on June 2, 2017 via Nuclear Blast Entertainment. The album was produced, mixed, and mastered by Chris "Zeus" Harris (HATEBREED, ROB ZOMBIE). Artwork was created by Travis Smith (OPETH, KATATONIA, NEVERMORE).
More on "Condolences":
"Condolences" Music Video
"What The Night Brings" video
"Blood Sick" Video
"Cruel To You" Video
-Chayotix