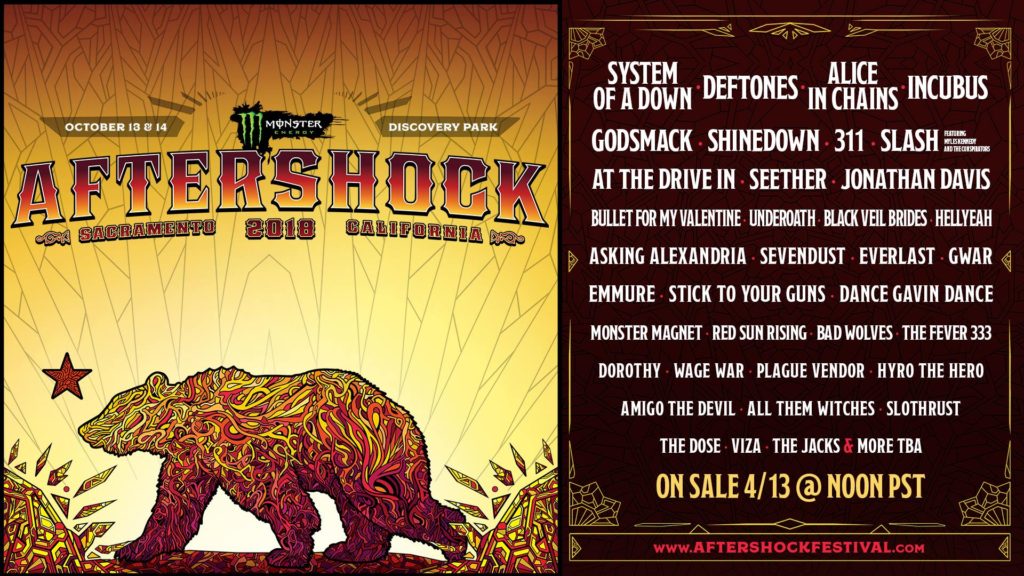 All those "stand by" posts and teasers have finally been laid to grave today, as Monster Energy AFTERSHOCK FESTIVAL 2018 finally takes those curtains off the festival's line-up. California's biggest rock festival AFTERSHOCK 2018, returns for another year at the famous Discovery Park near downtown Sacramento, CA to be held this year on October 13th and 14th, Saturday and Sunday, respectively. With the fest posting a lot of teasers on their social media pages, fans put their thinking caps on and a lot of predictions were made. Some were right and some went wrong. Those who vouched in on their favourite bands give yourself a pat on your back as this year's edition will be headlined by none other than SYSTEM OF A DOWN, who will be returning to the States after three years, as they celebrate the 20th anniversary of their landmark self-titled first album.
Apart from SYSTEM OF A DOWN, the bill features homegrown boys DEFTONES who will be debuting as headliners after having played the festival in 2012 and 2015. Seven years is a long time since the band performed their last headlining their hometown concert. Now is your best chance to grab this opportunity and see them live, to make the comeback more special DEFTONES' would be celebrating their 30th anniversary.
The leaders for the 2018 edition of AFTERSHOCK are mighty and they are SYSTEM OF A DOWN, DEFTONES,  ALICE IN CHAINS, INCUBUS, GODSMACK, SHINEDOWN, 311, SLASH FEATURING MYLES KENNEDY AND THE CONSPIRATORS, AT THE DRIVE-IN, SEETHER and JONATHAN DAVIS.
VIP and General Admission tickets for Monster Energy Aftershock will be available beginning on Friday, April 13 at 12:00 PM PDT. Visit HERE for more details.
Coming back into the live arena after nearly three years, SYSTEM OF A DOWN's Serj Tankian says, "Sacto, we're coming for you. Proud that you're our capital and not D.C.". While, guitarist/vocalist Daron Malakian says, "It's been a minute since we've played Sacramento, so it just felt right to return by headlining Aftershock".
Sully Erna from GODSMACK joins in and he is excited as he speaks, "Sacto!! We can't wait to be a part of Aftershock this year. Do not miss this show! It's big, it's loud and it's angry…So buckle up, cuz this ride goes reeeeeal fasssst!!! See ya in Oct.!"
36 bands have been confirmed as of yet including the aforementioned headliners. The line-up as of yet looks like this. See if you can find your favourite band down below:
SYSTEM OF A DOWN, DEFTONES, ALICE IN CHAINS, INCUBUS, GODSMACK, SHINEDOWN, 311, SLASH FEATURING MYLES KENNEDY AND THE CONSPIRATORS, AT THE DRIVE-IN, SEETHER, JONATHAN DAVIS, BULLET FOR MY VALENTINE, UNDEROATH, BLACK VEIL BRIDES, HELLYEAH, ASKING ALEXANDRIA, SEVENDUST, EVERLAST, GWAR, EMMURE, STICK TO YOUR GUNS, DANCE GAVIN DANCE, MONSTER MAGNET, RED SUN RISING, BAD WOLVES, THE FEVER 333, DOROTHY, WAGE WAR, PLAGUE VENDOR, HYRO THE HERO, AMIGO THE DEVIL, ALL THEM WITCHES, SLOTHRUST, THE DOSE, VIZA, THE JACKS and many more to be announced.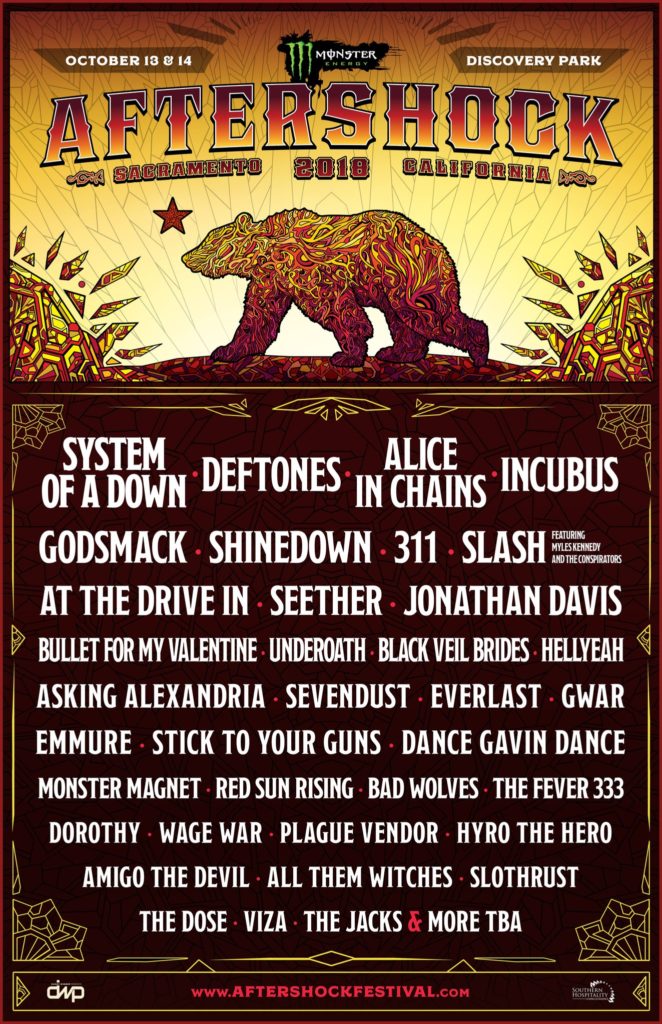 Monster Energy AFTERSHOCK FESTIVAL is an annual pilgrimage that not only features the cream of rock music, but also it is gathering of food and other such and fun and frolic experiences. From the delicious Big Joe's BBQs, to the fresh green high of Heavy Grass(check out new premium weed products and merchandise) and other activities to take part in such as The Music Experience(an interactive exhibit and musical instrument retailer), AFTERSHOCK has you sorted for the weekend. Music, food and more music, I bet you can't whine about anything really now!
Initial ticket prices will be as follows:
2-Day Weekend General Admission: starting at $149.50 + fees
2-Day Weekend VIP: starting at $299.50 + fees
Single Day General Admission: starting at $89.50 + fees
Single Day VIP: starting at $179.50 + fees
A limited number of GA ticket 4-packs will also be available. VIP tickets allow you to enjoy the following comforts: VIP entrance lanes into the venue, a shaded VIP hang area with seating for dining, a VIP-only viewing area of main stage, video screens featuring a live feed from the main stages inside the VIP hang area, upgraded food and drink selections (for additional purchase), dedicated VIP restrooms, and a commemorative Monster Energy AFTERSHOCK 2018 laminate.
2017's edition was not sold out, but don't keep waiting as this year the line-up looks killer. Some of the rock's biggest names such as SYSTEM OF A DOWN, DEFTONES, ALICE IN CHAINS, INCUBUS, GODSMACK along with mouth watering food and other entertainment activities, AFTERSHOCK 2018 promises to be one of the biggest year ending festivals. So don't just keep waiting like a sloth. Go ahead book your tickets and plan for your trip already.