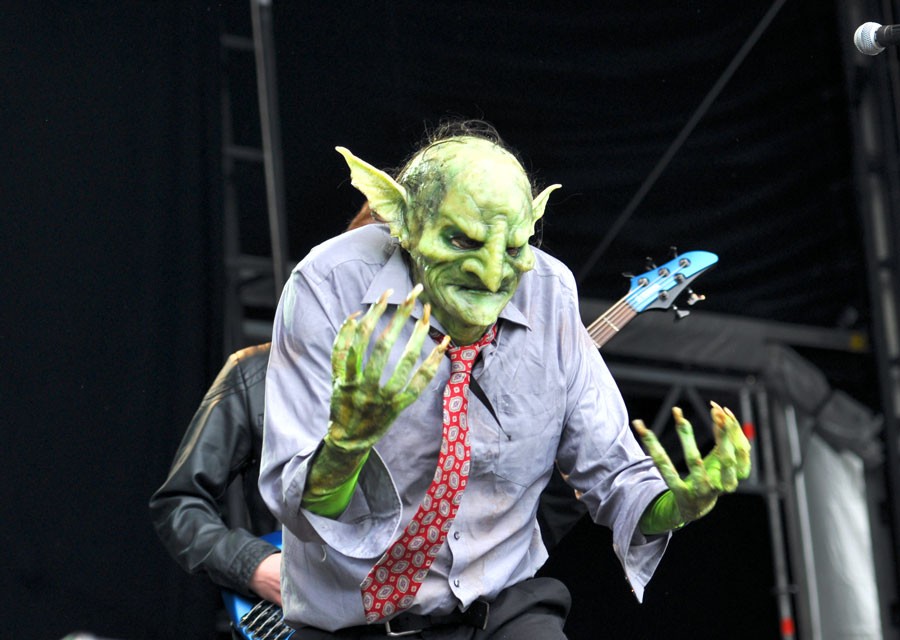 The hype man is alive and well in the metal community, and his name is John f**king Goblikon. If you aren't listening to Los Angeles Californias Melodic Death Metal jesters NEKROGOBLIKON yet you are seriously missing out on one of the best acts to grace the stages of the United States.  Nicky "Scorpion" Calonne  (Lead Vocals, Keyboard) Alex "Goldberg" Alereza (Guitar, Backing Vocals), Aaron "Raptor" Minich (Keyboard, Backing Vocals), Aaron "Zoot" VanZutphen. NEKROGOBLIKON has released 3 full albums "Goblin Island", "Stench", and "Heavy Meta" as well as one solid E.P. "Power" since they crawled out of some smelly hole in California back in 2006, and now they're ready to drop another one on our heads titled 'Welcome To Bonkers' on Friday, April 13th 2018 courtesy of Seek And Strike Records.
If you've listened to NEKROGBLIKON you already know that they're in a league of their own in today's music scene. Take the best parts of Melodic Death Metal, throw in some synth tones, a splash of EDM and screams about Goblins, Bears, Giraffes, and a whole slew of fantastic and gruesome topics and what you get is an extremely talented, and entertaining band that proves you don't have to be so damn serious to make great, heavy music.  It may come as a surprise, but Metal does have room for a little bit of silliness, and that's what makes "Welcome To Bonkers" a great addition to the NEKROGOBLIKON discography.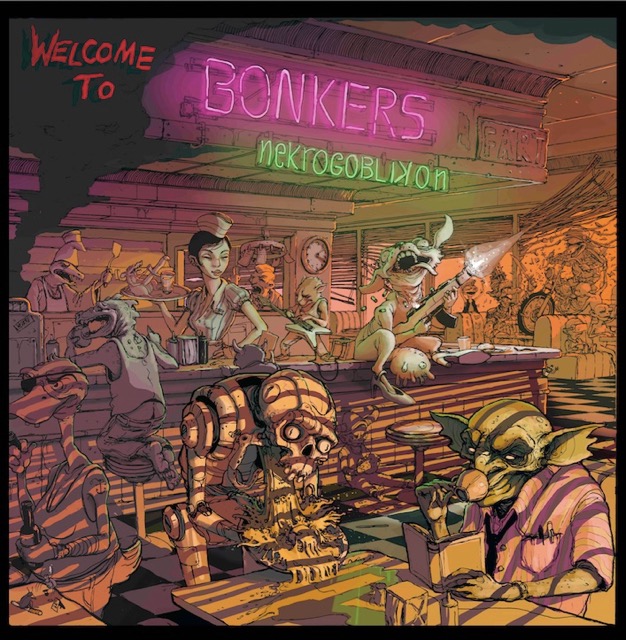 I happen to be a HUGE NEKROGOBLIKON fan, I've had this album for a couple weeks already, but I was too caught up in smashing the play button during all my free time to write this review until now. I love this album in its entirety, each member executes their parts flawlessly and really showcase their originality, and creativity: It appears that they have worked tirelessly to perfect their sound, and the album speaks as truth to the statement.  "Mold" is the opening track to this monstrous album, and as soon as I hit play for the very first time I was transported back to 'Goblin Island', and all of it's "piratey" splendor.
'Welcome To Bonkers' in my opinion, is probably their most musically complex album to date, there's just so many magical things happening in each track it's you can't help but get lost.  "The Many Faces Of Hubert Malbec"  might possibly have one of the heaviest segments I've heard from NEKROGOBLIKON and holy shit, I don't even care if I look like something out of The Excorsist convulsing in my vehicle as I head to work. I won't give too many details on the rest of the album because that's all the more reason for you to listen to it, do yourself a favor. In anticipation of the albums release NEKROGOBLIKON has teased us with the single "The Skin Thief" as well as an official music video for "Dressed As Goblins" which you can watch both below, . Preorders are available, and the album drops this Friday, April 13th 2018.