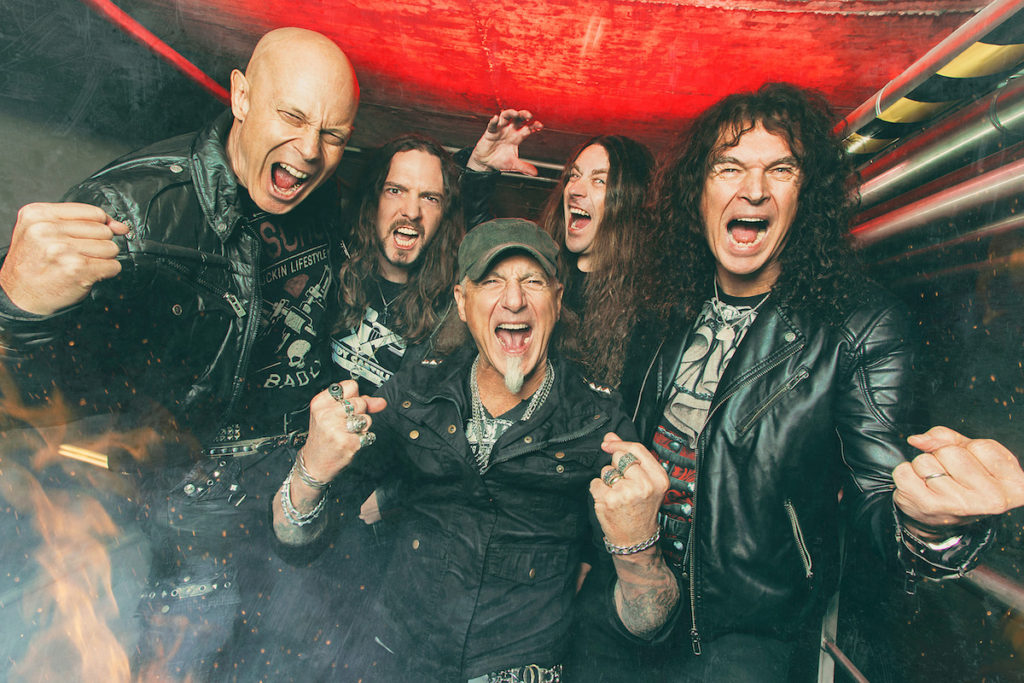 Heavy Metal pioneers ACCEPT are back in the game with a new studio album! The record entitled 'The Rise Of Chaos', will be unleashed this Friday, on August 4th, 2017! This will be the band's 4th studio release through Nuclear Blast and continues the tradition of its three predecessors – 'Blood Of The Nations', 'Stalingrad', and 'Blind Rage' – with grandeur and precision.
On Thursday (Aug, 3rd), ACCEPT will celebrate the album's live premiere exclusively with a special show at Wacken Open Air, Germany. The set will consist of three parts and can be seen worldwide on a live stream.
Watch the performance on Thursday, August 3rd at http://stream.wacken.com/ at the following times:
11:00 AM – 1:00 PM Pacific
1:00 PM – 3:00 PM Central
2:00 PM – 4:00 PM Eastern
Part one will bring fans a classic ACCEPT set, packed with new and old hits. Part two will present another premiere: Wolf Hoffmann will be playing tracks from his solo album 'Headbangers Symphony' for the very first time. On this record, Wolf has covered famous opuses by composers such as Beethoven, Vivaldi, and Mozart, in a metal guise. And in Part three, all elements can be seen and heard together: ACCEPT will make the holy Wacken ground shake by sharing the stage with the orchestra, supported by a complex multimedia show.
This unique concert experience will take place on this year's Night To Remember which makes it even more special. The Night To Remember is a celebrated, long-lasting Wacken tradition; for one night of the festival a selection of established bands will do something unique and special with their performance.
Wolf Hoffmann stated: "It's always impressive to see how bands take this evening seriously and how much love the artists and the organizing team put into their work to get a varied result. It's a great tradition which underlines and documents the top-notch level of the international rock community like nothing else. We also want to present something that ACCEPT has never done before, we hope we can give something really special to the fans."
"ACCEPT have been and are still a very important part of Germany's heavy metal scene. We're really looking forward to having them with us once more. With this epic concept, the Thursday evening will be one to remember for sure," stated Thomas Jensen, organizer of Wacken Open Air.
Today, ACCEPT also revealed their second track-by-track trailer, in which Wolf Hoffmann talks about the songs "Koolaid", "No Regrets" and "Analog Man". Watch it HERE!
Recently, the band has released their second digital single "Koolaid", off their new album 'The Rise Of Chaos'. Check out the lyric video for the track, HERE!

Wolf states: "'Koolaid' is a well known flavored drink and has been mixed with Cyanide by a cult leader who made his congregation drink it: men, women & children. Everybody to get to heaven. Since then, the phrase "drinking the Kool-Aid" is referring to a person or group holding an unquestioned belief, argument, or philosophy without critical examination. That common fact, that people believe everything, when sold right, has intrigued me all my life. For me, being critical and alert all the time, is the key to every decision one makes. That is the main message!" 
Pre-order the new album HERE!
We also recently reviewed 'The Rise Of Chaos', click HERE to read it!