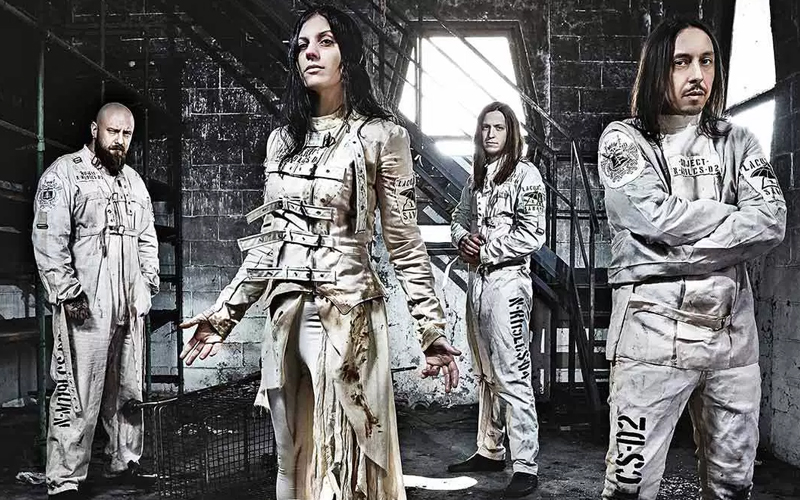 How about a femme fatal double attack? This is probably one of the very few times where two female led bands have toured together. Italian rockers LACUNA COIL are joining hands with new born Swiss folk metal outfit CELLAR DARLING consisting of former ELUVEITIE members Anna Murphy(Vocals & Hurdy Gurdy), Ivo Henzi(Guitars & Bass) and Merlin Sutter(Drums). 'Delirium' was the last and eighth studio album released by the Italian outfit last year in May 2016, and since then they have been touring extensively in support of the same. Now they hop on the same bus with CELLAR DARLING who just released their ground breaking debut album almost over a month ago in June titled, 'This Is The Sound' released through Nuclear Blast Records. The Swiss trio also have been playing a lot of shows in and around Europe in the wake of their new album support, even festival shows and an exclusive concert with EVANESCENCE in Pratteln and their chart success (#16 in the Swiss album charts, #19 in the UK Rock Charts…) only spurred them on. So this autumn, the founders of the New Wave of Folk Rock will not only support DELAIN on several dates, but also join the Italian Gothfathers LACUNA COIL on their extensive European tour!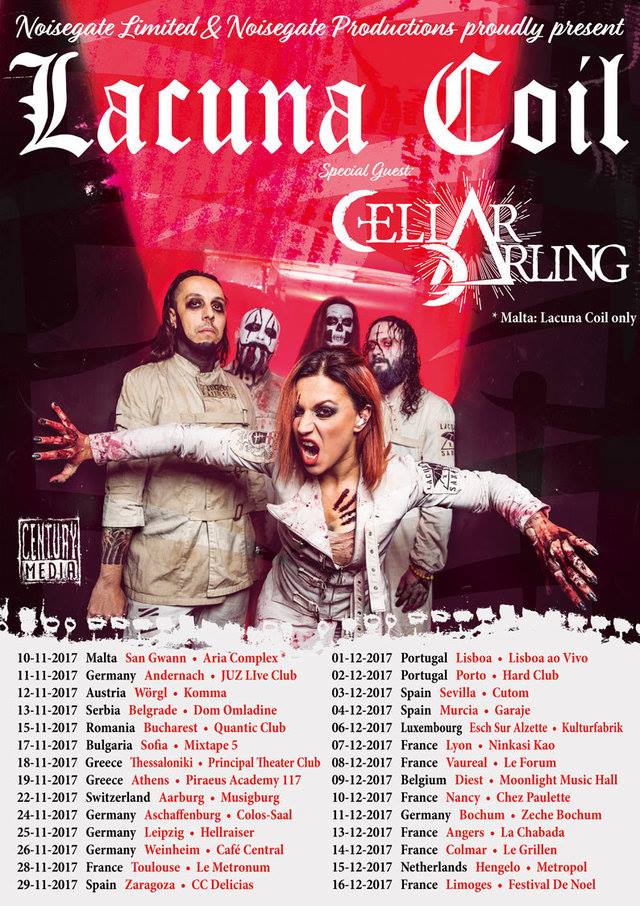 CELLAR DARLING states:
"'This Is The Sound' has been out for a month, and we're at a complete lack of words. We're incredibly thankful for glowing reviews, for video views and comments beyond our wildest hopes, for amazing first festival shows, and most importantly, for the deluge of awesome feedback from the best fans in the world.
Now we have one priority, and one priority only: getting back on the road, and making it our mission to visit each and every one of our fans to celebrate our music live together. We're already excited about hitting the road with DELAIN in the fall, after premiering our club show with two dates in Switzerland, and are proud and happy to announce that we've added another 27 shows with none other than the amazing LACUNA COIL!"
These are the freshly announced dates of CELLAR DARLING supporting LACUNA COIL:
11.11. – D Andernach – Live Club
12.11. – AT Wörgl – Komma
13.11. – RS Belgrad – Dom Omladine
15.11. – RO Bukarest – Quantic Club –
17.11. – BG Sofia – Mixtape 5
18.11. – GR Thessaloniki – Principal Theater Club
19.11. – GR Athen – Piraeus Academy 117
22.11. – CH Aarburg – Musigburg
24.11. – D Aschaffenburg – Colos-Saal
25.11. – D Hellraiser – Leipzig
26.11. – D Weinheim – Café Central
28.11. – F Toulouse – Le Metronum
29.11. – E Zaragoza – CC Delicias
01.12. – PO Lisboa – Lisboa ao Vivo
02.12. – PO Hard Club – Porto
03.12. – E Sevilla – Custom
04.12. – E Murcia – Garaje
06.12. – LU Esch Sur Alzette – Kulturfabrik
07.12. – F Lyon – Ninkasi Kao
08.12. – F Vaureal – Le Forum
09.12. – B Diest – Moonlight Music Hall
10.12. – F Nancy – Chez Paulette
11.12. – D Bochum – Zeche
13.12. – F Angers – La Chabada
14.12. – F Colmar – Le Grillen
15.12. – NL Hengelo – Metropol
16.12. – F Limoges – Festival De Noel
We reviewed the new CELLAR DARLING album prior to the release of the same and you can go ahead and check the review out HERE!
Order CELLAR DARLING's 'This Is The Sound' HERE!.
Buy LACUNA COIL's 'Delirium' HERE!