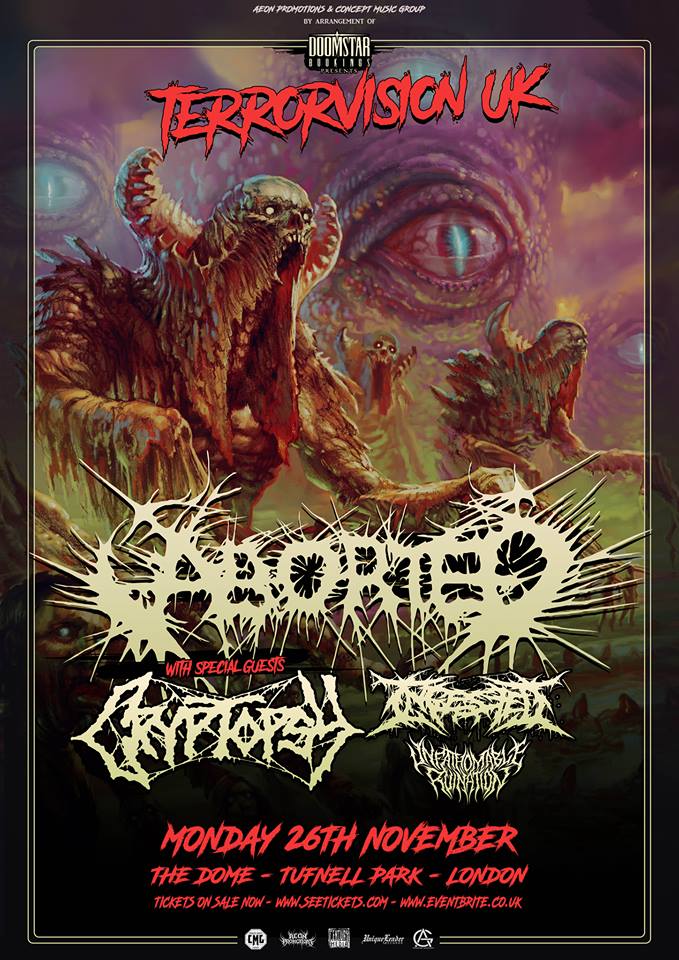 "UK fiends! We have some exciting news! The tour gods smileth thine way and will let us annihilate you lovely c**ts with our good friends of Cryptopsy, Ingested and Unfathomable Ruination !! Come on out and party with us like it's 1999 or something."
 With Aborted's "Hell Over Europe" tour almost a complete sell-out, they now turn their attention to decimate the UK and Ireland with arguably the most brutal death metal line-up of the year! The Belgian Death/grinders will be joined by special guests, the extreme metal titans Cryptopsy, with their fresh independent offering 'The Book of Suffering – Tome II'. Further support comes from the UK's own slam kings Ingested with their first show back on British soil after their hugely successful North American headline "Evisceratour", and London's own brutal outfit Unfathomable Ruination. The tour begins tonight at The Dome in Tufnell Park London with the last few tickets remaining! Let's show the world what the UK is made of – let the carnage begin!
Aborted are touring in support of their tenth full-length album 'TerrorVision', released on September 21ston Century Media Records. The follow-up to 2016s face-melter 'Retrogore' was written over a year and a half with producer Kristian 'Kohle' Kohlmannslehner, with nightmarishly horrifying cover artwork by Swedish artist Pär Olofsson and inside panels by returning Aborted artist and collaborator, Coki Greenway (Nuclear Assault, Devourment, Machine Head, and more.)
"This record is quite different from any we have done before…Think of TerrorVision as if it were an '80s horror movie talking about how the media in general is some sort of evil, demonic presence that is manipulating the opinion of the masses by spreading hate, fear, bigotry, terror, racism and all those fun things that make humans the most terrible thing to have ever happened to this planet. So, there is quite some stuff going on there that is not just the typical gore lyrics." – Sven 'Svencho' de Caluwé
'TerrorVision' is available now as a Ltd. CD Box Set, Standard CD Jewelcase, Gatefold LP+CD & Poster and Digital Album. Purchase yours here.
Aborted UK/IR tour dates:
26/11/2018 – London, UK @ The Dome
27/11/2018 – Nottingham, UK @ The Loft
28/11/2018 – Dublin, IR @ Voodoo Lounge
29/11/2018 – Limerick, IR @ Dolan's Warehouse
30/11/2018 – Glasgow, UK @ Audio
01/12/2018 – Manchester, UK @ Factory
02/12/2018 – Bristol, UK @ Fiddlers