Jude Throckmorton – Vocals and Guitar
Matthew Shawn Chapman – Guitars
Zac Stewart – Bass
Kirk Evans – Drums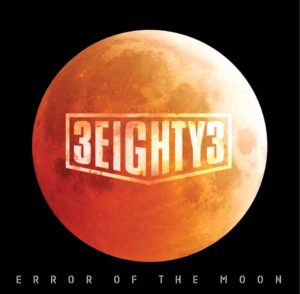 Error of the Moon
March 31, 2017
After having the band referred to me by my friend 'Chelle last year, 3Eighty3 has been one of my favorite, go-to bands. Once I reviewed their kick ass debut EP, Raw Fuckin' Power and added it to my 25 Best Albums of 2016, I have stayed in contact with them and made a couple new friends. Metal tends to do that, as you well know. One big, crazy-ass family! In rolls 2017, and I am pleasantly surprised to find out that in their busy show schedule, the band has managed to write and record a brand spanking new EP called Error of the Moon that is due for release on March 31st, 2017. Like a junkie jones-ing for their next hit, I contacted Matt on the down-low: "Uhh. Hey dude. Ca ca can you hook muh me up with tha that new CD bro? I nuh, nuh NEED some more of stu stuff you you got going on over there in Texas…" Being the cool guy that he is, he sent me the master MP3s as soon as they were completed and on the day that they were being sent out to be pressed. Big thanks my man! Been flat wearing it out ever since. So. Is that sh*t good, you ask? If my family can be used as a gauge (Electronic Dance and Young Alternative fans, the lot of them), my wife and kids f'in HATE it because it is too loud (add whiny tone) and been blasted countless times as I am driving, so, yeah, it is f*cking awesome!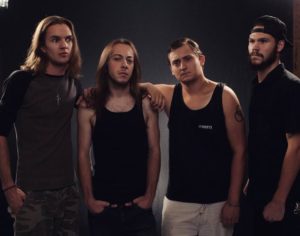 3Eighty3 has a lot going for them and my fascination with them starts with the four extremely talented young musicians. Starting with drums at the ripe old age of six, Jude "Lawless" Throckmorton has expanded his instrumental repertoire to include a wide variety of instruments in his quest for musical understanding and depth; choosing to now focus on his vocal prowess "to express the insights of his perceptions". Raw, throaty and visceral, Jude has matured at an alarming rate, even since the first EP that was released less than a year ago. While his signature raspy growl remains fully intact, his vocal range has expanded with a depth not quite realized just one short year ago. Very, very cool to stand witness as this band grows into their collective skins. Next up is my six-string, shred-dealer buddy, Matt Chapman. Like Jude on drums, Matt started slaying the strings very early in life; even winning a guitar competition at Six Flags when he was only twelve years old. His skills are wide and soulful; always applying just the right amount of speed, tension, drive and phrasing to best suit any song's lyrical and musical direction and completely belie his young age. His are the chops of a well seasoned studio player to be sure. Originally playing saxophone, bass player Zack Stewart holds down the low tones and rhythm with crazyman drummer Bo "Spanky" Martin; providing a foundation heavy enough to hold 3Eighty3 on an otherwise unmeasured course. The second piece of this fascination is obviously the music. 3Eighty3 represents a young, passionate and fiery perspective on that went well in Hard Rock/Metal from the 80's through the mid-90's; culminating in fresh, honest Hard Rock/Metal that miraculously carries with it the authentic groove, attitude and tone not heard for years now. Before knowing anything about the band I would have guessed these guys to be a supergroup of long forgotten gems from the past. Yes.  They are that good!  There is just one thing left to round out this band and that's the live show. I have read endless chatter from their rabid and loyal fan base about them being a live band first but am yet to experience what is said to be the most fun you can have vertically. I guess I will have to wait until I am in Texas or they come within shooting distance of my place (dammit!).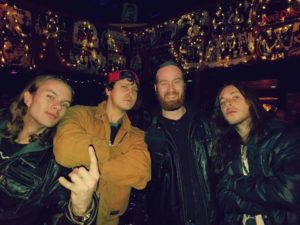 The first EP was really, really good and well worth the minimal investment in support of this incredibly talented band, but Error of the Moon could very well be the spark that propels 3Eighty3 to the next level. Taking a heavier and more intense stance musically and lyrically, growth as individual players and as a band are evident over the course of this smokin', four song, whiplash inducing CD. Right out of the chute comes "Fighting for the Earth". With an early Motley Crue kind of groove, the track comes fully loaded with screaming guitars, replete with pinch harmonics a la Black Label Society, catchy rhythms and the, now trademark throaty vocals of Jude putting an early Megadeth, in-your-damned-face attitude on an already kick ass song. Continuing with the same intensity, "Obsolete" takes on a slower, quietly raging tone reminiscent of songs like Pantera's classic, "Good Friends and a Bottle of Pills". Like the old saying says about the quiet ones having the most dangerous tempers, this modern take on borderline psychedelia takes on a very dark and angry tone that is further substantiated with the mild but tasteful use of spinning dissonance. This is, by far, the harshest track on Error of the Moon and probably my favorite. Showing some variety and range, the last two songs stand in stark contrast to the sharpness displayed on the first half of the album. "Blow Your Top" is a very heavy, fun and rather upbeat 3Eighty3 take on Southern, Bluesy Metal. Again showing his maturing vocal prowess, Throckmorton adds a cool and unusual drag on his vibrato that I don't recall hearing before while Chapman lays all of his heart and soul into chops that would make Vai and EVH stand up and take notice. Taking his turn at the plate, "FUBAR" is almost exclusively driven by Evans impressive drum skills. With almost conversational verses, the chorus will crush many a skull and break many an eardrum. Just below the surface of this rhythmic steamroller lies a ton of guitar harmony that is eventually brought to a head with a sick, traditionally played solo and a very cool bass interlude under the direction of Mr. Stewart. This track and the EP end abruptly, just before getting completely out of hand. Wise move. The neighbors are starting to get pissed off about the noise over here by now!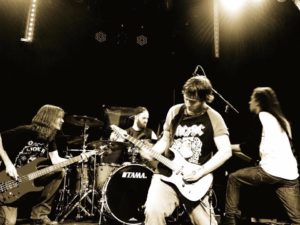 Yeah. Big fan of 3Eighty3 right here. At this point, this band can do no evil in my book. Their youthful outlook on what works in old-school music makes them a real stand out among any johnny-come-lately wannabes or old farts that lost the fire many, many years ago. Raw passion, talent, emotional drive and musical feel cannot be disguised and all members of 3Eighty3 have all four for years! With a little luck, maybe we can continue this stream of fast, killer music releases well into the future, but you'll have to wait until the end of the month to get your claws into this beast. Now, if I can just get them to Florida…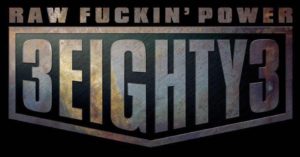 Tracklist for Error of the Moon:
"Fighting for the Earth"
"Obsolete"
"Blow Your Top"
"FUBAR"
Check out 3Eighty3 on: Web Facebook Twitter Istagram ReverbNation