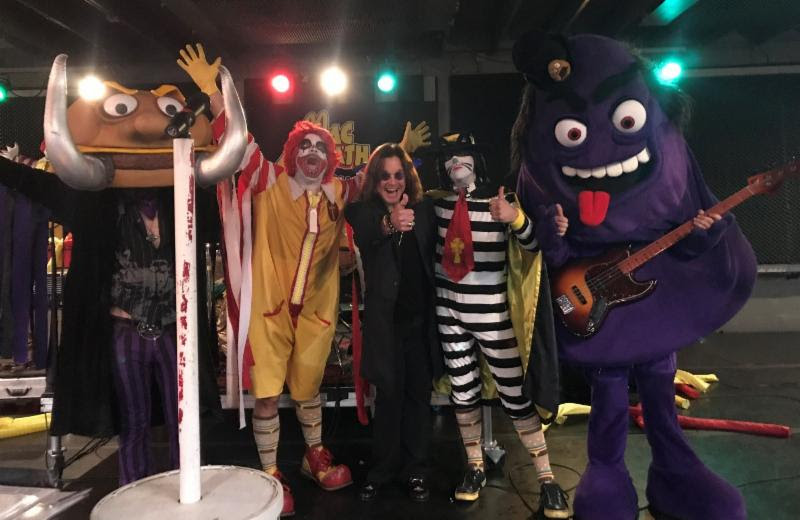 "What the f**k is this?" – Ozzy Osbourne
Not one for usually liking surprises, watch the hilarious moment when Ozzy Osbourne Prince of Darkness finally met Mac Sabbath! In the previously unreleased clip from Ozzy & Jack's World Detour, three generations of the Osbournes – Ozzy Osbourne, Jack Osbourne and Jack's daughter witness an exclusive performance by the fast food-parody kings for the very first time.   
Appearing from behind a red and yellow striped curtain, Ronald Osbourne and the fry-guys Slayer MacCheeze, Grimalice and the Cat Burglar kick straight into "Frying Pan",their hilarious reimagining of one of Sabbaths greatest hits "Iron Man". Complete with a burning frying pan, a smoking grill, bouncing burgers, and other bizarre on-stage drive-thru theatrics, Ozzy won't be forgetting this surreal surprise in a hurry!  
On the performance earlier this year frontman Ronald Osbourne says, "Being Ronald Osbourne, the front-clown for Mac Sabbath, isn't easy. I have to meet all these fry-by-night 'Drive-through metal' icons like Burger King Diamond, Cinnibon Jovi and KFCC DeVille, look them in the eye and pretend like my indigestion is not acting up. Today is quite different. Today I met Ozzy Freaking Osbourne. Some big clown shoes to fill."
L.A area fans, don't miss your chance to see them headline their Pre-New Year's Eve show with support from the legendary Dickies, PPL MVR and Captured by Robots on December 28 at 8:00 PM (doors at 7:00 PM) at the Fonda Theatre. For more details click here. Mac Sabbath have been named by Buzzfeed as one of the "13 Metal Bands You Didn't Know How to React To" and named as LA's "Best Tribute Band" by LA Weekly.
"… one of the most interesting bands to come around in a long, long time. They have Dead Kennedys' outrageous sense of humor mixed with total irreverence and ornate style on top of a solid, engaging performance (even if the crowd is reluctant to respond). So while this whole thing was probably thought up after eating too many pot brownies, it is one of the most brilliant ideas in a long time."­ – Troy Farah, Phoenix New Times
"This is not a drill. Be it exchanging Black Sabbath's "Paranoid" for a "Pair-a-buns" or "Iron Man" for a "Frying Pan," these food-focused musical dweebs are cooking up something hot 'n' ready just for you." – Alicia Lutes, MTV.com
"The most impressive-and terrifying-thing about Mac Sabbath is that they're actually really good. Ronald channels his inner Ozzy onstage, from the manic jumping to the frantic hand waving…" – Bryan Rolli, Paste Magazine
"Even if the songs are dripping with onions and extra cheese, Mac Sabbath put on one righteous stage show, complete with smoke machines, gritty power chords, and endless head-banging." – Chris Coplan, ConsequenceofSound.net