After a two-year wait, The Stadium Tour has finally been making its way through the United States. The line-up features Def Leppard, Motley Crue, Poison, Joan Jett And The Blackhearts and new comers Classless Act. Around 50,000 people made the journey to USBank Stadium, located in Minneapolis, Minnesota, to relive some of the biggest acts from the decade of decadence known as the 80's. 
Before the reminiscing could begin, the new kids on the tour called Classless Act took the stage. The band formed in Los Angeles in 2019 and released the album 'Welcome To The show' in 2022. The bands energy starts with the flamboyant lead singer Derek Day. From the opening note, it was his mission to get every eye in the building to lock on to the stage. Along with Day, the band features a two-guitar attack with Dane Pieper and Griffin Tucker, bassist Franco Gravante and drummer Chuck McKissock. The band had a short five-song set but utilized every second to introduce themselves and kicked out songs that included "This Is For You," "Give It To Me," "All That We Are," "Time To Bleed" and closing with "Classless Act." This is my second time catching these guys and once again they delivered a fantastic and fun set encompassing good old fashion bombastic rock-n-roll. Hopefully, as people were still filing into the venue, buying mech and drinks, they stopped and soaked in what Classless Act is about and what they have to offer as they are one of those bands that have the material and live flair that can make a mark on the musical landscape.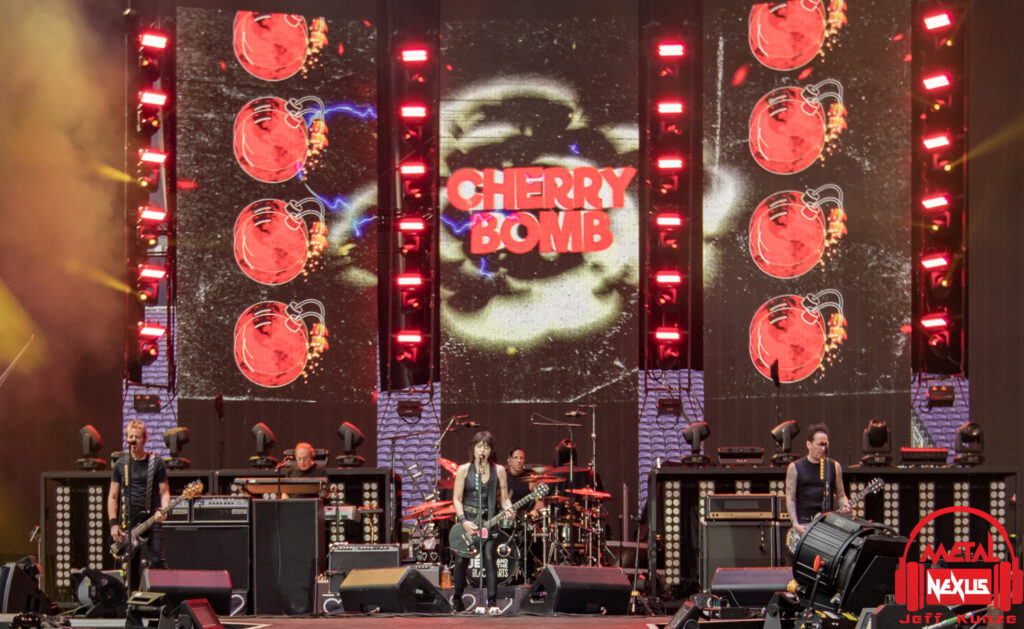 Still riding strong after a career that spans over 46 years, Joan Jett and the rest of her Blackhearts took the stage with 'Victim of Circumstance' and then the Runaways classic 'Cherry Bomb." She was an interesting choice for the tour as she is far removed from the glam metal movement and has always harnessed a punk vibe laced with a radio rock melodic sensibility. She brings her own stack of hits to the table like "Crimson & Clover," "Everyday People," "I Love Rock 'n' Roll" and the sing-along classic "I Hate Myself for Loving You." She remains a timeless classic and the response for her was over whelming throughout the set. Ending with the timeless punk classic "Bad Reputation," it was a giant reminder to me just how many fantastic songs she has and just how important her contributions and legacy are to the history of rock music.
If your listening to the ongoing opinions of people that have attended previous shows on this run, the consensus seems to suggest, Poison, has been the band that has stolen the show. The all-original glam metal kingpins featuring singer Bret Michaels, guitarist C.C. Deville, bassist Bobby Dall and drummer Rikki Rockett were once again out to prove themselves as they opened with the banger "Look What the Cat Dragged In." Dall raced down the stage ramp pumping up the crowd while that vintage C.C. guitar tone cut through the excited crowd. Once Michaels came out, it was on, and Poison'sinfectious energy was felt throughout the stadium. Sounding exactly as they did in their heyday, they stuck with the hits, "Every Rose Has Its Thorn," "Fallen Angel," "Talk Dirty to Me," and "Ride The Wind." Poison's cast of characters are uniquely fitted together and without those four, those Poison songs don't sound quite the same. They truly brought a fun and exciting atmosphere to USBank Stadium and as they closed out the set with "Nothin' But A Good Time," which summed up the entire vibe of their show and for my money, that's all anybody ever wanted from a Poison show. I really think this band needs to play more, not over saturate the market like many of their contemporaries do, but pick your spots to headline some of the festivals that celebrate the glam genre. It's a shame we don't see this very much and I think Poison are missing some really good opportunities and we as fans are also missing out.
Back in the 2015, one of the biggest bands of the eighties, Motley Crue, signed a "cessation of touring agreement," which stated the end of touring for the band. Well nothing lasts forever and that document was cast aside in 2019 as Motley Crue announced a reunion for this Stadium Tour. Controversy and speculation have always swirled around this band, and the biggest hurdle seemed to be how well Vince would be able to perform on this run. A string of bad performances plagued his solo shows which left a lot of fans clamoring for his retirement. With the tour starting, Vince had gotten into better shape and also his singing was stronger than his solo shows. But this is Motley Crue, Tommy had broken ribs and couldn't finish a full show when the tour kicked off and then added further attention to himself with a "selfie" on Instagram. There is no Crue without the four members that created it, Vince Neil, Nikki Sixx, Mick Mars and Tommy Lee. They have a deep catalog of hits and showcased everything from "Wildside," "Home Sweet Home," "Primal Scream," "Looks That Kill" and "Dr. Feelgood" just to name a few. The reality is Vince still struggled to hit notes and sing the words in spots and there is just no way of getting around it. The Nasty Habits which doubled as pole dancers and back-up singers probably should have been moved up in the mix as they could have helped more than what they did to help the vocal situation. With all that said, I would add, how many in the crowd actually cared? We all have YouTube and knew exactly what the vocals would be, yet there were thousands of people wearing Crue gear to support them. People were still rocking hard and singing along with all the songs. Mick Mars was still a force and continues to be one of the most underappreciated guitar players of his era. Hearing that "Live Wire" riff at that kind of volume, I couldn't help but smile as that all-time classic ripped through the venue. Maybe it's the covid lay-off speaking, but I still enjoyed this moment with Motley Crue, warts and all, one last time.
Def Leppard would close out the show at our Stadium. Both Motley and Def Leppard have been alternating closing the shows. There are not a lot of eighties era bands still recording and releasing new albums, but Def Leppard remains active in the creating process and released 'Diamond Star Halos' this year. Opening up the set was the lead track off that record "Take What You Want," for those fans that hadn't been keeping up with the new material, it didn't take long for the guys to settle in to the songs that made Leppard mainstays of rock radio and MTV. Songs like "Animal," "Armageddon It," "Rocket," "Love Bites" and "Pour Some Sugar On Me" gave everybody a chance to perform eighties karaoke together. Vocalist Joe Elliot maneuvered through the set splendidly and sounded in fine form. The band was as tight as ever both musical and the backing vocals that are so critical in the band's music. Drummer Rick Allen along with bassist Rick Savage and guitarists Phil Collen and Vivian Campbell delivered a crisp sound for Elliot to sing on top of. My allegiance to Leppard goes back to the earliest of days, 'High 'n' Dry' and 'Pyromania' and as much as I would love some deeper tracks from those albums, I'll take what I can get with "Let It Go," "Switch 625," "Bringin' On The Heartbreak," "Foolin'," "Rock Of Ages" and "Photograph" which were included in the set. Overall, I was more impressed with Def Leppard than I thought I would have. They really did sound amazing and they certainly have the hits people want to hear. A very good set to close out a long day of music but a day that I would say was a complete success after a two-year wait.