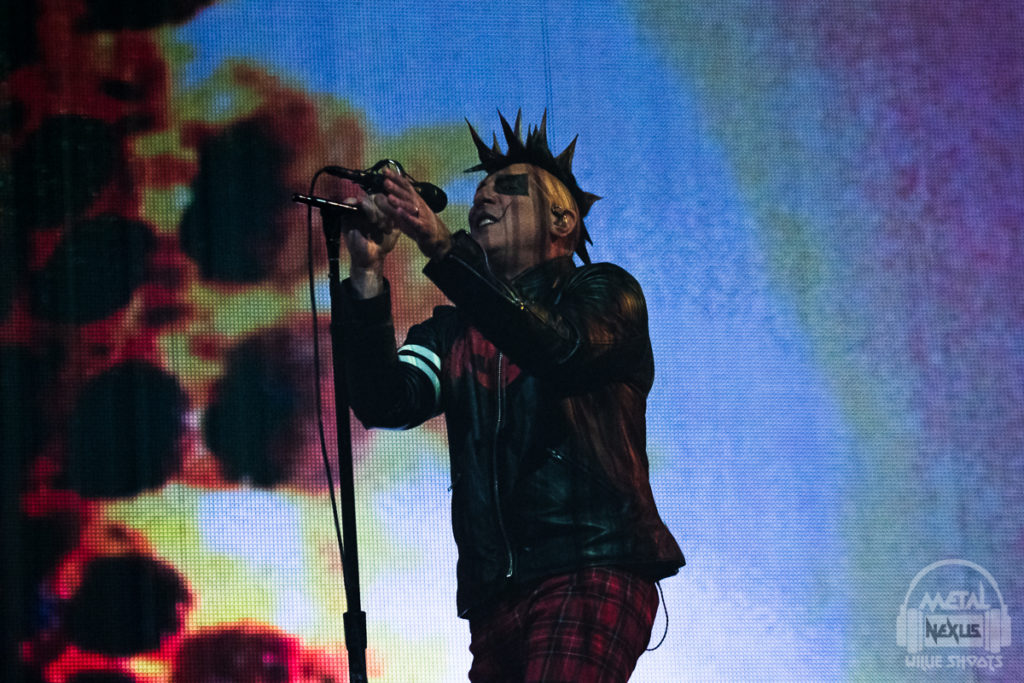 Four years and six days to the date since last descending upon Nashville, genre transcending and now three time Best Metal Performance Grammy winning band Tool returned to Music City to fascinate their ever loyal fan base and captivate the uninitiated. Along for the ride and opening was Author & Punisher, who, as with most Tool tours, was an eccentric choice that most Tool fans wouldn't necessarily encounter when shuffling 'Tool Radio' on their streaming service of choice.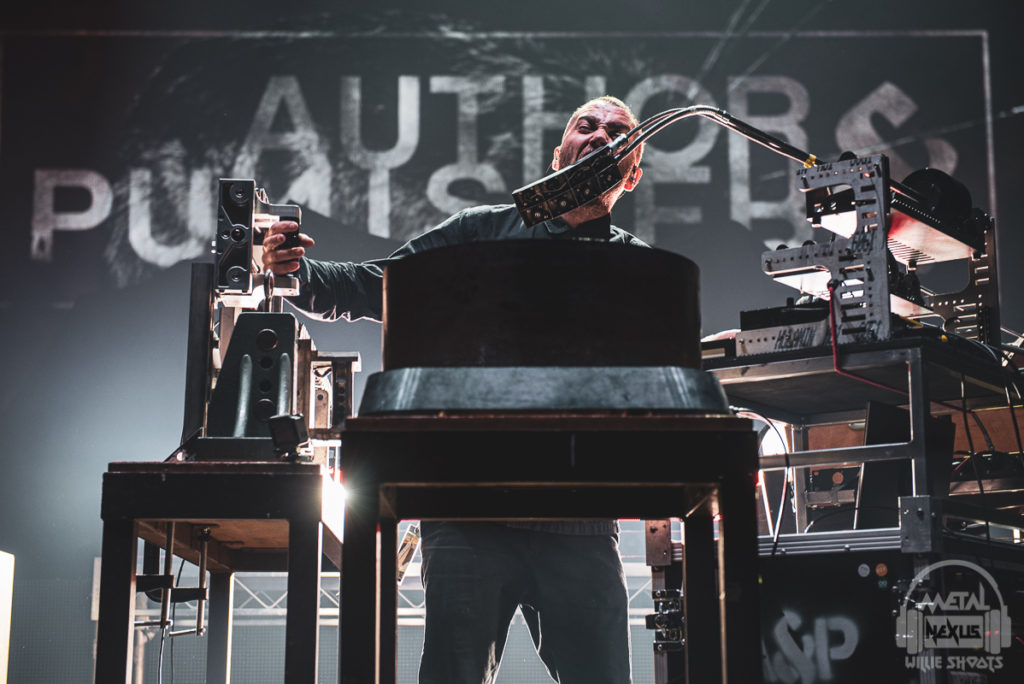 San Diego based one-man band Author & Punisher opened to a still arriving crowd, utilizing a vast array of his homemade electronic-based machines that could have come straight off the set of Mad Max. Standing behind his post-apocalyptic dystopian DJ booth, Author & Punisher created beats and industrial soundscapes with every move of his body. A sliding tank track to his right that produced a thunderous bass drone when pounded forward, foot pedals below him filling out his sound with noise and atmosphere, and his long rectangular microphone belting out early Al Jourgensen-esque vocals. As his bio states, "Author & Punisher performances are a real amalgamation between man and mechanisms." Tool has been known for bringing out unconventional acts with them on the road and Author & Punisher fits the bill. His controlled chaos contrasted quite nicely with the mathematical precision that was to come.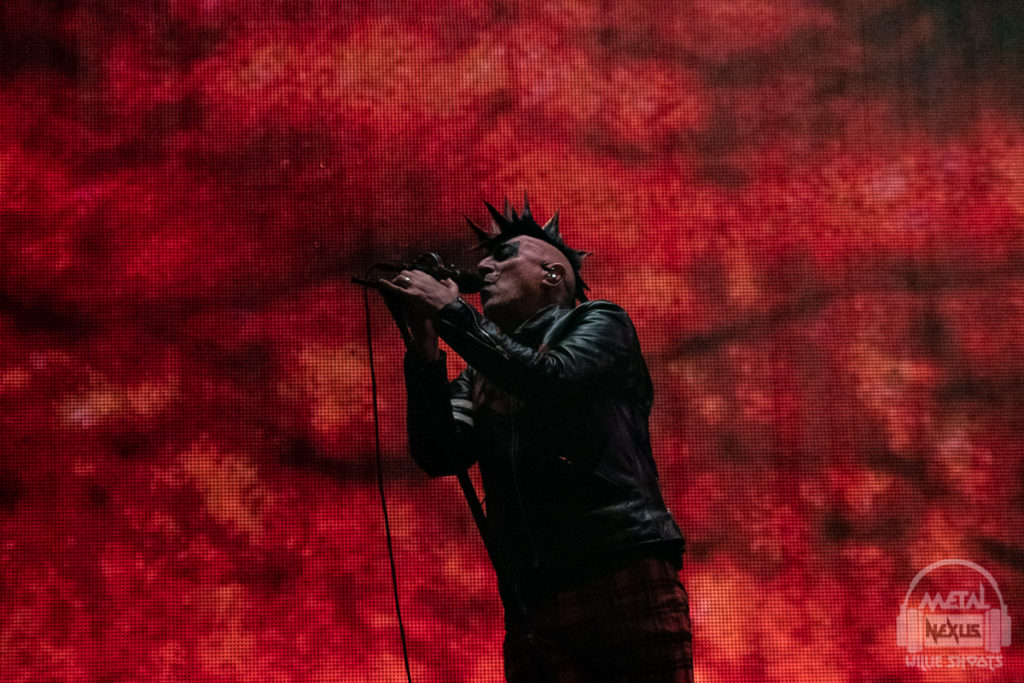 2019 was a banner year for Tool. After 13 years of family commitments, lawsuits, sporadic touring, and rumors of varying degrees of completion, Tool finally unleashed their long awaited follow-up to 2006's '10,000 Days'. 'Fear Inoculum' rocked the music world upon its August 2019 release, topping several national album charts and eventually earning two Grammy nominations and one win. That same month they also finally added their entire studio catalog to all major streaming platforms, resulting in five of their albums landing in the Billboard 200.
As the minutes ticked down until show time, a stern announcement blared over the arena PA, reminding attendees of the strict no cell phone policy in effect for tonight's show. For the entirety of the 'Fear Inoculum' tour, Tool has enforced the policy to minimize distractions and to encourage the audience to remain in the present and be fully immersed in the concert experience. After the announcement the music came to a halt and the crowd erupted with anticipation.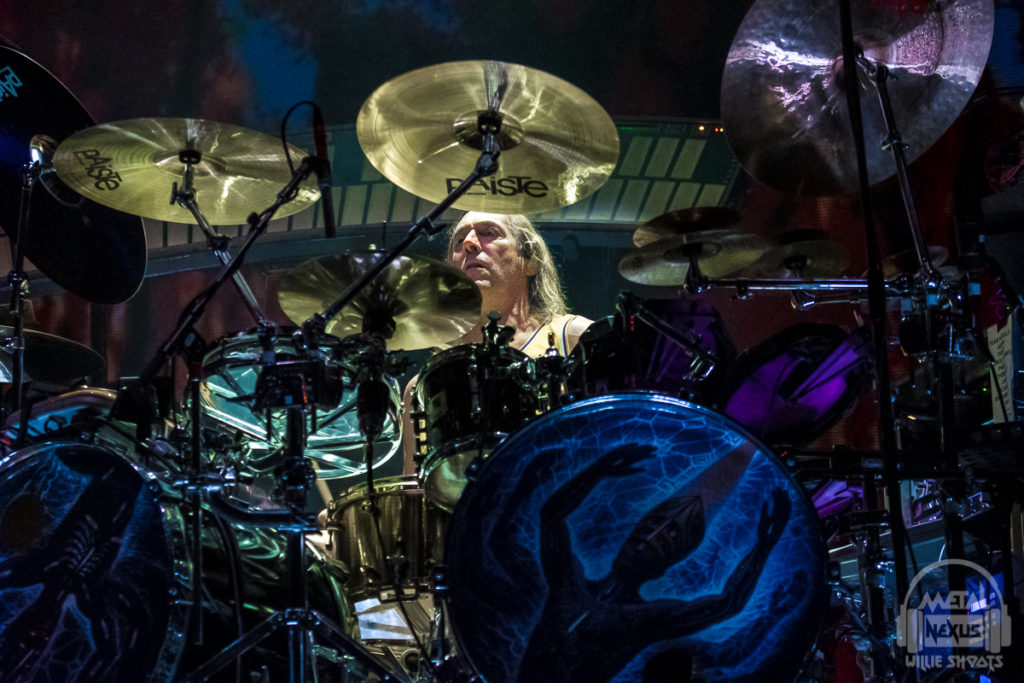 Positioned behind a transparent mesh string curtain that enclosed the entire stage, drummer Danny Carey appeared behind his kit and kicked off the beginning chime notes to the song "Fear Inoculum." Shortly thereafter, bass player Justin Chancellor and guitarist Adam Jones joined him on stage and slowly pieced together the remaining notes as the song gradually formed until two minutes in when Maynard appeared, thus beginning our captivating two and a half journey. As "Fear Inoculum" progressed, so did the intensity of the visuals. With Maynard stationed to either side of Carey's drum riser, the band was backed by huge screens displaying a wide array of imagery and colors that morphed with the music while lasers created patterns and images across the mesh curtain in front of the stage.
After finishing the first song, Maynard addressed the nearly sold out arena. "Rumor has it . . . Nashville?" drawing a mediocre response from the crowd. "Mmm, sounds more like Louisville. Nashville?" A much bigger cheer but apparently not up to his standards. "Work on it."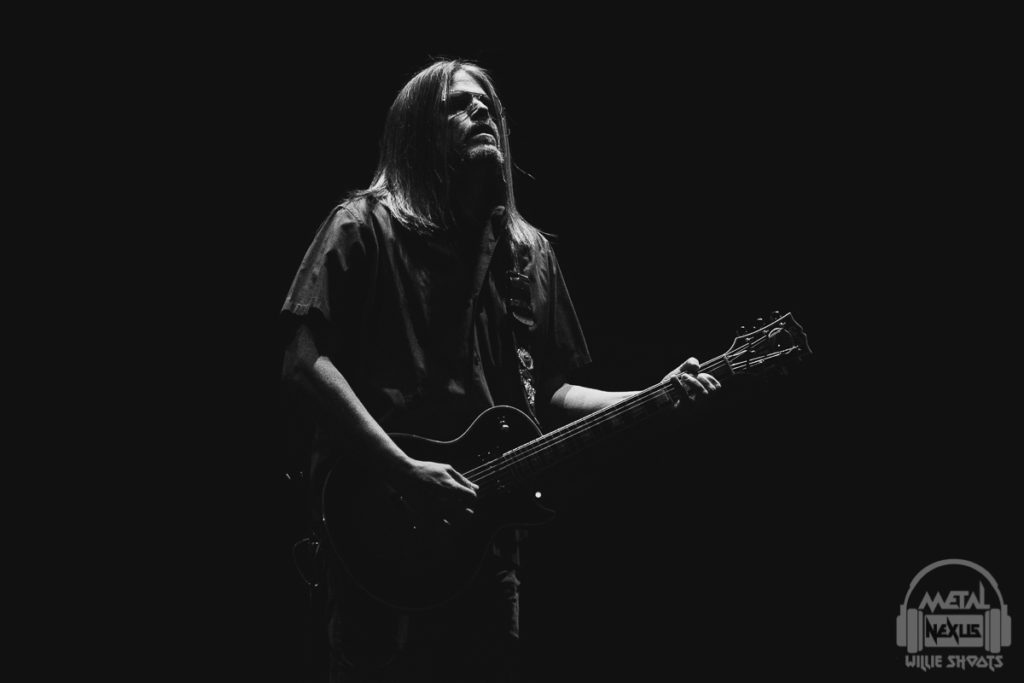 The band continued through "Ænema" and "The Pot" with utter precision and the imagery behind them changed in unison, often resembling scenes from their past videos. As they moved into "Parabol," the enormous heptagram that hovered behind Carey's drum kit began to slowly descend, its lights changing colors as the song reached the crescendo and into "Parabola" when it turned red as the song ended. Midway through their next song, "Pneuma," Maynard finally strayed from the shadows and slowly crept down the steps towards the stage, picking up a (presumably empty) Marshall speaker cabinet and hauling it up the steps on the opposite side of the stage. He proceeded to sit on top of the cabinet and dangle his legs off the side while the band continued meandering through the nearly twelve minute song.
As Tool continued with "Schism" and "Jambi," the Nashville crowd was treated to a surprise when Maynard introduced Richie Faulkner, guitarist of the legendary band Judas Priest, who joined them onstage and ripped an improvised solo in the middle of "Jambi." Guitarist Adam Jones picked up where Faulkner left off and they then harmonized Jones' original solo which added a unique twist not normally heard on a Tool song. Faulkner stayed on to finish riffing with Jones as they wrapped up the song in union.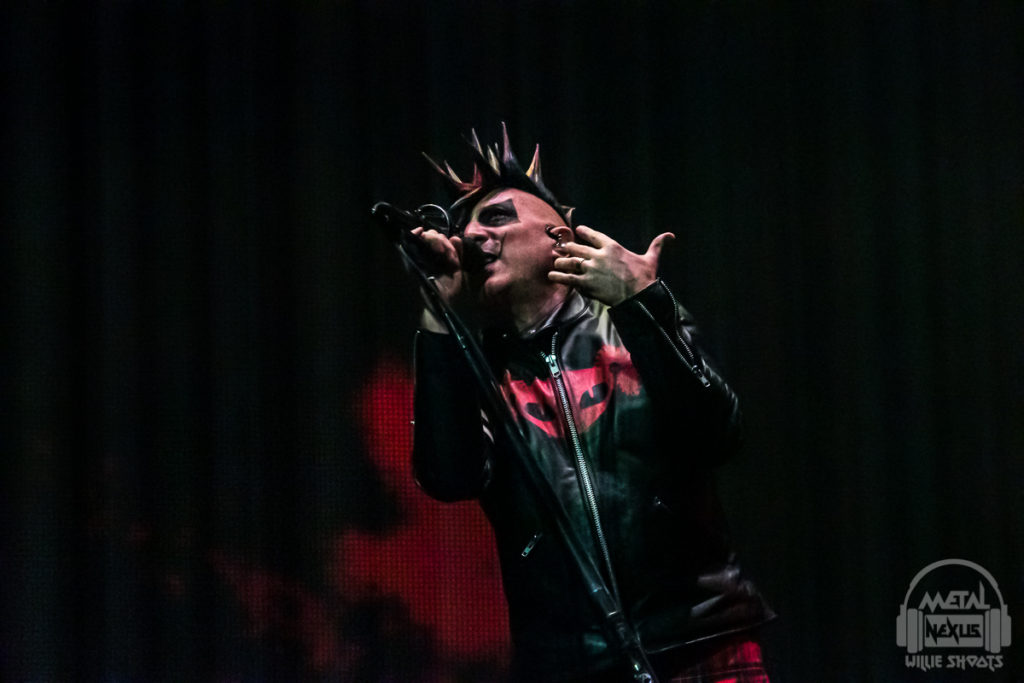 After "Vicarious," Maynard again spoke to the crowd before going on to "Swamp Song" (the only song they played off 'Undertow'). "Checking back in. Nashville . . . little bit of math. If you are 30 years old or younger, raise your hand. When we wrote this next song, you were not even sperm yet." Which drew a huge roar from the crowd. They wrapped up this part of the set with longtime fan favorite "Forty Six & Two."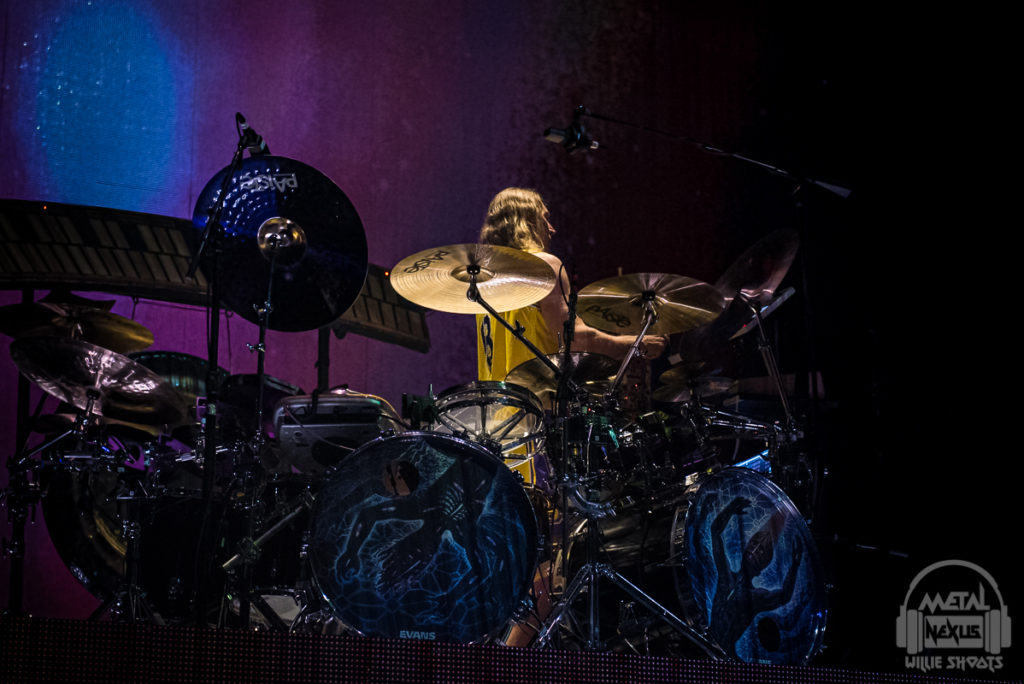 Following a 12 minute intermission, Danny Carey took the stage and stood in front of a huge gong where he showed the crowd why he is widely known as one of the best drummers on the planet. After some brief technical stick work on the gong, he moved back behind his kit and let loose, performing "Chocolate Chip Trip," the nearly five minute synth and drum solo off 'Fear Inoculum' while overhead cameras projected the full magnificence into a kaleidoscope of images on the screen behind him.
To wrap up the evening, his bandmates joined him back on stage to perform the final new song of the night, the 13 minute epic and perhaps self-reflective "Invincible" before Maynard took one last moment to engage the crowd. "Nashville . . . (a huge roar from the crowd) fucking finally! Alright, one more time, Nashville! Starting to think I was in Ohio. You guys were great and you're allowed to take out your stupid phones and film the rest of the shit. You're welcome." The intro notes to "Stinkfist" began and thousands of phones were up in the air to capture it while scenes from the iconic video played behind the band and blue and green lasers filled the arena.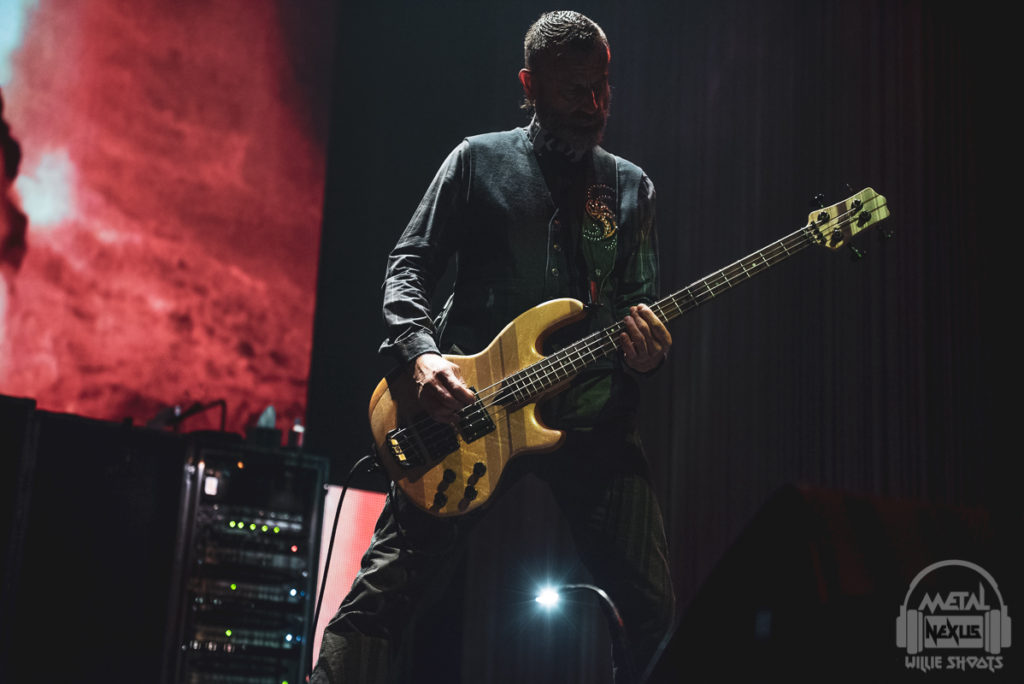 Describing and summing up a Tool show in words is a difficult task. Some call it a quasi-religious experience. Some, like the dude sitting a row in front me that night, say it ruins all other concerts for them. But as I left my seat and proceeded to climb the stairs to leave the arena, I witnessed a grown man wiping tears from his eyes and that to me told a better story than any words possibly could.
30 years into their career Tool seems to be just hitting their stride. Their shows continuing to expand and enthrall. Their music continuing to mature and mesmerize. Personally, I can't wait to see what the next 13 years brings from the band . . . hopefully at least one more album.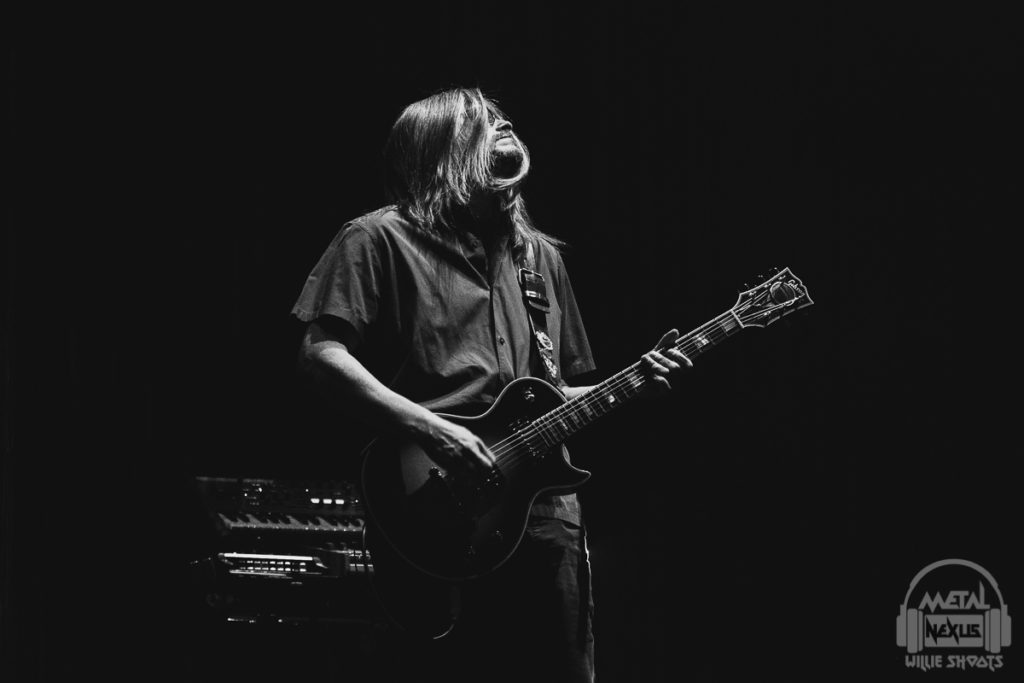 Tool wraps up this leg of their US tour tonight in New Orleans before heading to Australia and New Zealand in February. They return to the states for a West Coast run beginning in March and then headline the Bonnaroo Music & Arts Festival in June. Full list of dates below.
2.1.2020 – New Orleans, LA – Smoothie King Center
2.14.2020 – Perth, Australia – RAC Arena
2.17.2020 – Sydney, Australia – Qudos Bank Arena
2.20.2020 – Brisbane, Australia – Entertainment Centre
2.22.2020 – Melbourne, Australia – Rod Laver Arena
2.28.2020 – Auckland, New Zealand – Spark Arena
3.9.2020 – Spokane, WA – Spokane Arena
3.11.2020 – Portland, OR – Moda Center
3.12.2020 – Eugene, OR – Matthew Knight Center
3.14.2020 – Boise, ID – Ford Idaho Center Arena
3.16.2020 – Salt Lake City, UT – Maverik Center
6.12.2020 – Manchester, TN – Bonnaroo Music & Arts Festival