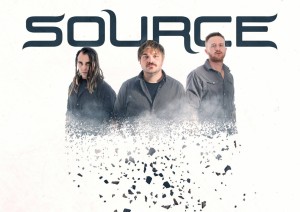 Metal Nexus Interview: Source
Ben Gleason – Vocals and guitar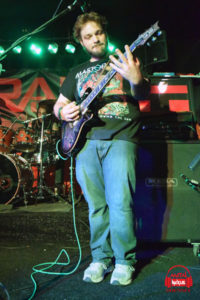 Georges Octobous – Drums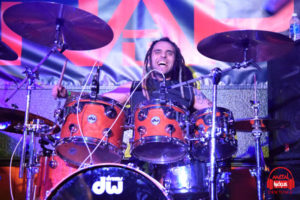 Dan Crisafulli – Bass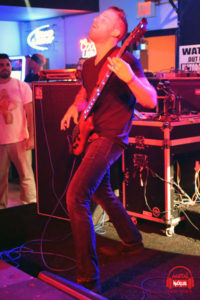 After my recent "State of the Art" showcase of Source, I was fortunate enough to be contacted by band manager Brent Boutte and offered an interview with this unbelievably good band. I had a great sit down with them and managed to ask them about everything I wanted to. We talk about how the band formed, how they learnt how to play their instruments, and much more. Geoges made a joke after the interview about how much easier it is for people to learn instruments now that the internet exists. He would have loved to go onto a site like Drumming Review and see all these reviews and tips – it would have saved him a lot of money on some bad equipment he's bought in the past! Anyway, onto the interview: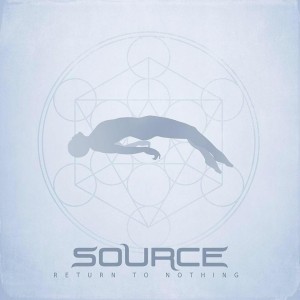 Hey gentlemen! What a pleasure it is to speak to you! After discovering Source on my search for a Colorado band to cover, I have become a huge fan. I, for one, sincerely appreciate the time, talent and dedication required to put out such wonderfully positive and unusually good music. For that: A huge Thank You!
The Interview:
Odyssey: Please give us a history of the band.
Ben Gleason: It really all started when I saw Tool at Bonnaroo in 2007. I'd never heard them, aside from Schism, and I was completely mind blown. I was into lighter music and in a 7-piece Prog band at the time called Bokonon. Once I started listening to Tool my writing style started changing dramatically. The only problem was I played piano and I really needed to be playing guitar for the sound I wanted. After years of convincing myself I couldn't play guitar I had an experience that completely broke down that belief in me. I had been reading about Ayahuasca and, looking for spiritual enlightenment and healing, I decided to go to an ayahuasca ceremony where the Shaman asked us to bring our instruments and play music during the ceremony. I brought an electric piano and it was such a hassle, it needed power and a speaker and it sounded awful. After coming back from a really intense Ayahuasca journey the Shaman came over and handed me his guitar. "You play." he said in his Colombian accent. "I don't play guitar." I told him. "Yes you do." he replied. I heard the guitar start speaking to me as well "You know how to play me." it said. I had taken guitar lessons, similar to the Austin Guitar Lessons, when I was young and leaned my basic campfire chords but I pretty much forgot everything I had learned. My hand grabbed a chord and that my mind totally for got how to play but my body still remembered. It was in that moment I realized that the only thing preventing me from becoming an amazing guitar player was myself. I also played violin when I was younger, which is kinda similar to the guitar. My parents found a company where I could rent violins so I used to play both the violin, and guitar all the time. It's a shame I stopped playing really. Anyway, when I joined the band I played guitar for 3 hours a day for the next 6 months. My fingers had blood blisters and hurt like crazy but I didn't care. Nothing was going to stop me from learning how to express myself through this instrument. During this time I was already working on music with Dan Crisafulli. I met Dan a few months before my Ayahuasca experience when he asked me for a job at my flotation tank center in Boulder, Colorado. He called 3 different times asking me for a job so I gave him an interview and after I hired him we got to talking about music. I told him I really wanted to start a band and my biggest influences were Opeth, Tool and Mastodon. "I'll play bass!" He said excitedly and we began to work on stuff. At first I was playing piano but after my Ayahuasca experience I eventually switched over to guitar. After I'd been playing guitar for a few months I ended up meeting Georges Octobous at my Jiu Jitsu gym. He'd been training there for years but we'd never met. My room mate Brad came to train with me one day and wore an Opeth shirt to class. Georges saw his shirt and said "I opened for them!" Brad told me that Georges played drums and opened for Opeth and I was stoked! We'd been looking for a drummer for 6 months and couldn't find anyone that could play comfortably in the time signatures we used. Georges came to play with us and we started right away on "Forgiveness", the first track on our new album "Return To Nothing". Georges wrote the drum part for the intro in about 5 minutes. Dan and I looked at each other and we knew that this guy was our drummer. We practiced for 6 months and got really tight. Then one night I had a really vivid dream about playing our first gig at The Lion's Lair in Denver. I'd never been there and had no idea that it was a rock and metal venue. I just knew it was a bar on Colfax Avenue in Denver but nothing else. After my dream I looked it up and discovered it was the PERFECT place for our first show. They booked us to open for The Mansion, an international touring band. We played a great show and The Mansion was super impressed! They booked us to open for them at Sunshine Studios in Colorado Springs a few months later and that is where we met Scott Wilson, the bass player of Tantric. Scott was really impressed with our music and told me he would love to produce our album that we were recording later that year. Scott made our record sound AMAZING! He was so fun to work with and really helped us find perfection inside ourselves instead of imposing his ideas over our music. He has a real talent for bringing out the best in a band. Scott got us connected with Trapt and we are on our first tour now opening for them for 32 shows across the country. Scott also got us connected with Pavement Entertainment, which we just signed a 3 year deal with! After putting this whole story in words it almost seems unbelievable. I started playing guitar in November of 2013. Our first practice as the three of was in March of 2014 and here we are 2 years later on tour with Trapt and signed to Pavement Entertainment. I think it's a real testament to how hard work and our belief in yourself can open up amazing opportunities!
Odyssey: What is the goal of Source and its music? What do you think you bring to the table that is unique and special that is not being properly addressed in today's music? What perception do YOU want Source to leave with the listener and fan?
Ben Gleason: What I really want Source to make people feel is an overwhelming sense of gratitude for being a human. I think we bring a level of emotion and understanding that hasn't been expressed through heavy music yet. Our music isn't really about hatred or violence; it's about finding the value in everything life has to offer. It's about seeing the purpose of suffering and seeing the beauty in everything, especially the dark parts of life. I want people's idea of beauty to grow beyond the conventional sense. When someone hears a Source song I want them to feel the vastness of emotion and sensation they're capable of feeling. With this intention behind the heaviness of our sound I think we impact people in a way no other band has.
Odyssey: Who is your audience/target audience with such a unique sound?
Ben Gleason: Anyone who can hear us with open ears, open minds and open hearts. I think most fans of Tool, Opeth, Mastodon, A Perfect Circle, Dream Theater, etc. will really like us but I meet so many people who aren't into metal that love our music. Our music is more universal than a genre, it's a feeling that I think everyone knows or has felt at one point in their life.
Odyssey: Please explain your song writing process?
Ben Gleason: It's not always the same but the general process is that I use my flotation tanks and get really inspired and tuned into that creative frequency. I go home and write stuff on my guitar, sometimes a 10 minute song comes through me in the course of about 20 minutes. Other times I write a part here and a part there and put them together over time. Sometimes Dan shows me something he is working on and it inspires me to write a whole song with it, as in the case of "Memories of Yesterday" and "The Essence". Then I start writing lyrics once the form is written. Once the form and the lyrics are written we take it to Georges and tell him what each section should feel like. He gives us some examples and we pick the ones we like. Sometimes he takes something we like and makes it even better, like the drum fills in the choruses of "Memories of Yesterday" and the verses of "Complaisance". Once we have all the drum parts, lyrics and form then we practice the song a ton and we're ready to play it live.
Odyssey: Who writes the beautifully poetic lyrics (they could easily stand alone as literature)? What influences your lyrical content?
Ben Gleason: I write the lyrics. (Thanks for the compliment!) My lyrics are almost always influenced by flotation tank sessions I've had. Some are about experiences I've had in the tank, as in the case of "Forgiveness", "Return To Nothing", "Consumed" and "The Essence". Some of songs are about processing the emotions and sensations around difficult experiences I'm having in life and the beauty of feeling all of it instead of numbing out, as in the case of "Memories Of Yesterday" "Quadrant" and "Complaisance". "The Serpent" may or may not be about a psychedelic experience I had once ;).
Odyssey: Any favorite tunes and why?
Ben Gleason: My favorite songs are "Forgiveness" because it was the first song we played together as a band, "Memories Of Yesterday" because it marked a really important change in my life and was deeply inspired by someone very dear to me, And "Quadrant" because it is about my parents and how grateful I am to them for showing me how to be a human being with all their skills and all their flaws.
Odyssey: (To Ben): I see that you studied Jazz in college. While I definitely hear the Fusion influence in your guitar playing, how did you land with Source's distinctive, Progressive Metal sound?
Ben Gleason: Opeth. I'm like a walking advertisement for Opeth on this tour. While, Tool is what broke me out of my more Jazz influenced writing, Opeth inspires me to push my limits as a musician and to broaden our sound beyond just drop D licks. Opeth really inspired me to keep the Jazz/Fusion element in my music and I think that is what makes our sound so distinctive.
Odyssey: (To Ben): What is/was Glucose about?
Ben Gleason: Glucose is my Drum & Bass/Glitch project that I worked on for many years before Source. When my band Bokonon broke up I started getting really focused on electronic music and just before we started Source I was really close to finishing a really quality album as Glucose. Source takes priority over everything, which is why I haven't worked on my Glucose album in over 2 years. Someday if/when Source takes off I really want to take that album into a real studio and finish it. I'm super proud of the tracks on it. I'll always have a huge spot in my heart for dance music. If you throw on some old school jungle I can't help but get down.
Odyssey: (To Ben): Who are your influences and what you take away from them? Any groups and/or individuals that are of particular interest to you right now?
Ben Gleason: Aside from Opeth I'm actually really surprised by how much Mastodon has influenced me. I can pick a ton of parts out of our songs that are heavily influenced by Mastodon. I love Mastodon but I don't listen to their records as much as I used to but if they're every playing near me I always go because they put on an amazing show. Outside of metal acts my biggest influence is Shakti. John McGlaughlin is one of the best guitar players to walk the planet and his work with Shakti transcends space, time, reality itself.
Odyssey: (To Georges): How did you DVD instructional videos "Return to Drumming" and newer "Octobous Rockstar Drumming" happen? How have they been received?
Georges Octobous: The DVD came from filming live shows and studio sessions so I could analyze and improve my drumming. The videos turned out really good and the audio quality was great so I asked Dan to help me produce it. It has been very well received and I'm actually sold out right now. I've got more copies coming Monday so it will still be available on tour and on my website, www.octobous.com.
Odyssey: (To Georges): You are one of the best drummers I have heard lately. Who did you grow up listening to develop such a spectacular style?
Georges Octobous: Wow that's a huge compliment! John Bonham, Lars Ulrich, John Fishman, Jason Rullo from Symphony X, and Danny Carey to name a few.
Odyssey: (To Dan): I used to play bass and am extremely impressed with the balance struck between your lead and rhythm style. Where did it come from?
Dan Crisafulli: Thank you. My style of playing is unique in that I will latch on to any instrument in the song. I am usually playing along with the drums, but I love to play with the guitar or even follow the vocals every now and then. It can really move the song forward in unexpected ways.
Odyssey: (To Dan): What inspired your very tasteful use of tapping? I find it refreshing to see someone with your obvious talent pull back and not "showboat" when you clearly could.
Dan Crisafulli: The percussive tapping style is something I fell in love with the first time I heard it. I thought that it was such a sonically unique application of the bass. As far as "pulling back" it all comes back to serving the song. As a bassist I always keep in mind that it's my job to hold down the rhythm regardless of what's happening in the song. I love to showboat just as much as the next player, but I have to keep the essence of the song in mind.
Odyssey: (For everyone): What do you guys do for fun outside of music (other interests, activities, etc.)?
Georges Octobous: I really want to be a professional MMA fighter as well as a musician one day. I also try and stay really connected to my family because they are my inspiration.
Dan Crisafulli: I like to read, study philosophy, go to the gym, do yoga and play disc golf.
Ben Gleason: I float in my float tanks, exercise, meditate, watch Netflix (I'm addicted to Star Trek right now), I also spend a lot of time staying healthy,
Odyssey: How did you get hooked up with Jesse O'Brien and Scott Wilson (They did an astounding job with your sound!)? Anyone else behind the scenes that needs a shout out?
Ben Gleason: Well Mark Mansion hooked us up with Scott Wilson and we found Jesse at Colorado Sound just by searching for the best recording studios in Denver. We picked Colorado Sound because they had the nicest gear, especially in the piano/keyboard department. I'm really glad we got to use their gorgeous Yamaha C7 on "Consumed" and "Return To Nothing". Yeah Jesse and Scott really brought this thing to life! Also Roger Lian did the mastering and he has done numerous records that are all phenomenal: Slayer, Pantera, Smashing Pumpkins, and U2 to name a few artists.
Odyssey: How did your recent signing with Pavement Entertainment for three years come about?
Ben Gleason: Scott Wilson has toured with Tim King from Soil who is the VP of Pavement and he showed Tim our music. They loved our demo and gave us a really amazing record deal. Pavement takes really good care of their artists because these guys are touring musicians themselves. We're so pleased to be a part of their roster and excited for what they're going to do with the release in August!
Odyssey: How has this changed things for you guys (for the band as whole, personally and professionally)?
Ben Gleason: It hasn't changed much yet but once the release happens I'm sure it will change a lot.
Odyssey: Tell us about your endorsements?
Ben Gleason: I am endorsed with Stringjoy Strings. They make incredible quality strings that bring out the best sound in my guitars. They feel amazing, they last forever and they're the only company out there making good 7 string sets. If you play guitar, especially 7 string, you have to check out Stringjoy.
Odyssey: How has "Return to Nothing" been received (I can't wait to get my grubby paws on one of those! I don't want to wait until August…)? Note: I did, in fact see them live and got my CD and it is nothing short of spectacular!
Ben Gleason: We get tons of messages and posts every day of people saying they're blown away by how good the new record is. "There is not a weak song on it" "It's an amazing journey" "The mix is incredible" are just some of the things we hear repeatedly.
Odyssey: How goes the national tour with Trapt? Any good and/or memorable stories you would like to share?
Ben Gleason: Touring with Trapt has been absolutely the most fun experience of my life. I finally feel like I'm doing what I was born to do. I think all of us feel that way. It's an honor to share the stage with Trapt and Super Bob. We're learning so much and I'm really starting to fall in love with Trapt's music. Chris has a top notch singing voice and his stage presence is phenomenal. The whole band is so tight and really versatile musicians. I'm also especially impressed with how great Ty and Pete's tones are and how flawless Dylan's drumming is. Their sound checks are super fun to watch too because they jam out on some great stuff, everything from Pink Floyd to Dave Brubeck. I think the greatest thing to tell from the road is how nice everyone has been to us. All the guys from Trapt have gone out of their way to make sure we've got everything we need and that we're doing good. Trapt's techs Rome and Ninja are constantly helping us, fix stuff and teaching us how to take care of our gear on the road. The guys from Super Bob have been so fun to hang out with and have taught us tons about how to tour in a cost effective way. They've been touring for 11 years and they have learned tons in that time. For the past 6 years they've toured full time and live comfortable lives with families, all paid for by their music. That's a huge inspiration for me.
Odyssey: As an emerging band in an atmosphere (self production, electronic enhancement, streaming, etc.) where everyone is clawing for attention, how do you keep yourselves in front of it all?
Ben Gleason: Well this deal we just signed with Pavement is going to do just that. We have a whole team of professionals pushing us in every market that we will have success in. I'm not a marketing specialist or a publicist and I know nothing about distribution. We're getting the professionals to do it for us.
Odyssey: What are your feelings about this current state of the music industry?
Ben Gleason: I guess this sums it up. Over the past 2 years I've basically listened to every Opeth record from "Still Life" and after on repeat. I don't listen to new music because it always disappoints me. If someone who's music taste I trust tells me to listen to something I will check it out but I don't really seek out new music. The cool part about where the industry as a whole is at is that no one is dependent on commercial success to be a successful musician. Super Bob pays all their bills by touring and they've never signed to a record label. There are tons of bands that haven't received commercial success that have huge followings and make good money in the music industry. If you believe in yourself and you have something the world needs to hear you'll find your niche. Just don't ever give up, ever.
Odyssey: From your perspective, do you see any solution(s) for music reaching an anticipated saturation point?
Ben Gleason: I think the biggest thing is keeping the focus on self-expression. If the focus is on making a "hit" then certainly we will find a saturation of auto-tuned pop trance very soon. The thing is that mathematically there are infinite musical combinations and humanity will never write all of them. But its not really about the music, the music is just a vessel for a feeling and as long as we keep expressing ourselves music will always be important and stimulating.
Odyssey: Do you have anything new(er) in the pipeline for the future (tours, new music, etc.)?
Ben Gleason: Well from the music side of things I'm almost done with the next album. I think I want to call it "Incarnation". It's a concept album about developmental movement and it's influence on how we shape our thoughts, behavior and beliefs. I still need to finish writing lyrics and have the other guys write their parts. We want to do at least 2 more tours this year but nothing lined up yet.
Odyssey: Since you have not boxed yourselves into any certain sound, are there any directions you would like to explore?
Ben Gleason: Indian Classical Music. I really want to learn how to play Sarod. I guess it takes many years to learn Raga but that is where I want to take my learning next.
Odyssey: I understand you have had some negative press issues. How have you learned to deal with lows such as these along the road? With your positive perception of everything, I am curious.
Ben Gleason: Well it's not really negative press as much as being misquoted and slightly misrepresented. We all care a great deal about how we're perceived and we're all sensitive guys so we are also fairly reactionary. We go through lots of lows as a band but we're all really good at working through it and moving on. We have lived in the same house for over a year and so we have gotten really good at working through negative stuff, even if we're all shouting at each other. Since this tour all the drama has gone down a lot because we're all finally getting the pay off of our hard work. We're all seeing that the struggle is worth it and it makes the negative stuff not as bad.
Odyssey: As is traditional for all Metal Nexus interviews, the floor is yours (parting shots, rants, further information, etc.).
Ben Gleason: When our CD comes out in August just make sure you go buy it. We put our heart, soul, blood, sweat, tears and everything else we had into this record. It's gonna blow your mind so make sure you get it as soon as it's out!
Please see the following links for more information on Source:
Facebook Web Instagram SoundCloud Spotify Twitter iTunes Tumblr Georges OctoBous: Return to Drumming DVD