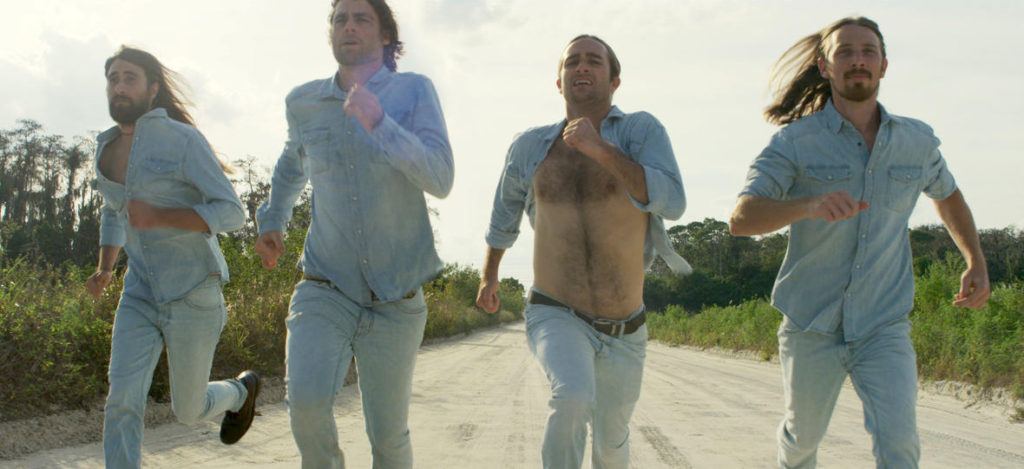 ---
*In this series we pose the age old questions to a wide array of music lovers. As fans of music most of us keep a mental list of active bands we want to see live that we haven't yet seen. The Bucketlist brings to you those lists of your favorite artists and why those bands mean so much to them*
---
We are half way through the week and sometimes the grind can get boring, so here we are at Metal Nexus willing to lighten up your mid week blues. Presenting to you another edition of The Bucketlist. This week we're featuring HELL & HOLLAR a West Palm Beach, FL based Stoner Rock band. The band consists of Blake Burns on guitar and vocals, Nate Largent on drums, Johnny Dusko on bass and Mike McCleary who's the multi instrumentalist. Drawing from their many influences that span the areas of blues and heavy stoner rock, they are developing a brand of rock all their own. Their heavy yet inviting sound is a refreshing straight forward rock music that anyone can have a good time with. This power trio has an old school heavy rock vibe with an open eye on the future.
Without much beating around the bush, let's get to know which bands are on their bucketlist.
METAL NEXUS:

 

 "As a touring band/musician you get the chance to see a lot of bands up close and personal. A luxury not everyone has. A lot of music lovers keep a "Bucketlist" of bands that we want to see perform live. What are the top active bands you would like to see live (in order) and why?"
Johnny Dusko: TERA MELOS, DEERHOOF.
"Tera Melos because their guitar player Nick Reinhart is like a punk rock Adrian Belew. Super innovative with sound design & making crazy noises, but still writing great songs at the heart of it. And Deerhoof because they mix so many different styles and still have their own sound that nobody else has. They're really good at making weird grooves and rhythms catchy."
Blake Burns: THE MARS VOLTA, CLUTCH.
"TMV because that band is amazing and I just heard they are in the studio working on new material. Clutch because they are one of my favorite bands to see live. They never disappoint."
Nate Largent: KING GIZZARD AND THE LIZARD WIZARD, THEE OH SEES.
"The reason I'd like to see both of those bands is they are both really weird. They both span Lo-fi garage punk, proto-metal, dark psych, trippy prog, and mystical jazz-rock."
Ian Pattison: "I'd have to say THE WHO and BLACK KEYS….they have influenced the way I play."
Also, the band has put out their debut music video just last month and it's a good one to see while you grab something to munch or smoke, y'all stoners. Go see the video down below. Here's what the band has to say regarding their all new debut music video, 'Showdown':
"We are so excited to release our first music video "Showdown", from our debut EP 442 that is available now! 'Showdown' came into the Nashville studio with us as an unfinished idea. With the help of our great friends at Lust For Tone Studio we finished it and we did so by giving it a Nashville kick that gives the song a very southern rock vibe we really enjoy. Our director and cinematographer Cam Brooks had the great idea to do a Cool Hand Luke inspired theme which was a lot of fun to film and we really think everyone is going to enjoy watching it. We are also very excited to be heading out on our Why The Hell Not Summer Tour at the end of June. We will be making stops in Johnson City TN June 26th, Summerfest in Milwaukee WI June 28th, Raleigh, NC July 5th and more dates to be announced soon. So be sure to follow us, Hell & Hollar on all our social media channels to stay up to date. We can't wait to see you all out there!"
Meanwhile, watch them out on the road live as they prepare to embark on a mini tour later this month. The tour dates are as follows.
Hell & Hollar Live: 
06/26 @ The Hideaway – Johnson City, TN 
06/28 @ Summerfest Uline Warehouse Stage – Milwaukee, WI 
07/02 @ The Pour House Music Hall – Raleigh, NC 
07/04 @ Smith's Old Bar – Atlanta, GA
If you like what you hear, go support the band and buy their new record here.