Ted Nugent is one of rock-n-roll's greatest guitar players. But that isn't his only talent. When he isn't holding a gun or bow he is cranking out amazing riffs on a 6 string. Ted Nugent holds a special place in the hearts of any rock n roll fan. The outspoken rocker is about to embark on a nationwide tour, in support of his most recent album 'Shutup & Jam' (2014). The album is his first studio album since 2007's Love Grenade. If you haven't had a chance to hear the song "She's Gone" which features the Red Rocker Sammy Hagar I suggest you go check that out now. The Sonic Baptizm Tour kicks off July 1st in Phoenix, Arizona and runs until September 3rd in Muskogee, Oklahoma. If you are itching to meet the Motor City Mad Man you can pick up the Dangerous Zone VIP Experience here. It includes a backstage meet and greet, a VIP laminate, a photo of Ted for him to autograph, and the chance to take a picture with the man himself (with your own phone/camera). Uncle Ted continues to put his personal stamp on good ole American Rock with an extra dose of freedom. While some may recall one of Ted's biggest hits "Cat Scratch Fever" he has many more hits to draw out of his holster. With his backing band of road worthy veterans he is making several stops across the country and giving some attention to smaller markets and cities that crave live music. One of the smallest cities on the tour is Pikeville, Kentucky on August 19th. The East Kentucky Expo Center will have Ted Nugent along with opening band Grimsley Rose. Tickets for that show available here. Stay tuned as we will have coverage of that show. The last day of the tour in Muskogee, Oklahoma will mark Ted's 6,570th live show. It isn't everyday you get a chance to see Ted Nugent live and in the flesh, don't miss this opportunity.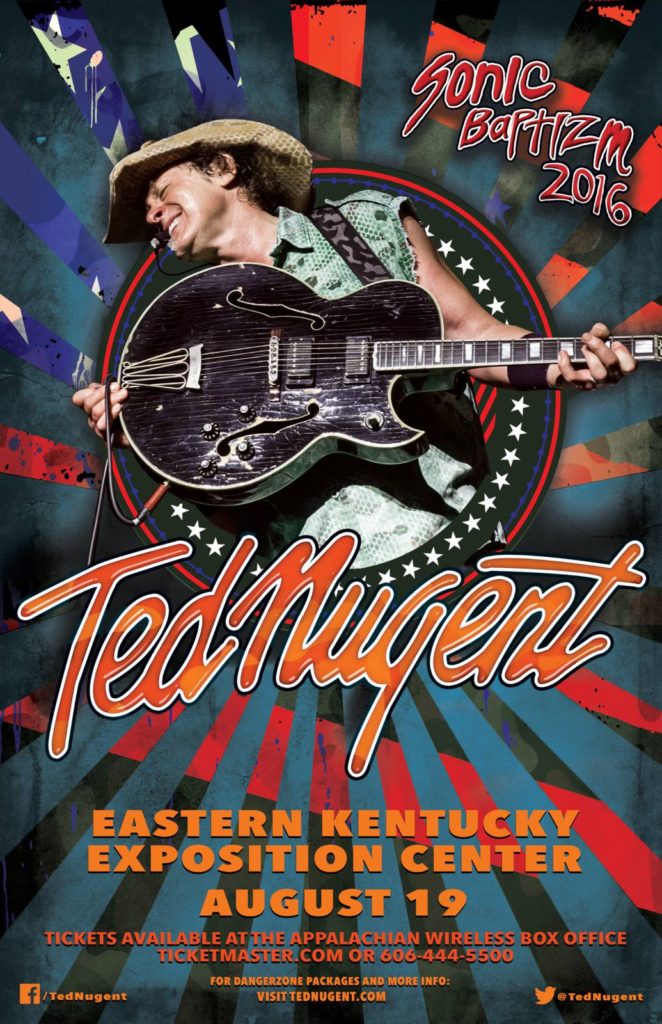 Tour Dates
Jul 01 Celebrity Theatre Phoenix, AZ
Jul 02 The Rose Pasadena, CA
Jul 03 Saban Theatre Beverly Hills, CA
Jul 05 The Coach House San Juan Capistrano, CA
Jul 06 The Coach House San Juan Capistrano, CA
Jul 07 The Canyon Agoura Hills, CA
Jul 08 The Foundry Las Vegas, NV
Jul 09 Peppermill Concert Hall Wendover, NV
Jul 13 Heritage Hall Ardmore, OK
Jul 14 HEB Performance Hall At Tobin Center for the Performing Arts San Antonio, TX
Jul 15 The Ballroom at Warehouse Live Houston, TX
Jul 16 Billy Bobs Fort Worth, TX
Jul 17 Historic Scoot Inn Austin, TX
Jul 18 Varsity Theatre Baton Rouge, LA
Jul 20 Florida Theatre Jacksonville, FL
Jul 21 King Center for the Performing Arts Melbourne, FL
Jul 22 Pompano Beach Amphitheater Pompano Beach, FL
Jul 23 Ruth Eckerd Hall Clearwater, FL
Jul 24 Atlanta Symphony Hall Atlanta, GA
Jul 25 Soul Kitchen Mobile, AL
Jul 26 The Stage at Silver Star Bossier City, LA
Jul 28 Arcada Theatre Saint Charles, IL
Jul 29 Medina Entertainment Center Medina, MN
Jul 30 Racine County Fair Union Grove, WI
Aug 02 Val Air Ballroom West Des Moines, IA
Aug 03 Arcada Theater Saint Charles, IL
Aug 04 Effingham Performance Center Effingham, IL
Aug 05 Freeborn County Fair Albert Lea, MN
Aug 06 Three Sisters Park Chillicothe, IL
Aug 07 River City Casino and Hotel St Louis, MO
Aug 09 Full Throttle Saloon Sturgis, SD
Aug 11 CrossroadsKC Kansas City, MO
Aug 12 Ozarks Amphitheater Camdenton, MO
Aug 13 Lil' Bit of Country, Lil' Bit of Rock and Roll Bowling Green, KY
Aug 14 Lexington Village Theatre Lexington, MI
Aug 16 Stage AE Pittsburgh, PA
Aug 17 Express Live! Columbus, OH
Aug 18 The Shed at Smoky Mountain Harley-Davidson Maryville, TN
Aug 19 Eastern Kentucky Expo Center Pikeville, KY
Aug 20 Rams Head Live Baltimore, MD
Aug 22 Lynn Auditorium Lynn, MA
Aug 23 The Paramount Huntington, NY
Aug 24 Penn's Peak Jim Thorpe, PA
Aug 26 Freedom Hill Amphitheater Sterling Heights, MI
Aug 27 Sandusky County Fair Fremont, OH
Aug 28 Lexington Village Theatre Lexington, MI
Aug 30 State Theatre, Kalamazoo Kalamazoo, MI
Sep 01 Salina Bicentennial Center Salina, KS
Sep 03 Muskogee Civic Center Muskogee, OK
Visit Ted Nugent Online:
Check out Grimley Rose here.