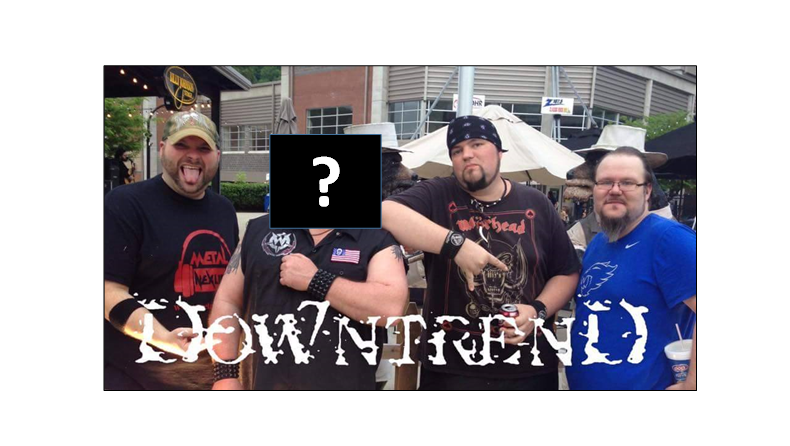 Kentucky metal veterans Downtrend have announced today that lead vocalist Mike Jackson is stepping away from the band due to unforeseen circumstances. The band formed in 2004 and has went through a few lineup changes since then. The band retains founding members Josh Crum and Jeremy Chaney. Long time member drummer J.D. Hall completes the current lineup. Hall and Chaney were also formerly bandmates in the crushingly heavy group Voices Of Aggression. The chemistry among these three gents is amazing, which can be heard in their music and seen live when they take the stage. The band's first lead singer when they formed was Steve Damron and at that time the band had an old school heavy metal sound similar to maybe Dio or Judas Priest. His vocal abilities along with the talents of the band made anyone within earshot of their music an immediate fan. Unfortunately, he left the band in 2004. Downtrend then took some time to regroup and reformed with Daryl Amburgey taking over vocal duties. His style drastically changed Downtrend's style but in a positive way. He delivered not only amazing vocals but incredible lyrics as well. The music while Daryl was at the help took more of an emo or post-hardcore type vibe. The band of course stayed true to their heavy roots and shredding guitar riffs. Daryl exited the band in 2008 and the band was once again auditioning vocalists. This is when Whitesburg native Mike Jackson stepped up to the mic and became the frontman of the band for almost a decade. Mike truly added a southern metal sound to the band. Along with his harmonica playing his onstage swagger and vocal dominance would be a staple of Downtrend's uniqueness. The time has come again for the band to search for another singer. After speaking with guitarist Josh Crum we have learned the band has auditioned a few vocalists around the region including West Virginia native Joey Ferris, Jason "Brew" Brewer, Michael McKay Combs (Voices Of Aggression) and Shawn Williams (Hollow). While the auditions are still ongoing the band had a scheduled show opening for Bullet Boys at The Appalshop Theater in Whitesburg, Kentucky. The band has stated they will have a "guest vocalist" for this show which sources say will be Michael McKay Combs. Mike certainly has the ability to take over the void left in the band. He was the deep baritone vocalist of Voices Of Aggression which bassist Jeremy Chaney and J.D. Hall were also a part of. While I'm told everyone is still in the running for this position you can see a live audition when the band takes the stage opening for Bullet Boys.
Auditions continue and if interested in becoming the new voice of Downtrend email [email protected]
For tickets to see Bullet Boys & Downtrend's special performance go here.