Southern Fried Genocide is:
Steven – vocals
Matt a.k.a. Bama – guitar
Wes – guitar
Stoo – bass
Greg – drums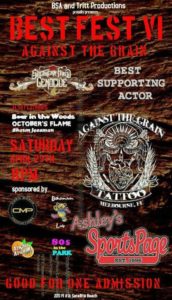 Southern Fried Genocide was a featured band in our coverage of the 2016 Mayfest show in Central Florida. As they prepare for the headlining spot at the April 29th, 2017, Best Fest VI: Against the Grain show at Ashley's Sports Page in Satellite Beach, FL, we got the pleasure of interviewing Steven, the vocalist for this uniquely killer band. Throwing any sense of convention to the wind, SFG takes bits and pieces of Punk, Hardcore, Grunge, Blues and Hip–Hop, adds their own special mixture of classic, southern guitar riffs and Doom/Stoner Arizona desert grooves, and bakes it together over the hot flames of one of the best rhythm sections in the business (if you need a taste, check out the full stream of Electric Mayhem at the end of the interview). Lyrically, we are challenged, as listeners, to question authority, our belief systems and morality from a completely pragmatic and honest point of view. How's that for flying in the face of the status quo? If you live in the area, this is definitely a show you don't want to miss. If not, you really need to check out Southern Fried Genocide. Killer freakin' band and worthy of any music collection!