Southern Fried Genocide is:
Steven – vocals
Matt a.k.a. Bama – guitar
Wes – guitar
Stoo – bass
Greg – drums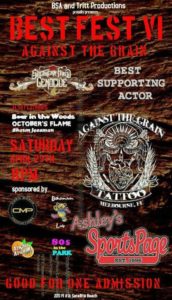 Southern Fried Genocide was a featured band in our coverage of the 2016 Mayfest show in Central Florida. As they prepare for the headlining spot at the April 29th, 2017, Best Fest VI: Against the Grain show at Ashley's Sports Page in Satellite Beach, FL, we got the pleasure of interviewing Steven, the vocalist for this uniquely killer band. Throwing any sense of convention to the wind, SFG takes bits and pieces of Punk, Hardcore, Grunge, Blues and Hip–Hop, adds their own special mixture of classic, southern guitar riffs and Doom/Stoner Arizona desert grooves, and bakes it together over the hot flames of one of the best rhythm sections in the business (if you need a taste, check out the full stream of Electric Mayhem at the end of the interview). Lyrically, we are challenged, as listeners, to question authority, our belief systems and morality from a completely pragmatic and honest point of view. How's that for flying in the face of the status quo? If you live in the area, this is definitely a show you don't want to miss. If not, you really need to check out Southern Fried Genocide. Killer freakin' band and worthy of any music collection!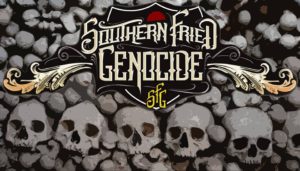 Interview:
First and foremost, I would like to thank you for your time and attention to answer a few questions about SFG and the upcoming Best Fest VI: Against the Grain! Always appreciated!
Odyssey: You guys are from all over the U.S. Please give the uninitiated a brief history of how Southern Fried Genocide came to fruition.
Steve: You are correct that we are from all over the country. Southern Fried Genocide was built on the remains of a punk band called Zombie Jesus. Wes, Ralph(our original drummer), and I have been friends for years. Ralph has been the drummer of some awesome Punk/Hardcore bands, like Coldside. So, when ZJ's singer left, I jumped at the opportunity to jam with Ralph. Wes came along to add a second guitar. The sound changed so much that we decided to change the name. Matt came along to replace the guitarist of ZJ after a year or so. At the time of the record, Electric Mayhem, we still had the ZJ bassist, Reid, to round out a solid cast of misfits. At the moment, we have a new bassist Stoo, who has been in a plethora of local bands; and Greg on drums.
Odyssey: You have a decidedly Stoner/Southern Hard Rock sound, but have infused bits and pieces of just about everything. How was this unique take on the popular genre developed?
Steve: Most everyone in the band is into all genres of music. Matt and Reid are from the south, Wes is from the southwest, Ralph and I are from the north (North east and North Chicago respectively). This has added elements of Punk, Rock, Hip–Hop, Blues, etc. We were told by a fan that our sound reminded them of Black Sabbath meets Allman Brothers, with a heavy dose of punk rock. I can't really argue.
Odyssey: What have been your biggest musical influences, individually and as a band? How about some "guilty pleasure" music?
Steve: We listen to so much music, it is hard to describe influences. Really anything that is interesting. I grew up with a ton of Punk, Metal, Grunge, Blues with some Hip–Hop. Others in the band may have different gauges of the same situation. Really, it is just anything that isn't "Pop". We really like music that is made for the music; and not for the sales. Not, to say there aren't some great popular bands, but the music comes before image.
Odyssey: Where do you draw your lyrical influences from? Is there any subject matter that SFG will not touch? Why?
Steve: My lyrics come from a place of unity and defiance. Unity for the underdog. Unity for the common man. Defiance for the norms. Defiance towards anything that is meant to deny people the "American" dream. Defiance to racist cowards. I have no interest in really writing lyrics on the common rock themes. I have been asked in the past by "managers" why I don't write songs about getting wasted or "chicks". I may write about drug addiction, or equality; but not the standard rock situation. Real life is more interesting than creating problems or "rock star" situations.
Odyssey: Is there anything that SFG has not tried that you guys would like to incorporate into your already unique sound?
Steve: There is a lot we are adding the SFG sound. I wouldn't be surprised if the next SFG album sounded a little different than Electric Mayhem. I am lucky to be working with some great musicians who want to explore the depths of their craft. It means that I get to do the same. We will always have an "in your face" attitude; but we do want to explore different sonic abilities.
Odyssey: You have played a relentless show schedule over the course of the last year. Any favorite venues? Why?
Steve: We just played a venue in Stuart called the Brew.etarian. It is owned by William Graham. He is doing so much for the local community it is just fun to be around. Not to mention he is in a kick ass band himself, The Prescription. I mean, we played some great festivals and venues; but It is fun to hang out with friends, doing what we love.
Odyssey: Any really cool show and/or tour stories you can share with us?
Steve: We played a show in Vero [Vero Beach, FL]; and one of our roadies drank a little too much. He wasn't belligerent; but was a little rowdy. After all, it is a rock show. Anyway, the venue decided to throw him out while we were on stage. I jumped off stage during a solo, to make sure he was okay. He then tried to sneak in the back door, while we were finishing up. I found him in the back of the venue wrestling with a bouncer. For some reason he no longer had shoes on. Haha. I broke it up; and we went back inside to load equipment. Now, the motto of this establishment is "you are more likely to be thrown out for being boring, than being drunk". I guess not. He now wears the venues shirt, with this motto on the back, every time we go to Vero.
Odyssey: Since you have a sound that fits well with a wide variety of other music, who are some other notable bands that you have played with that you think our readers need to check out?
Steve: We do play with a lot of different styles of music. Some great bands to check out are Coldside (ECHC), The Prescription (Punk/Rock), Konglom (Indie Rock), Blame the Tyrant (Metal), Bear in the woods (Rock), Break the Hero (Punk), Hooten Hallers (Americana), Flag on Fire (Punk), Appalachian Death Trap (Stoner Rock), Fighting the Silence (Indie Rock/Punk), Who was I (Rock/Metal), American Party Machine (Party rock), The Contenders (Rock/Grunge), Best Supporting Actor (Rock), Oranga Tanga (Funk Rock), Spasm (Metal), So many bands…
Odyssey: The Brevard County, FL Hard Rock/Metal scene has exploded in the past few years, spawning a huge number of top shelf bands and a rabidly loyal fan base. What has happened to produce such a healthy and stand out musical environment?
Steve: The Brevard music scene has always been pretty rad. Some great things that have happened recently is that there have been some venues to open that respect musicians. Open Mike's for instance has open jams pretty much all week, as well as shows on the weekend. Really, though, the bands have come together with more appreciation for each other. Anytime things have been great in Brevard, the bands and venues have worked together.
Odyssey: That said, what do you see being the seeds to this success? What hampers the overall development? What solutions would you propose for fixing what is broken?
Steve: As a smaller market, that is growing, we just need to keep promoting each other. The music market doesn't always have
Odyssey: Any current musical trendy you particularly dig? What's the worst?
Steve: I am not really aware of current trends. Haha!
Odyssey: Electric Mayhem was released back in April of 2015 (check out the full stream below!). I have listened to it a number of times over the last year and really dig it! Any plans for a new release in the imminent future? If so, is there anything you can share with us about it?
Steve: We are currently working on new material. Expect the songs to be a little more epic. We currently have one song that is about 12 minutes long. We are looking for early next year release.
Odyssey: When last we crossed paths, you were getting ready for the final iteration of Mayfest. Right now you are preparing for Best Fest VI: Against the Grain at Ashley's Sports Page in Satellite Beach, FL where SFG headlining along with another Mayfest veteran, Best Supporting Actor, Bear In the Woods, October's Flame and Shawn Jessman. Please tell us a bit about the show and its development since its inception six years ago.
Steve: Best Fest is the brain child of Steve Keller from Best Supporting Actor. He is one of the locals that have really embraced the music community. His shows are always free; as he just wants to support the local cause. I am happy to be on the gig.
Odyssey: What has been the biggest moment so far for Southern Fried Genocide?
Steve: We played Kinkfest, in Orlando, back in November 2015. That was rad. There was a couple thousand people out at the fair grounds. JRR took pretty good care of us.
Odyssey: What has been the greatest challenge and how has the band overcome it?
Steve: Our greatest challenge was immediately after the record broke. We had some members that had to leave for various reasons. We then had to fill their spots to support the record. Shit happens; but it set us back a little in how we would of liked to proceed. That being said, I am excited for the current line up with Stoo and Greg taking up the rhythm section.
Odyssey: Being a long standing, established band, what advice would you give new start ups just hitting the scene?
Steve: Do something fun and interesting. You can be a standard Rock band; but don't write for the critics or the trends. Write for yourself. You'll be happier, even if you never become a "rock star".
Odyssey: What can we expect from Southern Fried Genocide in the future?
Steve: You can expect a new record soon. More shows. Spread the word!! Bring SFG to your city!
Odyssey: Again, we truly appreciate your time and attention! Great to spotlight such a uniquely killer band!
As is the case with all Metal Nexus interviews, the last word is left to you…
Peace!
Steven, SFG
More on Southern Fried Genocide can be found on their Webpage Facebook Twitter YouTube Bandcamp ReverbNation