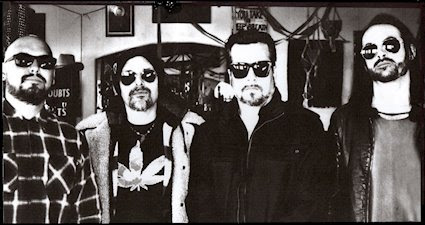 Desert rock legend John Garcia is back with and he brought some sand-covered riffs for your ears. Garcia is a founding member and former vocalist of the now disbanded Kyuss. Since their split Garcia has not stopped working on project after project, often bringing on old bandmates like Scott Reeder and Brant Bjork. After forming Slo Burn, Unida, and Vista Chino Garcia released two solo albums. Some of these included original material or different takes on old Kyuss tunes. Since his last recording, The Coyote Who Spoke in Tongues, John Garcia and the band have found a new energy that is palpable from the first note.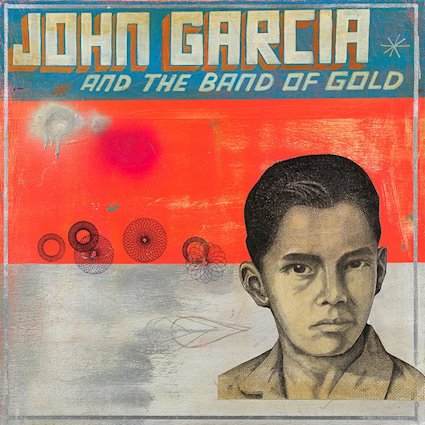 John Garcia And The Band Of Gold begins with the introductory track, "Space Vato". As tiring as introduction tracks have become, this ramped up an energy that prepared you for the coming tide of the album. Garcia's identifiable and unique voice is as strong as ever. With the small bite-sized tracks the album does not exhaust or lose momentum; One track moves on to the next without one staying for too long. Tracks like "Chicken Delight" and "Popcorn (Hit Me When You Can)" are groovy tracks rooted in old acid rock with modern aggression and style to them. "Lilliana" is riff powered desert rock, something that can only be born from sand. My favorite track on the record "Apache Junction" is pure Sabbath-worship that channels the energy of a song like "Hand of Doom". After spending a day in the desert, you sit and stare at the stars with "Softer Side". This ends the album on a soft and euphoric note.
John Garcia And the Band Of Gold is out via Napalm Records  January 4 with a European tour happening shortly after its release (dates below). To keep up with John Garcia and his band, follow them on Facebook and Twitter.
Live:
JOHN GARCIA And The Band Of Gold
Special Show w/ Nick Oliveri, Luna Sol, Death in Pretty Wrapping
29.11.18 US – Las Vegas / Vinyl
w/ Dead Quiet
23.01.19 FR – Paris / Le Trabendo
24.01.19 FR – Bordeaux / Le Krakatoa
25.01.19 ES – Madrid / Caracol
26.01.19 ES – Barcelona / Razzamatazz 2
28.01.19 FR – Lyon / Le Kao
29.01.19 CH – Zurich / Bogen F.
30.01.19 IT – Milan / Santeria Club
31.01.19 DE – Munich / Backstage Halle  
02.02.19 AT – Graz / Explosiv
03.02.19 HU – Budapest / A38
04.02.19 CZ – Prague / Rock Cafe
05.02.19 DE – Nürnberg / Hirsch
07.02.19 DE – Jena / F-Haus
08.02.19 DE – Berlin / SO36
09.02.19 DK – Copenhagen / Loppen
10.02.19 NO – Oslo / John Dee
12.02.19 FI – Helsinki / Tavastia
14.02.19 SE – Stockholm / Debaser Strand
15.02.19 SE – Gothenburg / Sticky Fingers
16.02.19 DE – Hamburg / Gruenspan
17.02.19 DE – Cologne / Helios 37
19.02.19 BE – Leuven / Het Depot
20.02.19 DE – Aschaffenburg / Colos-Saal
21.02.19 DE – Essen / Turock
22.02.19 NL – Tilburg / 013
23.02.19 UK – London / O2 Academy Islington