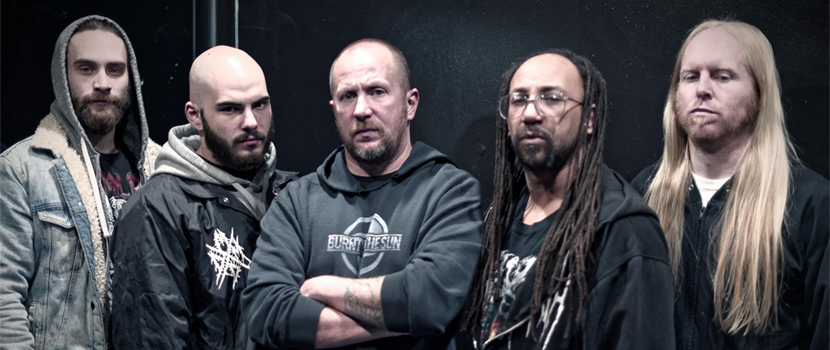 Well here we are finally and I say this reluctantly, who would have thought we'd live to see this? Back in March, Frank Mullen the legendary original vocalist of NY death metal pioneers, SUFFOCATION announced that he would be hanging up his boots as their full time member. In a video posted on his Facebook page then, he alongside with Victoria formerly of WWE fame can be seen talking and that's when Frank says he will be seeking for "new beginnings" and pursue full time acting and a few other projects in the future. And now the time has come for Frank Mullen to actually say goodbye to the legions of death metal and SUFFOCATION fans all over the globe. But.. but, before he calls it a day, he and his band will be trekking all across North America for a final farewell tour, aptly named "Death Chopping North America – Farewell Frank Tour 2018" with sick support coming in from misanthropic gore grinders  CATTLE DECAPITATION, Brazilian death metal legends KRISIUN, and Swedish tech-death sensations SOREPTION. All of this crazy stuff happening this upcoming October / November.
Frank has issued a statement regarding this, and here's what he has to say:
"Hello my friends – so this is it, after 30 years of being a part of this amazing band, which I have had the opportunity to tour the world and bring our music to the sickest fans on the planet, it has come to this time – I bid you a farewell.
I would like to thank first and foremost, all of my brothers in SUFFOCATION who I have shared the stage with over the years. We have had the sickest of times on the road, and recorded some of the sickest fucking music the planet has ever heard. Secondly I want to thank ALL OUR FANS AND FRIENDS WORLDWIDE, who have helped make this journey possible by supporting us unconditionally. None of this would have been possible without you. So in closing, I will miss you all. This has been the craziest ride of my life and I would not change a thing! Until we meet up again take care, stay brutal and I look forward to the next chapter.
But before I take my final step off the stage, to give back to all of you who have supported, me and the boys are going to head out on the DEATH CHOPPING NORTH AMERICA tour. Along with some insane support acts including CATTLE DECAPITATION, KRISIUN, and SOREPTION! I hope to see you all for one last ride across North America. Stay brutal."
Tickets go on sale Friday, August 10th in HERE!
Confirmed dates are as follows:
DEATH CHOPPING NORTH AMERICA – FAREWELL FRANK TOUR 2018 –
w/SUFFOCATION, CATTLE DECAPITATION, KRISIUN, SOREPTION

10.21: Wantagh, NY @ Mulcahy's Concert Hall
10.22: Cambridge, MA @ Middle East Down
10.23: Montreal, QC @ Les Foufounes Electriques
10.24: Toronto, ON @ Lee's Place
10.25: Detroit, MI @ Magic Stick
10.26: Joliet, IL @ The Forge
10.27: St. Paul, MN @ Amsterdam Bar and Grill
10.29: Kansas City, MO @ Riot Room
10.30: Denver, CO @ Gothic Theatre
10.31: Salt Lake City, UT @ Metro Music Hall
11.01: Jerome, ID @ Diamondz Event Center
11.02: Seattle, WA @ Club Sur Rocks
11.03: Portland, OR @ Dante's
11.04: Oakland, CA @ Oakland Metro
11.05: West Hollywood, CA @ Whisky A Go Go **
11.06: San Diego, CA @ Brick By Brick **
11.07: Mesa, AZ @ Club Red
11.09: San Antonio, TX @ Paper Tiger
11.10: Dallas, TX @ Gas Monkey Bar 'N Grill
11.11: Houston, TX @ White Oak Music Hall
11.13: Atlanta, GA @ The Masquerade
11.14: Charlotte, NC @ The Underground
11.15: Baltimore, MD @ Ottobar
11.16: New York, NY @ Gramercy Theatre
11.17: Reading, PA @ Reverb
** – CATTLE DECAPITATION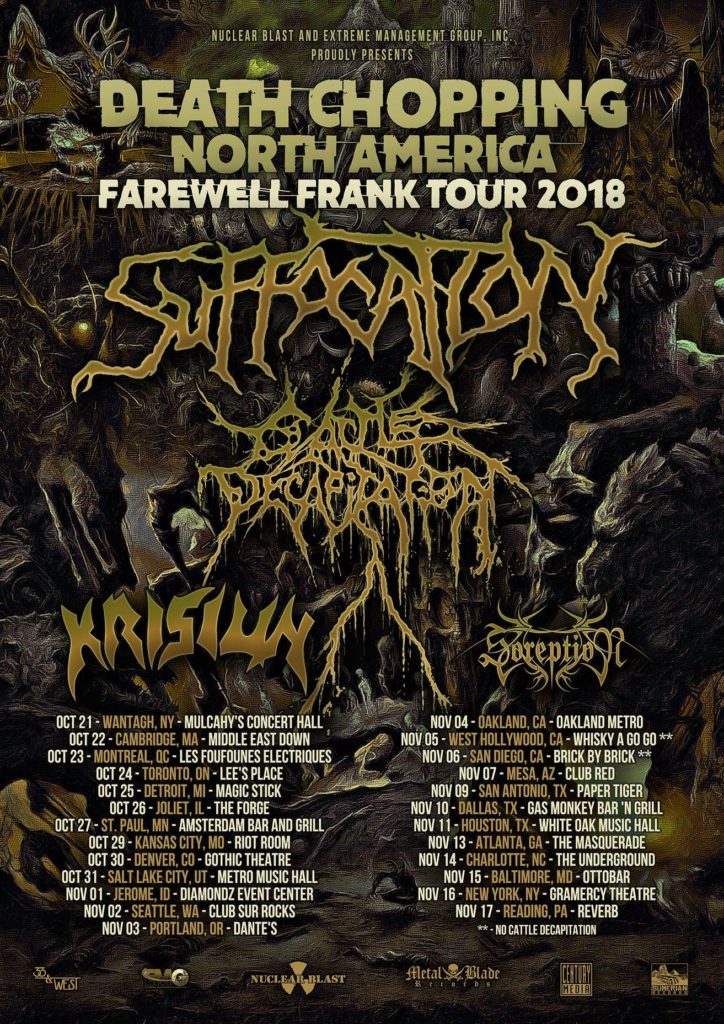 After three long decades, eight full lengths, some serious body breaking live performances all over the planet and of course that blueprint death metal growl, it's time for us fans to make this tour Frank's best ever in his career. No more disgusting growls, those frenetic hand chops, so make sure you don't miss out on this Farewell Frank tour, cause this is not gonna happen ever again. Frank's latest work was SUFFOCATION's latest album, '…Of The Dark Light', was released in 2017 via Nuclear Blast Records, don't forget to grab a copy of it HERE if you have not yet.
Thanks for the nasty music Frank. You rock!