*This is part of our State Of The Art series, showcasing bands every Monday from the featured State*
This month's State is Virginia!

Week number three covering Virginia in our State of the Art series brings us to the barrier dunes of Virginia Beach, where, in 2005, time traveling rockers from 1970 emerged from the warp portal to create this week's band, Freedom Hawk.
Vacillating between being a quartet and a trio over the years, the current line up of members include guitarist and vocalist T.R. Morton, drummer Lenny Hines and bass player Mark Cave (T.R. and Mark have been playing together since 1995). With a sound that is reminiscent of harder side of 70's Rock, Freedom Hawk has grown and expanded over the years to include a healthy dose of Doom, Stoner, Space and Psychedelic Rock as they see fit. You see, these guys are driven more by quality song writing than by coloring in the lines. Yes, the roots run deeply into Rock but everything is accentuated with their incredibly clever use of modern song structures, fuzzy guitar sounds and heavily distorted bass to give them their distinctive sound and vibe. Earlier releases like Tractor–Trailer Demo (2005), Sunlight (2008) and tended to be a bit heavier than later, more diverse records, but Holding On (2011), Freedom Hawk's second full length CD, is held in the highest regards by Stoner Rock fans the whole world over and become a cult classic of the genre. They have been signed by Ripple Music Records but are now on the Small Stone Records label, their latest release being Into Your Mind that was released mid-year 2015. They also have one live album entitled Live @ The Jewish Mother from 2013, rounding out this killer band's currently available catalog.
Being a band that prides itself in the traditional sentiment of heavy Rock, Freedom Hawk's overall sound is driven by impassioned guitar riffs in the smooth grooves of 70's vinyl surrounded by catchy guitar harmonies and borderline atmospheric rhythms that hit hard and keep the sound hard and heavy. While everything is played to absolute perfection, the song craft is where the real genius lies. It is refreshing to hear a band this good that wear the attitude and swagger of days gone by without any sense of sanctimonious elitism or a hybrid wannabe masquerading as a purist. Advanced structures, mature and thoughtful lyrical themes and a singular focus on their take on a variety of sub-genre categorizations prove that diversity can, in fact, act as a unifying feature when done correctly. There is simply a whole lot of goodness in all of Freedom Hawk's material and leaves fans of Traditional Rock, Doom and Classic Rock just as likely to love the band as well as fans of all but the most extreme ends of the Metal perspective. Honestly, this is usually not my kind of thing, but the diversity of tempo (not just ominously slow sludge) has me completely hooked. Add to everything above, the vocals of Morton and the aural picture of Freedom Hawk becomes clear and complete. I truly hate making direct comparisons but his pipes are undeniably in the vocal range of a very early, original Black Sabbath Ozzy Osbourne. This is shocking and meant as a complete compliment instead of a statement of "he sounds like a rehashed Ozzy" because his vocal harmonies follow the music so closely, it is mind boggling! This can likely be attributed to him also being the guitarist. Morton also adds a bit of soulful rasp that Ozzy occasionally exploited, but not to the degree he manages to pull out of his vocal chords. Very, very impressive all the way around.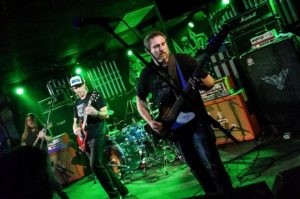 While Freedom Hawk may not have the popularity of the modern, flavor of the month bands, they have been around an awfully long time, have a run of Cult Classic releases and have played to adoring audiences all over the planet to include Roadburn in the Neverlands, Freak Valley Festival in Europe and played with more bands that could practically be listed within this showcase. With influences listed as Black Sabbath, AC/DC, Kyuss, Queens of the Stone Age, Fugazi, Led Zeppelin, Soundgarden, Fu Manchu, COC, Clutch, Iron Maiden, Deep Purple, Pentagram and others from the same time period, you really need to check out Freedom Hawk at the links below. Give them a good, long listen and then buy what you like. You will thank me later…
 All things Freedom Hawk can be found on Web  Facebook  ReverbNation  Twitter