*This is part of our State Of The Art series, showcasing bands every Monday from the featured State*
This month's State is Pennsylvania!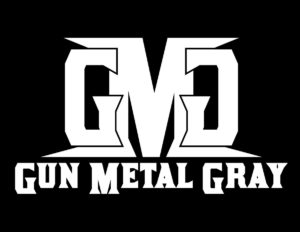 Week number two of the state that brought us bands like August Burns Red, Halestorm, Poison, Cinderella, Britney Fox, A Life Once Lost, Motionless in White brings us a kick ass Metal/Thrash band out of Pennsylvania's capital of Harrisburg. Winning the QWIK Rock 105.9 Battle of the Bands at the Arena Bar and Grill in State College just a few weeks ago comes Gun Metal Gray.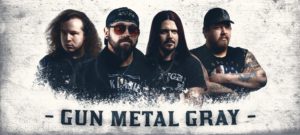 With a live show second only to their unique interpretation of 80s NWOBHM and Thrash, this group of talented musicians has been around since 2011 and plays a relentless number of local shows and festivals. From their inception they have had one goal: "Bring the "arena rock" feel to the smaller stage, and make every fan feel like they had just left a major rock concert, rather than just leaving the bar or club." Starting off as a Hard Rock and Metal cover outfit covering music from the current day back into the 70's ranging from Gun 'N Roses and Drowning Pool to heavy hitting Metal like Megadeth and Iron Maiden. After spending a number of years building their overwhelming popularity among fans, the guys decided to start writing their own material to further their momentum and released their first single, "G\m/G", which remains one of their most popular live songs with their rabid league of adoring supporters. By 2014, GMG released their EP, Salvation (March 29, 2014) containing "Doom", "Chains That Bind" and "Salvation" telling the tale of the fall of modern popular music in an apocalyptic world that finds light in Metal. Cannot get more Metal than that, I would say! Firmly planting their collective foot in the ass of modern crap, where computers generate the noise and correct all lack of talent, Gun Metal Gray immediately created ripples outside their home town and allowing them to open for more and more national and international touring bands, eventually landing them a spot at the three day, Planet Rockstar Festival 2014 in Wales, UK. Their popularity grew as they played a number of smaller venues on the other side of the pond, garnering them countless new fans. The response was so strong, in fact, that the band was invited back as a headliner the following year! Just before heading back across the Atlantic, GMG released Island of the Damned which included "Revenge", "Cursed for Eternity", "We Are One", "Shipwrecked", "Island of the Damned" and "The Final Battle". This concept album was released in the UK and takes place 300 years ago, where pirates ruled the seas, fully distilling their now signature sound. Not sitting on their laurels, Gun Metal Gray continue to play almost constantly to their rapidly growing fan base.
Admittedly influenced by Metallica, Avenged Sevenfold, Iron Maiden, Megadeth and Rob Zombie vocalist David Damone, guitarist Christian Koch, bassist Ed Allison and drummer Jeff "Muffin" Stumpf are currently looking to replace founding member and lead guitarist Nick Wright, who recently resigned from the band. If you think you have the chops and work ethic to join this highly regarded and well established band, give 'em a shot because these guys slay! Not often you get to discover a killer new band AND have an opportunity to join in on the fun! Heavily grounded in stellar guitar work where pinch harmonics and blindingly fast solos molded around perfect harmonies and melodies layered over Thrash heavy rhythms based on thundering drums and crazy good bass lines (check out "The Final Battle" off of Island of the Damned if you doubt me on this!) rule the day, Gun Metal Gray take a rather anthemic stance likening to bands like Triumph, Iron Maiden and other classic bands. Powerful, soaring and throaty clean vocals with a huge range vacillating somewhere between Rik Emmett and Bruce Dickinson along with clever lyrical themes top off this winning combination of talent. Throw your fists in the air, bang your head until you can't move your neck and sing right along, just like going to a Van Halen concert in the 80s! That's the vibe you will get just listening to these gents. If their shows are half as good as they are said to be, I will definitely be watching out for them to play anywhere near me. I have listening to their original material almost all day now, and simply cannot get enough and never approaching getting tiresome. Gun Metal Gray is simply holy shit! good. I cannot stress strongly enough how bands as good as GMG need your continued support. This gem of a band is what I want to see far into the future of Metal. Check out the links below and buy what you like because the Pop crap will rule the musical world if bands like this go away. And you wonder why we absolutely love the State of the Art series so much…
More on Gun Metal Gray can be found on The Web  Facebook  Twitter  YouTube  ReverbNation  Bandcamp