*This is part of our State Of The Art series, showcasing bands every Monday from the featured State*
This month's State is New York!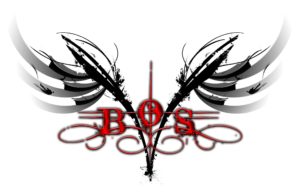 This week we head over to East Meadow and Queens, New York, out in the bay on Long Island. Here we find a Modern Hard Rock outfit that has been around since around 2007 with current members being Pietro Sirianni on guitars, keyboards and vocals, Nicky G. on bass and vocals, Steve Papa covering drums and Victoria Parkin on lead vox who call themselves Born of Scars.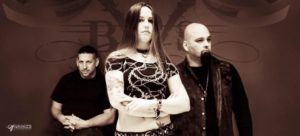 Starting with an ad simply stating, "singer looking for aggressive rock band", four of New York's best musicians coalesced to eventually become Born of Scars. After two years of of writing, recording and performing, they were ready for their debut. Under the auspices of Steve Haigleer (The Pixies, Fuel) and Mike Watts of Vu Du Studios, Minor to Major was cut loose in 2009, garnering them tons of new fans and critical acclaim. Their single "The Rain" became their first video; eventually also being chosen for Serena, A Vampire's Tale, starring Patricia Hodges and Danielle Patsakos (Check out the trailer for this thing. It's a hoot!). A video for "Vultures" followed and became a very popular stop for YouTube fanatics around the world, propelling them forward with pretty intense regional touring in support of the album over the next year. By 2011, Born of Scars had dropped their three song EP, entitled Last Breath, furthering the band's reach. This early success also allowed the band to share the stage with many, many larger acts like Fuel and Tantric and a spot at The Bamboozle Festival in Giants Stadium. Over the intermediary years, Victoria replaced original vocalist, Renee Davis; the rest of the band remaining stable. The current line up recently released Circles in October of last year and continue their progressive drive to expand their unique perspective on Hard Rock to as many fans as possible with plans to soon tour the United States. Well, they picked up one right here…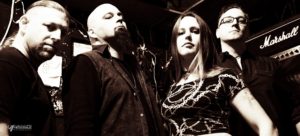 Man, where to start with this band… There is just so damned much to like. Let's start at the core of everything that makes BoS special: song writing. Extremely catchy and aggressive Modern Hard Rock is certainly not surprising, but reserving the heaviest of sounds for other Contemporary Metal bands, is. Born of Scars simply never makes a full cross over to Metal. Sure, they come close, but never make the full leap, thank goodness. Have to love a sense of when to say when. While hugely heavy guitar hooks that would find themselves comfortable in any number of Modern Metal band's sounds abound, they are always tempered with extremely mature, emotive vocals and/or thought provoking and soul touching lyrics that often belies the harsh tone taken by the rest of the band. One of the most clever paths for this controlled aural environment is dropping heavy leads just below the surface of milder rhythms or vise versa. Guitar work tends to take a cool, traditional groove, be it rhythm or lead, but adds the bite of the modern tone and production not possible back in the day. Solos and bridges are shredded a la Neo–Classical masters like Uli and Richie, but pulled back a bit to keep the band's overall vibe completely intact. Very impressive stuff indeed! The lower end is deftly handled by some of the sweetest bass tones I have heard (Nicky G's rig has got to be something else to create this beautifully slick tone!) that include slaps, harmonics and other sorts of low end alchemy. One top of this, his lines add a killer depth that often directs the music from one musical idea to the next instead of taking a one dimensional perspective on the instrument. Alongside and providing the foundation of tempos is the wicked kit mastery of Mr. Papa. Like the bass rig, his drums have a unique timber that lacks the sharp, brashness often heard in modern music. Dropping in out as needed are appropriately harmonized keyboards that mix wonderfully with the lead guitar and the vocals. Now we get to the crux of what leaves me breathless when listening to Born of Scars. Admittedly, I am a huge fan of female fronted bands. Something about the vocal range just runs straight through me and Victoria does this uncommonly well. Clean, with just a bit of pleasant warble in her vibrato creates an overwhelming sense of emotion and passion that is not often heard outside of the Singer Songwriter genres of music. This woman is beyond talented and provides that last piece of the puzzle that makes an already really good band, great. I could listen to this band all freaking day long (well, actually, I just did…).
Since Born of Scars is carving out a niche for themselves that is, all too often, left alone, there cannot possible be a glass ceiling for them. Incredible, emotionally driven song writing played by such a talented group of musicians leaves absolutely nothing not to like for an uncommonly wide swathe of fans. Given some solid backing to fully promote their brand, Born of Scars has star power to spare. This may just be some of the most beautiful Hard Rock available. Honestly gorgeous music!
Check out more on Born of Scars on The Web Facebook Twitter ReverbNation CDBaby Jango Spotfiy