***** Review by guest contributor Roni Palmer *****
NonHuman Era is:
Pierre St–Jean – Vocals
Carlo Zappavigna – Guitars
Rick Dessi – Drums
Jean – Francois Vincenti – Bass
Marek Krowicki – Keys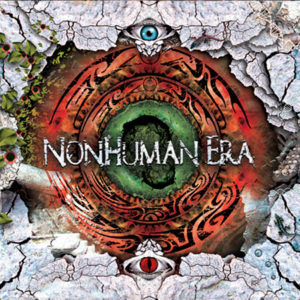 Out of Montreal, NonHuman Era consists of founding members and cousins Rick Dessi [drums] and Carlo Zappavigna [guitar], along with Pierre St. Jean [vocals, guitar–Heaven's Cry, Alcoholica (a Metallica tribute band)], Jean–Francois Vincenti [bass—Alcoholica] and Marek Krowicki [keyboards]. I gave this album a listen on the recommendation of a friend and my only regret is that I didn't hear of it when it first came out in November of 2015. I'm completely blown away that they haven't been picked up by a major label. A Progressive Metal band that's a synergy of sound and energy reminiscent of Iron Maiden, Pantera, and Symphony X with a polish that you seldom hear on a first album.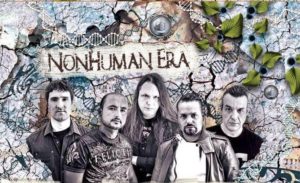 Yes, I read lyrics. One of the first things that I noticed though wasn't the lyrics themselves, but the credits for the lyrics and for the music compositions. Carlo Zappavigna has very clean guitar riffs and also has his hands on all of the lyrics and most of the music. Rick Dessi also has a hold on every song either in lyrics and/or music showing that he is more than just a percussionist. The credits are noted from most of the members. This type of connection has to contribute to their polished and layered sound. Honestly, I'm not much of a keyboard fan and have always preferred the classical metal stylings of the guitar; heavy rhythms from the bass; and crunchy percussion, but Marek Krowicki is changing that for me as he plays melodies weaved perfectly adding to this album's tightness and strength.
"A New Breed" introduces the album with some heavy hitting guitars and the lead singer Pierre St. Jean's voice slightly resembles Bruce Dickinson's as the story of a hopeful future without religious baggage unfolds. The instrumental section pulls you in and comes back to give strong beats before softening with a background choir.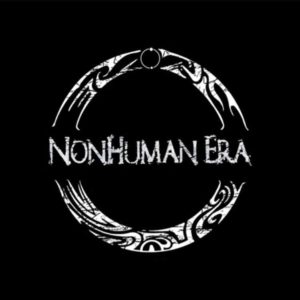 Mysterious and almost gothic piano keys will try to fool you during the first 20 seconds of "Elements of Chaos" before it's ripped away by sanity's hard edge. An ongoing theme within the album includes showcasing the talent and skill of each musician with support instead of upstaging each other. This really shines in "Hollow Point" and should make a believer out of the most die-hard music fan. The lyrics are telling us that nothing is sacred, yet the music implores us to notice that they are all sacred. We rise and fall with this song and are finished off with the hollow point of gunfire.
"Continuum" is a ballad showing more variety of range in Pierre's powerhouse voice along with shining melodies from all of the musicians. Once again, they remind us what it means to be a progressive metal band as they hit us with "Dream Machine" and keep hitting us with Rick's thunderous tempo entwined with symphony. Everything drops as "Night Bleeds Into Day" resonates with a colorful pallet of notes that draws the title imagery out for the listener. "Shattered Icon" wraps up the album with another joint effort of cohesiveness and rips it up as the icons shatter and they are reborn into a new beginning.
NonHuman Era comes in strong and just gets stronger. There are instrumental sections on all of the songs that allow you to ride the waves of emotions and when you think you've reached the peak, they come back and pound more into it. It's hard to find a key player in this group as the music seems inclusive and tight. I can't remember the last time I loved a whole album on the first listen, but I am excited to finally get to know this band and can't wait to hear what they come up with next!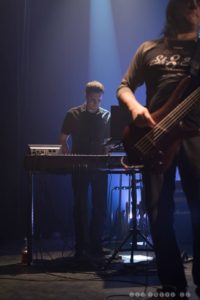 Tracklist for NonHuman Era:
"A New Breed"
"Elements Of Chaos"
"Hollow Point"
"Damage Over Time"
"Awakening"
"Continuum"
"The Destiny Machine"
"Night Bleeds Into Day"
"Shattered Icon'
More on NonHuman Era is available on The Web Facebook ReverbNation Soundcloud YouTube Bandsintown
[embedheight="520″width="640″]https://www.reverbnation.com/nonhumanera?wordpress=1[/embed]