*This is part of our State Of The Art series, showcasing bands every Monday from the featured State* 
This month's State is Nebraska!

On this week's State of the Art spotlight of Metal from Nebraska, I would like to introduce a Progressive/Power Metal band that call Omaha home. Members include guitarist/vocalist Jody Kermoade, bass player Leigh Jamieson, drummer Andrew Pace and Rocky Pulley covering keyboards during live shows and will be featured on their forthcoming album. The band is Fallen Reign.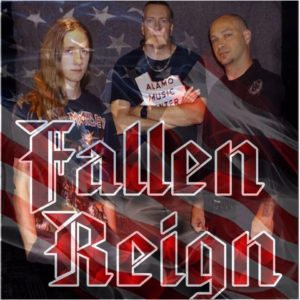 Fallen Reign was started in 2013 by Kermoade and Jamieson who had played in the Progressive Metal project called Revelation. After parting ways to work on other musical ventures for a while, the pair reunited, adding Andrew Pace on drums in 2016; and the rest, as they say, is in the can. The newly formed band immediately started writing all original material in the style of United States Prog Metal gods Queensryche and Dream Theater along with European Power Metal giants Stratovarius and Hammerfall. If the moniker of Power Metal makes you think of cheesy, 80s dragons and knights born of the Hair generation, don't be off-put. That ain't this band. If you dig the heavy Dream Theater heard on their second and third releases, Images and Words and Awake, Queensryche around the Empire album, the over-the-top screaming guitar theatrics of Stratovarius in the early 2000's and the current iteration of Hammerfall, this band is exactly what you want to hear and been looking for! It took one listen to their "Falling Apart" track on their debut album for me to jump over to CDBaby and buy everything they had to offer. Let's start with front man Jody Kermoade, shall we. His vocal range is similar to Tate's but sits in a register just a bit lower. Clean, with perfect pitch and an unusual, mid-range warble, Jody's vocals are rich and powerful, adding much of the Power Metal flavor to their music. As good as the vocals are, his guitar work is jaw dropping. His technique is really, really good. Precision and articulation at this level is simply memorizing. While the style is definitely rooted in American Prog, his tone carries the purist, European Power influence. Not only does he burn the frets off of his axe, but he always remains musical with a deep, passionate feel on every track, and even incorporates acoustic guitar in heavy songs like "Kingdom of Fools". Everything is driven through the complex melodies as opposed to being played as a flashy, one man, solo guitar based show. Impressive, to say the very least. Equally impressive are the charismatic bass rhythms laid down by Leigh Jamieson. Here, you can definitely hear the deep-throated bass playing influenced by early Queensryche, especially on the first track I heard. I also hear a bit of Geddy Lee and Jason Newstead throughout. Also locking down the tempo sits drummer Andrew Pace. This mighty player crushes, providing a modern heaviness not usually heard in the Power Metal crowd. His double bass technique, like Jody's guitar work, is nothing short of stunning. His energy just seethes through every single track. Highest level of bad-assery behind the kit! Still sketchy about traditional themes? Let your heart not be troubled because this is where the departure from old to new is most apparent. Honest, personal, passionately introspective and time-relevant lyrics abound where sanctimonious and, many times, nonsensical lyrics based in dreams, magic and fantasy existed before. Very, very cool stuff!
At this time, Fallen Reign has a self-titled debut EP released in 2014, containing "Falling Apart", "Free My Soul", "Darkened Skies", "Destiny", "Answer the Call" and a single released last year called "Kingdom of Fools". The EP was even engineered by world renowned, European Metal producer Lasse Lammert (Alestorm, Halcyon Way, Svarsot and many more). Promising a new album soon, the band plays and tours extensively around the Mid-West, picking up rabid fans and leaving sore necks in their wake. Fallen Reign has also been favorably reviewed and been named "Band of the Week" by numerous major publications, many a local radio station and by legendary, Fear Factory bass player Christian Olde Wolbers on DASH Radio, so don't just take my word that Fallen Reign kicks some serious ass and deserves a shot at the Golden Ring. At this point, my only complaint is that this band didn't hit my radar earlier. Better late than never, I suppose. Stay tuned. Hopefully we can get a shot at that new album sooner than later! Check 'em out!
More on Fallen Reign can be found on the Web Facebook CDBaby and Spotify