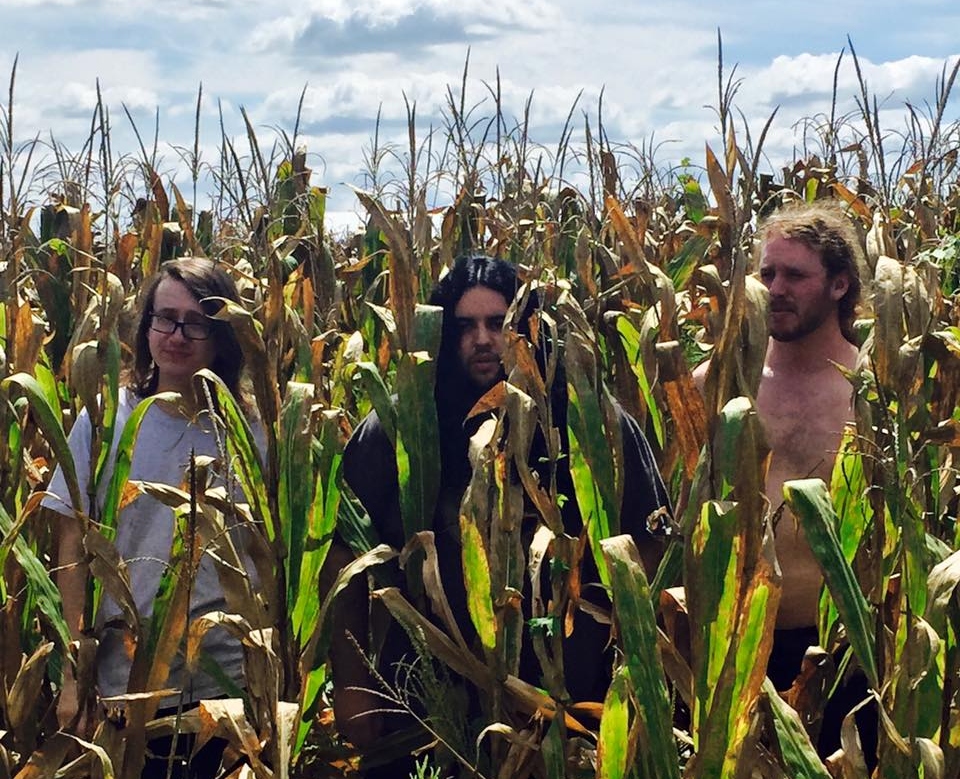 *This is part of our State Of The Art series, showcasing bands every Monday from the featured state. This month's state is Missouri.*
Bummer hails from Kansas City, Missouri. Their name is quite ironic as their music and style is in no way a "bummer" its quite the opposite. Bummer slips into the genre of noise rock, but they aren't your run of the mill noise rock band. Their music is honest and a straight forward punch to the face. The band formed in 2012 and is a trio which includes Matt Perrin pulling double duty on guitar and vocals, Mike Gustafson laying down the bottom end on bass, and Sam Hutchinson behind the kit on drums. Bummer is currently signed to Learning Curve Records. The bands first release was a 3 track EP titled 'Young Ben Franklin' that was recorded in vocalist Matt Perrin's parents basement. That EP was released in April of 2013 and quickly the band followed that up with another EP 'Milk' in October of 2013. The band would then take some time before they would release 'Spank' in 2015. Since then the band has been pretty consistent with their releases pumping out a 12″ Split with Pinko in April 2017 followed by the release of the single "Beautiful People" several months later. Bummer's most recent release is 'Holy Terror' which dropped in August of 2018. It is the band first full studio album which includes 10 thundering tracks. The album was Recorded at Westend Recording Studios, Kansas City, Kansas, produced by Bummer & Justin Mantooth, engineered by Justin Mantooth and was mastered by Mike Nolte at Eureka Mastering, Portland, Oregon.
The band has toured the nation with another legendary noise rock band Whores. I think playing alongside them only helps Bummer become a better band as they both are two of the most talented bands within that genre.  Bummer has also played alongside other bands like Big Business, He Is Legend, Hyborian, Today Is The Day, Child Bite, and Unsane. You can easily hear the progression in their music as far as production goes from their debut EP 'Young Ben Franklin' to the most recent release 'Holy Terror.' However, their music has changed as well as the quality of the production. The lyrical content within their songs stays relatively simple. It goes without saying that you have to appreciate any band with a song titled "Fred Savage 420." If you are unfamiliar with Fred Savage you are either very young or you have been hiding under a rock. Fred was in love with Winnie in the beloved sitcom The Wonder Years, and was a Nintendo and arcade loving brother in The Wizard the movie which first gave us a glimpse at Super Mario Brothers 3. While the song doesn't mention Fred specifically just naming the song after him is enough. The track "Arts & Crafts" also appears on 'Holy Terror' and it was on the bands debut EP as well. There are some changes to the song as the opening sounds slightly different and the track is also around 30 seconds longer. All in all the changes make the already well put together song more cohesive. In their live performances you can hear more of a doom and stoner feel in the bands music. They are a true noise rock band but you can hear the influence they draw from other genres, but they don't allow it to cast a shadow over their own unique identity as a band. Though I haven't seen the band live you can tell from the videos of their performances that they put on one hell of a show. Bummer is a band you need to check out and if at all possible see live, they won't disappoint you.
Upcoming Shows:
February 23rd | Bummer, Buildings | Minneapolis, Minnesota | Icehouse