*This is part of our State Of The Art series, showcasing bands every Monday from the featured State*
This month's State is Washington!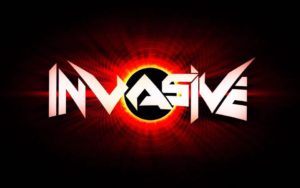 Very cool the way the Metal family works. I have stated before, that Metalheadz know no strangers. We all share a bond in the music, the bands, the musicians and for one another. What's especially cool is when that camaraderie is perpetuated from band to band as well; not as competition, but as influences, friends and fans instead. Such is the case with my next SOTA band who was suggested to us by BloodRedRose's band Homewrkr earlier this month and shared the stage with a number of my bands including Mechanism and Elephant Gun Riot. Let me introduce you to Invasive.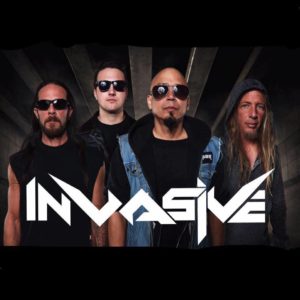 Calling Spokane, WA home, Invasive has been around for quite a while. Originally started in the fall of 2010, Invasive admits to "several member changes and tremendous turmoil, [but have] managed to create a lineup for the future the screams awesome" in May of 2013. Members now include Gary Cook on vocals, Austin Hagel on lead and rhythm guitars, Randy Beach (the only surviving member of the original iteration of of the band) on bass and Rob Tannich on drums; all working brilliantly together. With a strong desire to "write great songs and share [their] heart and souls with fans", Invasive is on point. Lyrics are thoughtful, smart and lay down very real emotions dealing with applicable and pragmatic feelings about everyday life with not one hint of insincerity or straying into shallow or stupid subject matter. Grounding the lyrical acumen in old-school, 90's Metal (when the hell did 90's become old-school? Man, I feel old…), Invasive point to influential bands like Alice in Chains, Metallica, Pantera, Led Zeppelin, HELLYEAH!, Killswitch Engage, Black Label Society, Ozzy, Sevendust Alterbridge and Breaking Benjamin among others. That being said, they tread a thin line between Rock/Hard Rock and Metal since they are not afraid to slow things down or get clean at times, to appropriately let their heart-felt lyrics shine while retaining their musical trademark. Right out of the chute, Austin Hagel's guitar work grabs hold of you with memorable riffs and will not let go. Very intelligent playing, be it distorted and heavy or clean and emotive. Equally impressive are the pipes of Gary Cook that are clear, pitch perfect and drive home the band's feel. Think Layne Staley with a bit of a guttural edge. Yeah. No kidding. That good. Holding down the low end, Randy Beach rails the big strings and lays the groundwork to making Invasive such a potent sound while the drums of Rob Tannich blast away and direct the steady driving tempo that define them. Extremely impressive band of talented musicians for sure. Definitely glad they found a recipe that works as well as it currently does.
Currently, Invasive has been in and out of the studio, releasing a fair number of singles but does not have any formal releases. Singles include: "Escape", "As Above So Below", "Heartbeat", "Believe" and their first "Killuminati". Invasive plays in and around Washington with common haunts being The Knitting Factory Concert House, Flights Pub and at about every festival that comes through the Spokane area. Being huge supporters of their local scene, Invasive has played with just about all local acts along with large touring bands like: DevilDriver, Holy Grail, Sevendust, Straight Line Stitch, Red Sun Rising, Gemini Syndrome, Red Fang, The Fall of Troy, Escape the Fate, Raven and many others. Based on posted concert footage, Invasive blows the roof off of whatever venue they play. With the stated goal of audience connection, every member of Invasive lively play directly to fans. No "off to themselves" playing at all. Fans are virtually pulled on stage, being included as members of the band. Fan comments definitely reflect this connection which gives them a friendly, "just one of the guys" feel they try so hard to convey. Invasive can do no wrong apparently. With such an infectious sound rooted in some of the best music from the last twenty some odd years, Invasive is an up and coming band with a secure future connecting with fans all as their fan-base grows. Watch out for these guys for sure!
All things Invasive can be found at: Facebook  ReverbNation  YouTube  Twitter