This is part of our State Of The Art series, showcasing bands every Monday from the featured State.|
This month's State is Maine!
Great American rock bands have been on the decline in the music world for the past several years. Fifth Freedom have put the state of Maine on the map and brought some attention back to good old fashioned rock-n-roll. The band may call the great north home but their music has it's roots in the south. The mixture of classic rock and southern rock is a great way to describe their sound. The band went on tour with Kentuckians Black Stone Cherry for two months, that tour put the spotlight on Fifth Freedom and brought some well deserved attention to the band. They have had various lineup changes through the bands existence but long time members Alan Jones (vocals/guitar) and Gary Marston (drums) have remained fully invested in the band. The group released their self titled debut in 2014 and it was an immediate success in the state of Maine.  It debuted at No.1 at Bull Moose music (a 12 location New England record store chain).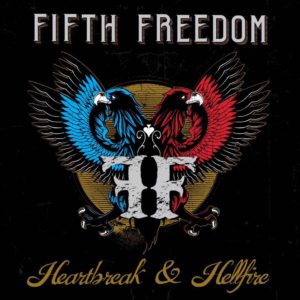 Fifth Freedom recently entered the studio and wrapped up recording their upcoming album "Heartbreak & Hellfire". They recorded the album with Jon Wyman at The Halo Studios. The album was mastered by the Grammy Award winning mastering engineer Adam Ayan ( A Perfect Circle, Linkin Park, Nirvana) and the renowned Gateway Mastering Studios in Portland, ME. As if that wasn't enough on his resume, Adam has mastered several Grammy Award winning recordings (33 to date!), many #1 singles and albums, and has over 100 Gold, Platinum or Multi-Platinum projects to his credit to date. Not only is vocalist Alan Jones a great singer but he is a standout guitar player as well. One thing I have noticed about Alan and Fifth Freedom as a whole is that they don't just play music, they enjoy it as well and are always trying to better their music scene. The band has successfully brought southern rock to Maine and in the process it has helped their local music scene. Guitars play a big role in Fifth Freedom's music, but the lyrics also play a large role as they are so easy to relate to. The band just released their first track from the upcoming album, enjoy the track and make sure to keep your eyes on Fifth Freedom in the future. They are a band that you will fall in love with over and over again.