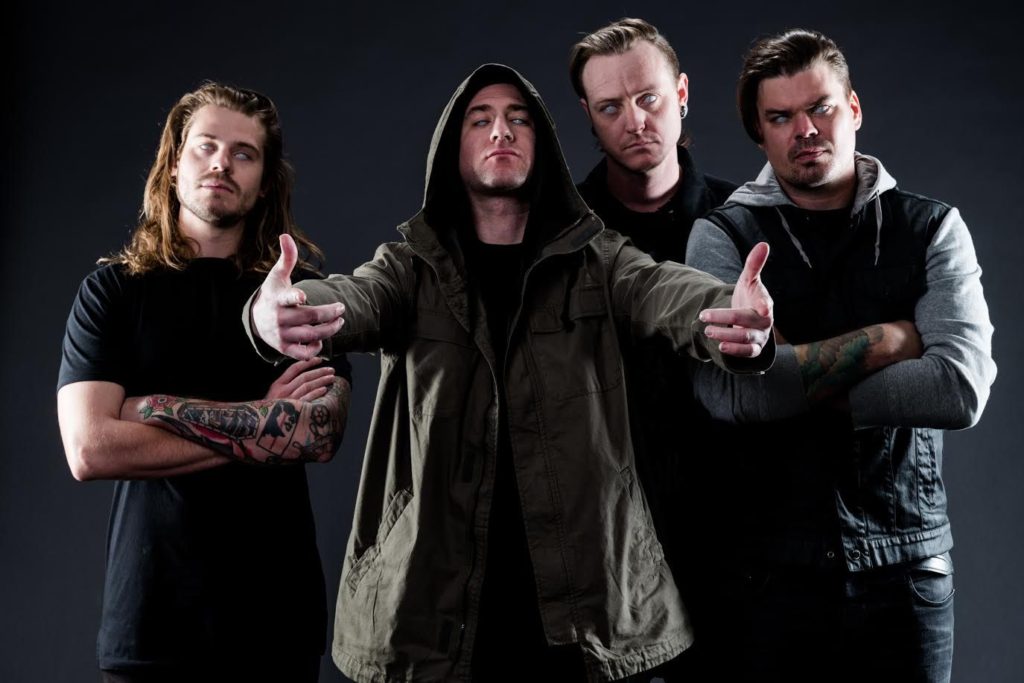 *This is a part of our State Of The Art series, showcasing bands every Monday from the featured State*
                                                                    This month's State is Arizona!
Ded is one of the best upcoming Nu-Metal bands from the state. While listening you will instantly recognize some of the greatest parts about Nu-Metal with some insanely good additions. They make you want to start your own damn pit in your living room, that is how crazy good they are. I have only found out about them recently yet I have already fallen in love with their sound. Vocalist Joe Cotela is inhuman, his screams have the same feeling to them that a lot of older bands had that just started out with a bunch of agression. That isn't all, the guitar work of  David Ludlow is everything you are looking for in a Nu-Metal riff. It sounds raw and it has clear influences on a lot of other great Nu-Metal bands that are out there. Bassist Kyle Koelsch fits his role perfectly, the bass in the mix of their 3 songs is just right. It doesn't dominate and it also doesn't disappear in thin air. All these musicians are talented but a band wouldn't be anything without an energetic drummer, that is where Matt reinhard jumps in. Luckily for us they have already released 3 songs from their upcoming debut album 'Mis•An•Thrope'. The whole album will be available on the 21th of July. Those 3 songs are called "FMTY", "Anti-Everything" and "Dead To Me". They have all been self released and they have all made me realise what I was missing out on before. These songs are full of power, hatred and filled with a bunch of head banging moments. I suggest you listen to them before we go any further in today's State Of The Art, they are all linked at the very end!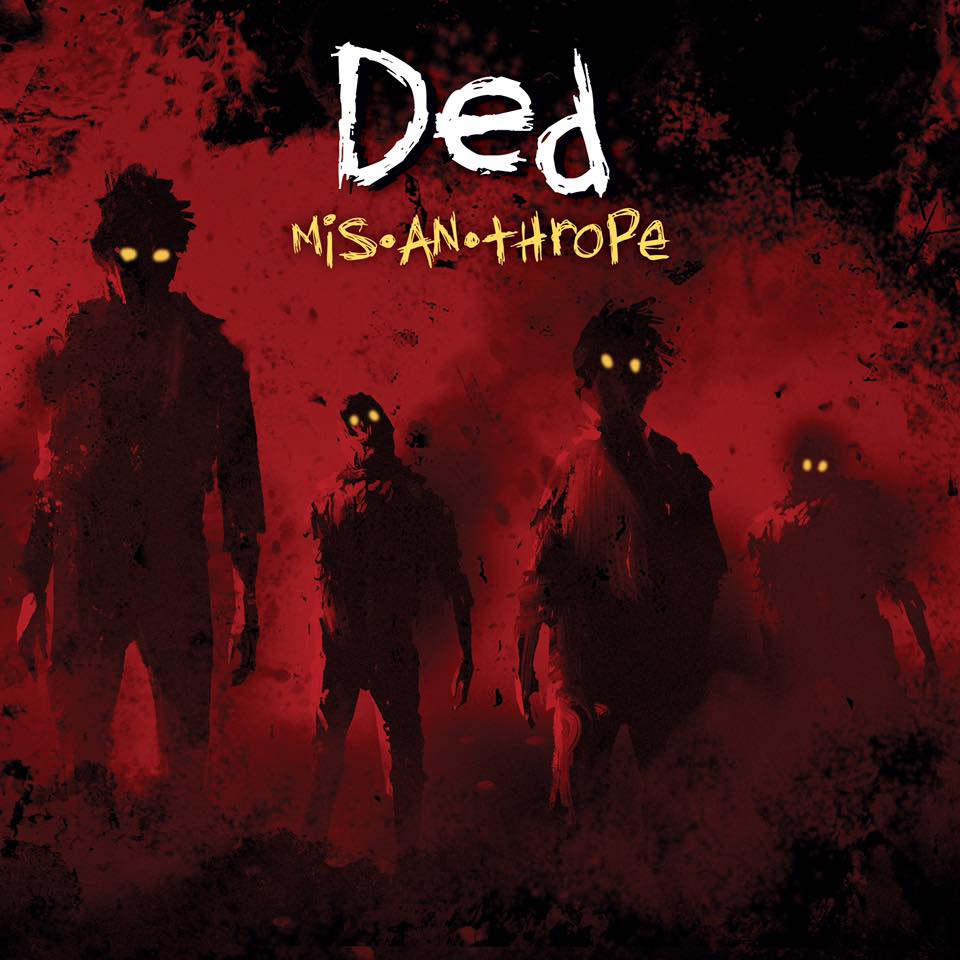 With a quote that goes as follows you know what you are up for:
"If you're not pissed off, then you're not paying attention. Heavy music is alive and Ded is bringing back the aggressive spirit that is authentic to the genre.  "There is an honesty and a "fuck you" about hard core music that I don't feel as often anymore" says lead singer Joe Cotela.  Ded is loud and aggressive – but it serves as a positive outlet: the band produces an unapologetic sound that draws from the art of fantasy and expressive screams."  
With the release of their full debut album 'Mis•An•Thrope' Ded is looking to become one of the greatest Nu-Metal bands from the newer generation. With the song "Anti Everything" they show they can rap as well as producing angry screams. That plus the fact that the song is directed by Fred Durst from Limp Bizkit really makes the song shine in the metal scene. They are inspired by not only his music but also by the vision Fred has, he really has the ability to see things others simple can't and that is why the music video came out so nicely. You can watch the song "Anti Everything" HERE. 
The song "Dead To Me" (lyric video) that showed us that the band is also capable of creating creepy songs with moments of abomination. They aren't just good at what they do, they keep trying to find new stuff and make it their own and every time so far they succeeded at it. Nothing is stopping Ded, when they are performing they give everything they got. Next to the sinister vocals and lyrics the instruments can't be forgotten. The guitar riffs fit the style perfectly and are really innovative. That is exactly what I love the most about the genre that they are in, the guitar riffs are truly unique and they will suprise you every time. While listening I strongly suggest you to take a closer look at those creepy lyrics of "Dead To Me".
I am very glad to have talked about Ded, I am not even that much into Nu-Metal but this band made me realise how much potential the genre has. Darker and softer vocal styles and even rapping are all part of this genre and Ded put it all in their debut album.  The drum and guitar riffs sound exactly how they should be, they don't copy anything yet you can hear a lot of bands that have influenced them while listening. Ded might just bring the old Nu-Metal sound back to 2017 and reign hell with it. I am already looking forward to future music from them as well as their show performance. If they are as good as I have heard, many times, there is really nothing that has the strength to stop Ded from screaming their hearts out in their music!
They got a lot of shows coming up, be there!
Ded – Upcoming Tour dates
July 13 – Rock USA – Oshkosh, WI
August 9 – Diamondz Events Center – Jerome, ID  (KEDJ show)
August 10 – 3rdWheel – Lewiston, ID (KOZZ show)
August 11 – Knitting Factory – Spokane, WA (KHTQ show)
August 12 – Knitting Factory – Boise, ID (KQXR show)
DED Festival Appearances (More coming this fall)
7/16 — Chicago Open Air – Bridgeville, IL
7/22 — Rise Above Festival – Bangor, ME
9/9 – Revolution Rock Festival – Foxwoods Resort, CT
9/22 – High Elevation Rock Festival – Denver, CO
9/30 – Louder Than Life -Louisville, KY
10/1 – Sonic Boom – Janesville, WI
10/7 – Rock Allegiance – Camden, NJ
10/15 – Houston Open Air – Houston, TX
10/21 – Aftershock – Sacramento, Ca
DED with Korn, Stone Sour and more
07/19 – Syracuse, N.Y. — Lakeview Amphitheater
07/20 – Mansfield, Mass. — Xfinity Center
07/23 – Hartford, Ct. — Xfiniity Theatre
07/25 – Toronto, Ontario — The Molson Amphitheatre
07/26 – Camden, N.J. — BB&T Pavilion
07/27 – Holmdel, N.J. — PNC Bank Arts Center
07/29 – Noblesville, Ind. — Klipsch Music Center
07/30 – Clarkston, Mich. — DTE Energy Music Theatre
08/01 – Cincinnati, Ohio — Riverbend Music Center
08/02 – Cleveland, Ohio — Blossom Music Center
Ded will release their debut album 'Mis•An•Thrope' on the 21th of July, get your pre-orders HERE!
Ded has also been interviewed by us at this year's Carolina Rebellion, check that out HERE. They are as creepy looking with their white eyes as you could ever imagine.